So here's my plog. I'm making a homebrew Legio with a lot of details still to be worked out. I imagine some of that will be sorted when Titandeath comes out. I'm going for Legio Astorum. I've always liked their colour scheme and had half a mind to try them all along - hence the blue basecoat. Since starting this I've done a test mini that I'm happy with and the rules are awesome. Warp Runners it is.

My objective is to have Myrmidon and Venator maniples, all magnetised. This will leave me with enough titans to field pretty much whatever I like I think.

For the pledge thing I'm going to paint a full Axiom maniple, the members of which are already accounted for in the two maniples above. None of those guys are painted, and so far only the warlord and one reaver are built, but not painted.

Here's a pic of what I've built and painted so far. I'm going to paint some kind of heraldry on them and hopefully figure out a symbol for them too. There'll also be a load of weathering and mud on everything.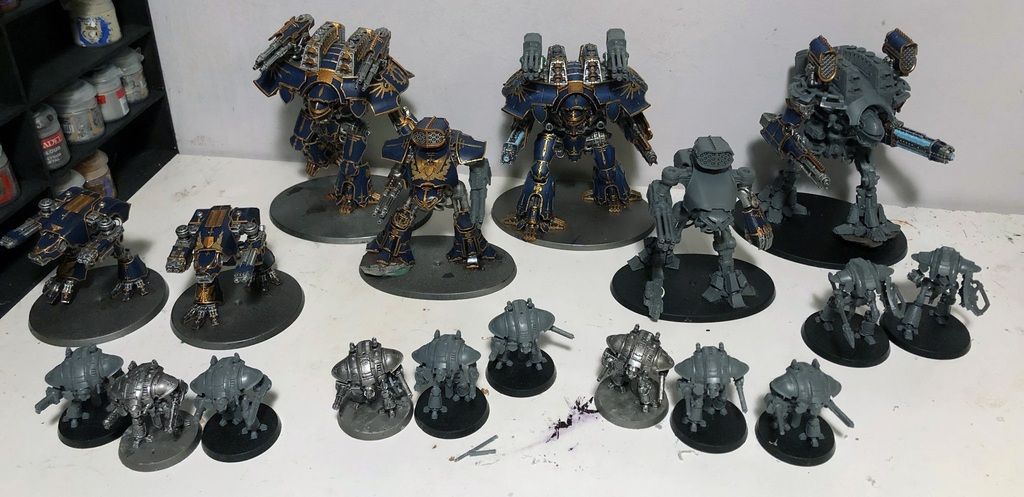 I've done quite a few conversions on weapons, and have a bunch more to do. Next thing is to build a Gatling gun and quake cannon for my warlords. I'll post some more pics of what I've been up to.
Edited by Mandragola, 30 January 2021 - 11:49 AM.