This is my mostly finished execution platform. As always tend to notice details that need touching up whenever I take photos.

The Block itself is a small cardboard box spray painted black and painted light grey with a wide brush. I did this fairly quickly and could probably use some stippling or different grays in order to make the building more windswept and worn as if rocks and ice has chipped away at it over time.

The top side staging is an array of square bases that I got from the flagellants box. I don't play AoS but had previously converted some Empire swordsmen into crusaders and wanted the flagellant models because they come with a ton of great bits and just love those models. I cut apart an old Play-doh container from my kids and used that as the plinth for the heretic using super glue to attach it to the cardboard. The stand which the heretic is tied to is the barrel of an auto-cannon that I hadn't used in a heavy weapons squad with a random wreath bit from the swordsmen box. The REPENT scroll on the front is another bit from the flagellants as well as the bell hanging from his thumb in what can only be assumed as a pain ring. The wood at the bottom of the base is a heavy weapon tripod cut up and random bits of plastic cut into rough hewn shapes. As imperial guard players know you always end up with extra torsos and no legs so in order to tie him to the pole I created fake legs by measuring another trooper with legs and cutting a piece of sprue to roughly equal it. I then cut that piece of sprue in half making two rough leg shapes tightly pushed together gluing to the torso. I continued by covering them up behind the yarn which I would have had come up slightly higher in an ideal world. Overall pretty happy with effect keeping them the primer black so as to further hide the fake legs that are cast in shadow instead of painting them white like my troopers' uniforms.

My next step for this piece of terrain is to follow Striking Scorpion's youtube tutorial on propaganda posters and plaster the bottom of the platform in posters.

I imagine the prisoners so drugged out of their tree they willingly climb the rickety ladder and steps allowing themselves to be secured to the platform. Eventually waking up to quite the shock and awaiting their grisly demise. I went for a very small fire effect as if the battle had interrupted the middle of the execution and the commissar overseer casually tossed his cigarette into the kindling before running off to inspire the troops.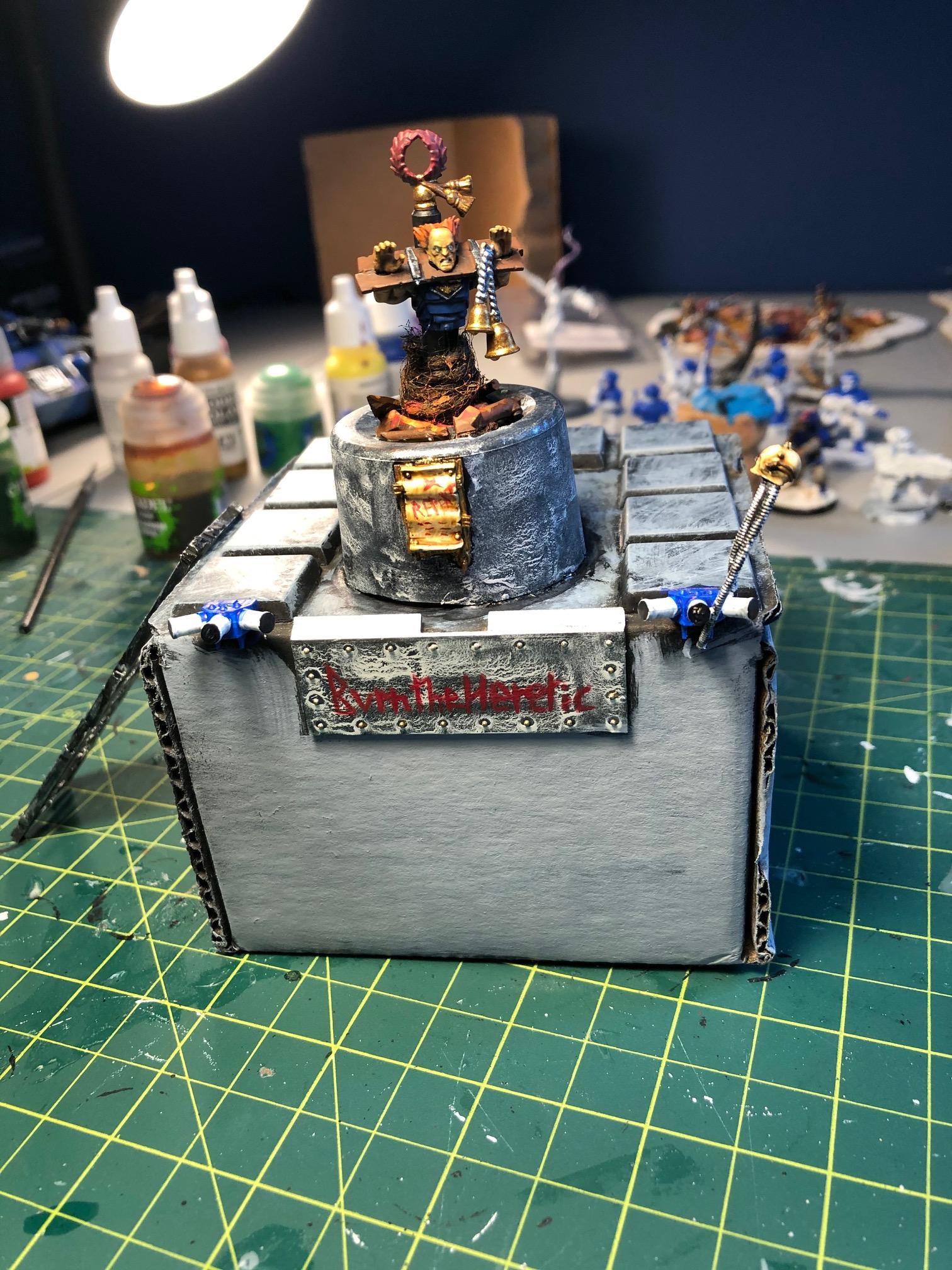 The freehand writing I had blocked out in a notebook to make sure I could fit the letters appropriately in the metal plating which I believe came with a vehicle kit in the Apoc or defense force box.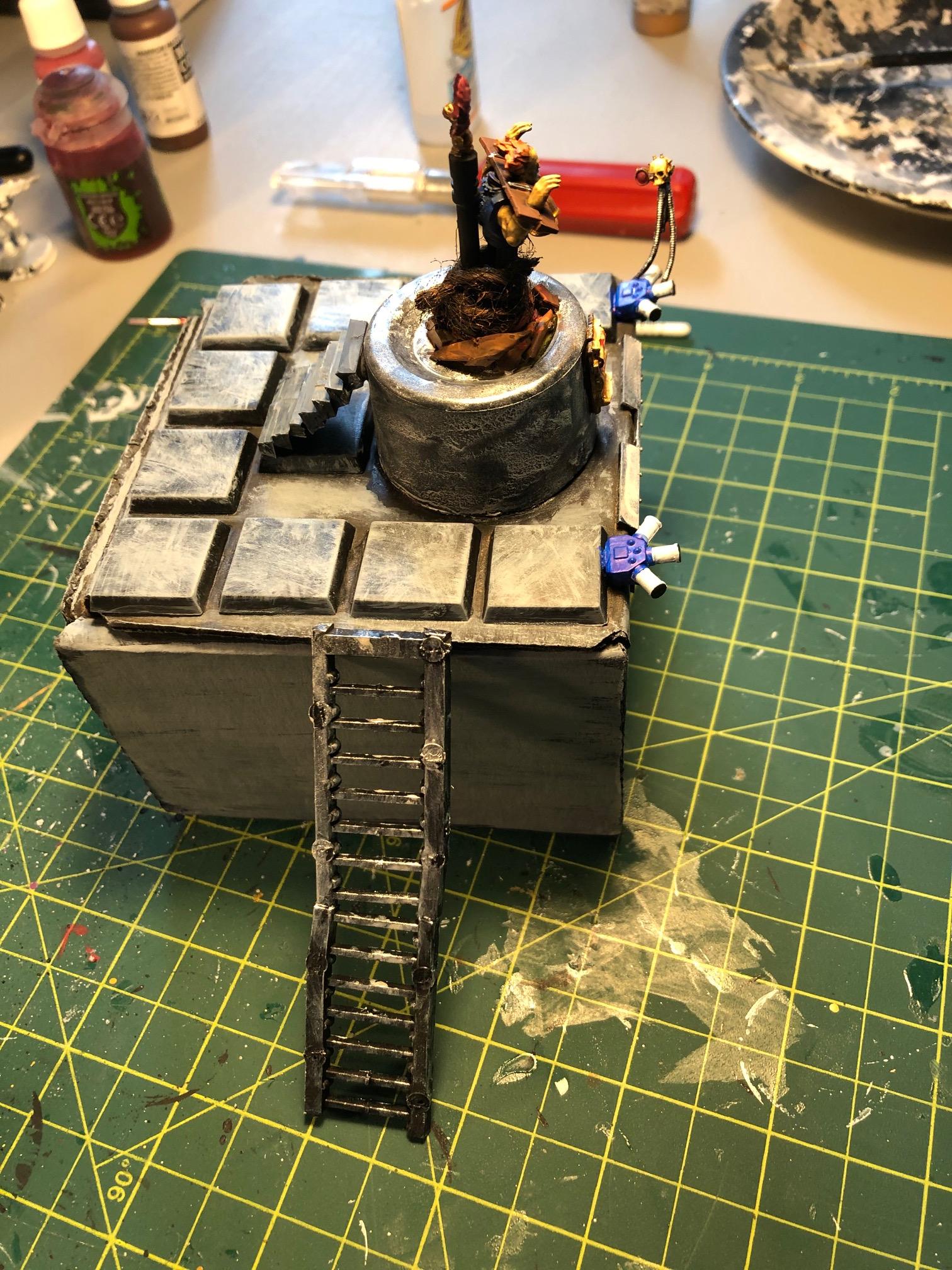 I added a servo skull to film the entire ordeal and created a rickety ladder out of two parts of sprue where the vehicle rungs are clipped out of for a leman russ.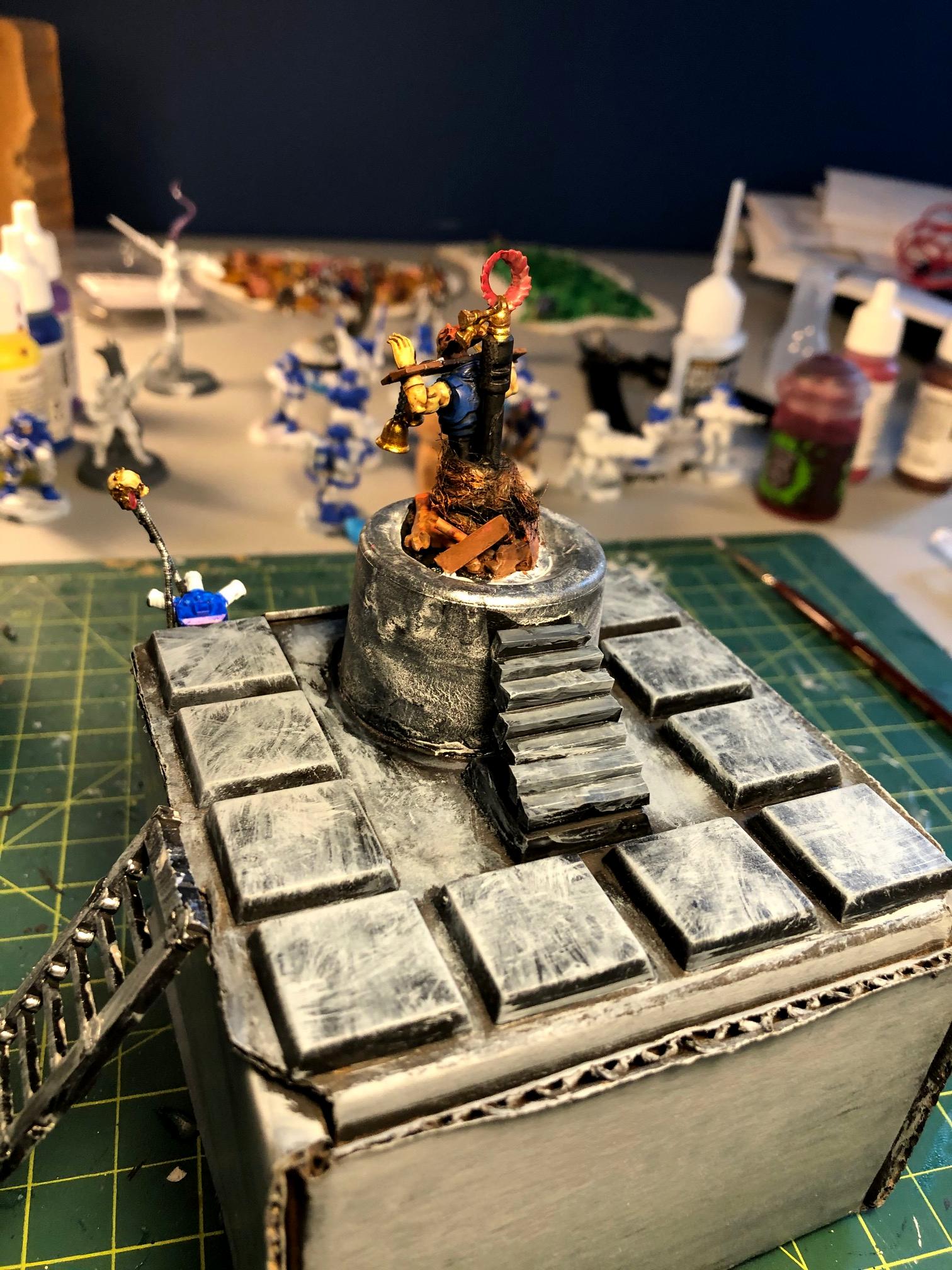 The steps were rough cut sprue cut progressively shorter and glued edge to edge to form a small set of steps.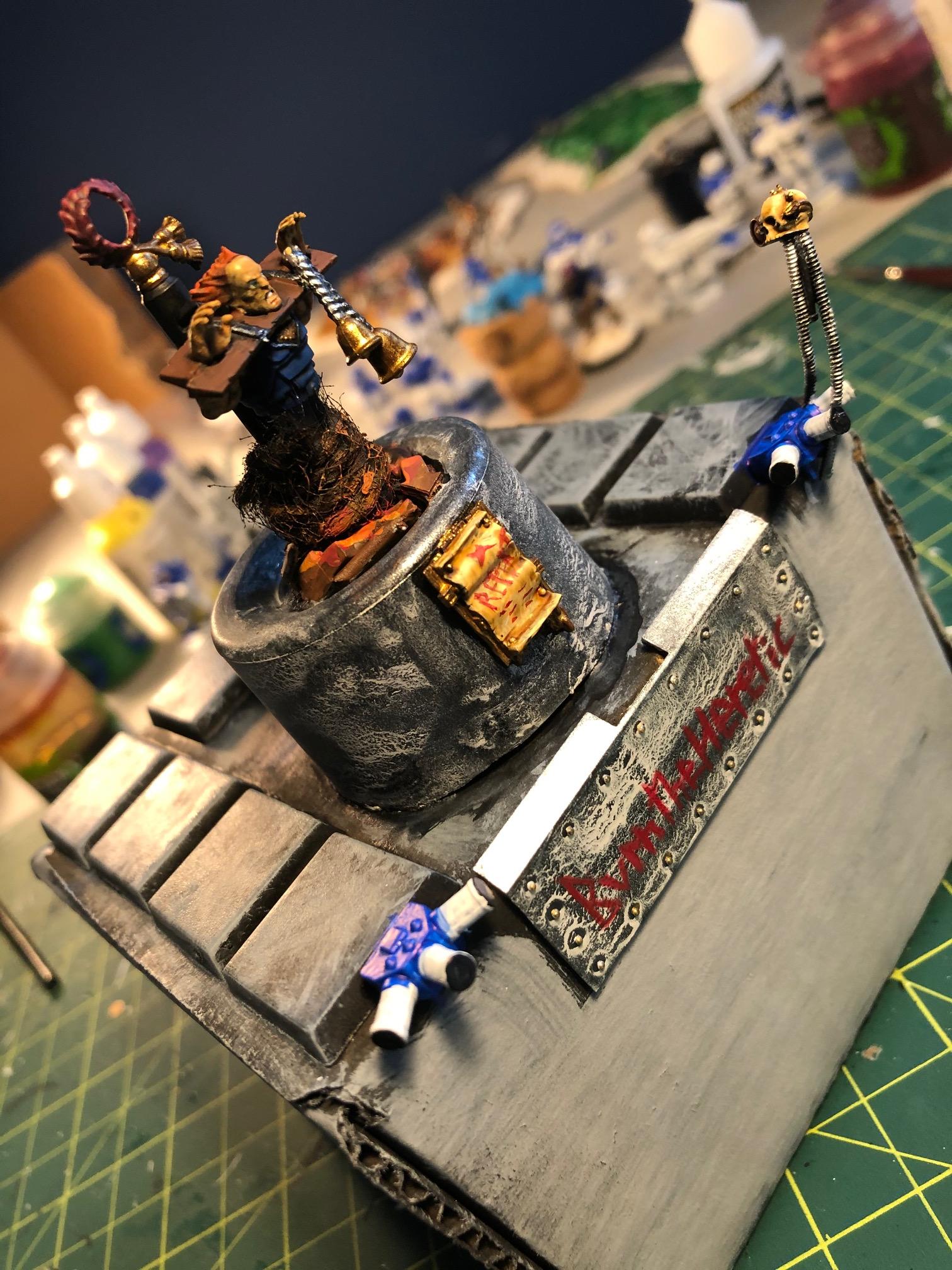 Definitely needs some propaganda posters to fill it out.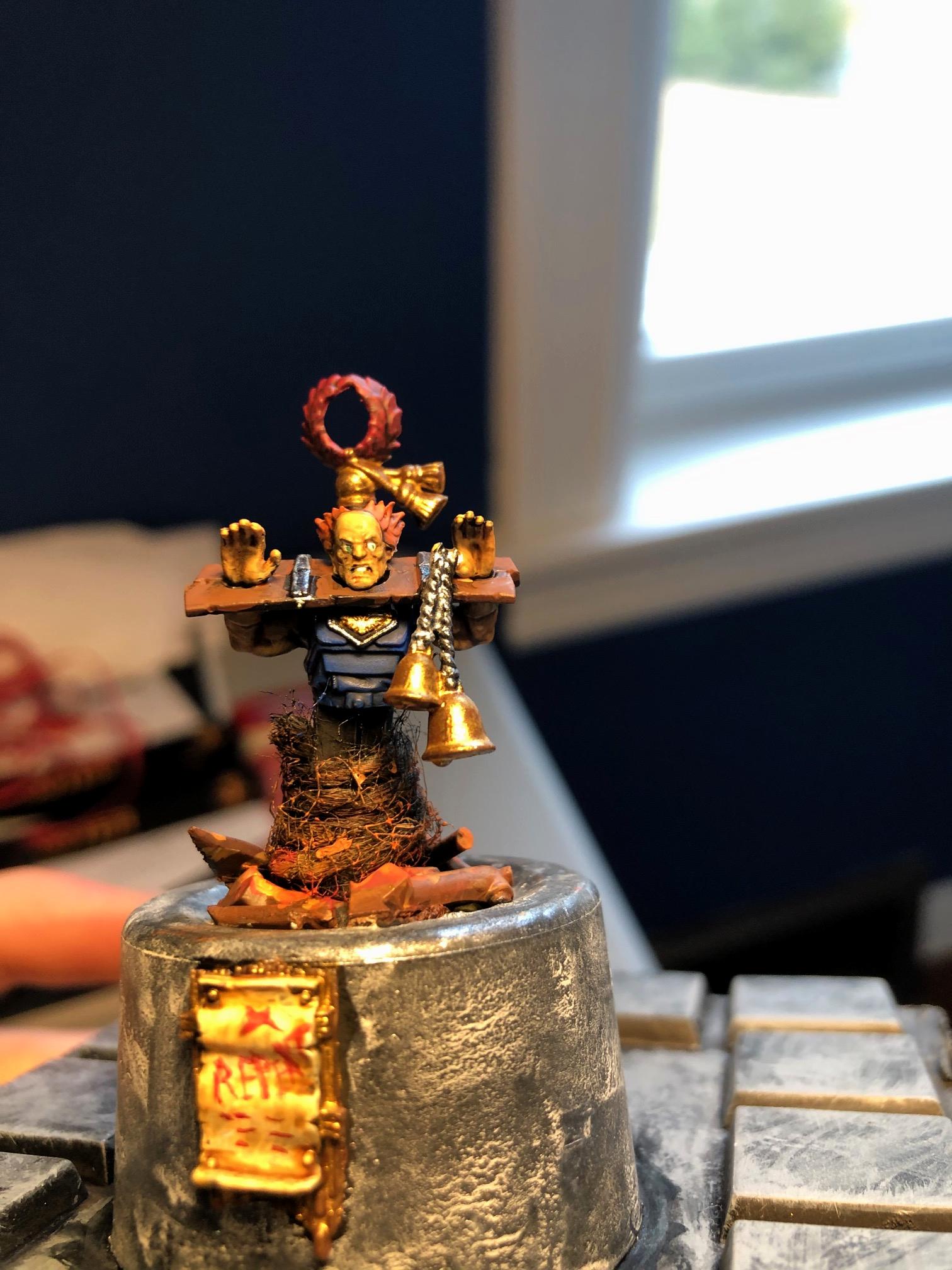 The heretic has a mix of imperial guard and flagellant parts. I need to touch up one of his eyes but all in all pretty happy with how he turned out.