Howdy folks, I've been back into the hobby for a couple years now and have slowly been putting more things into my arsenal for painting. Mostly just tricks to get things to a workable standard, I enjoy playing the game but appreciate the spectacle as well so try to balance the two. I churned out +70 guardsmen over the course of a week and needed a break from just painting infinite riflemen.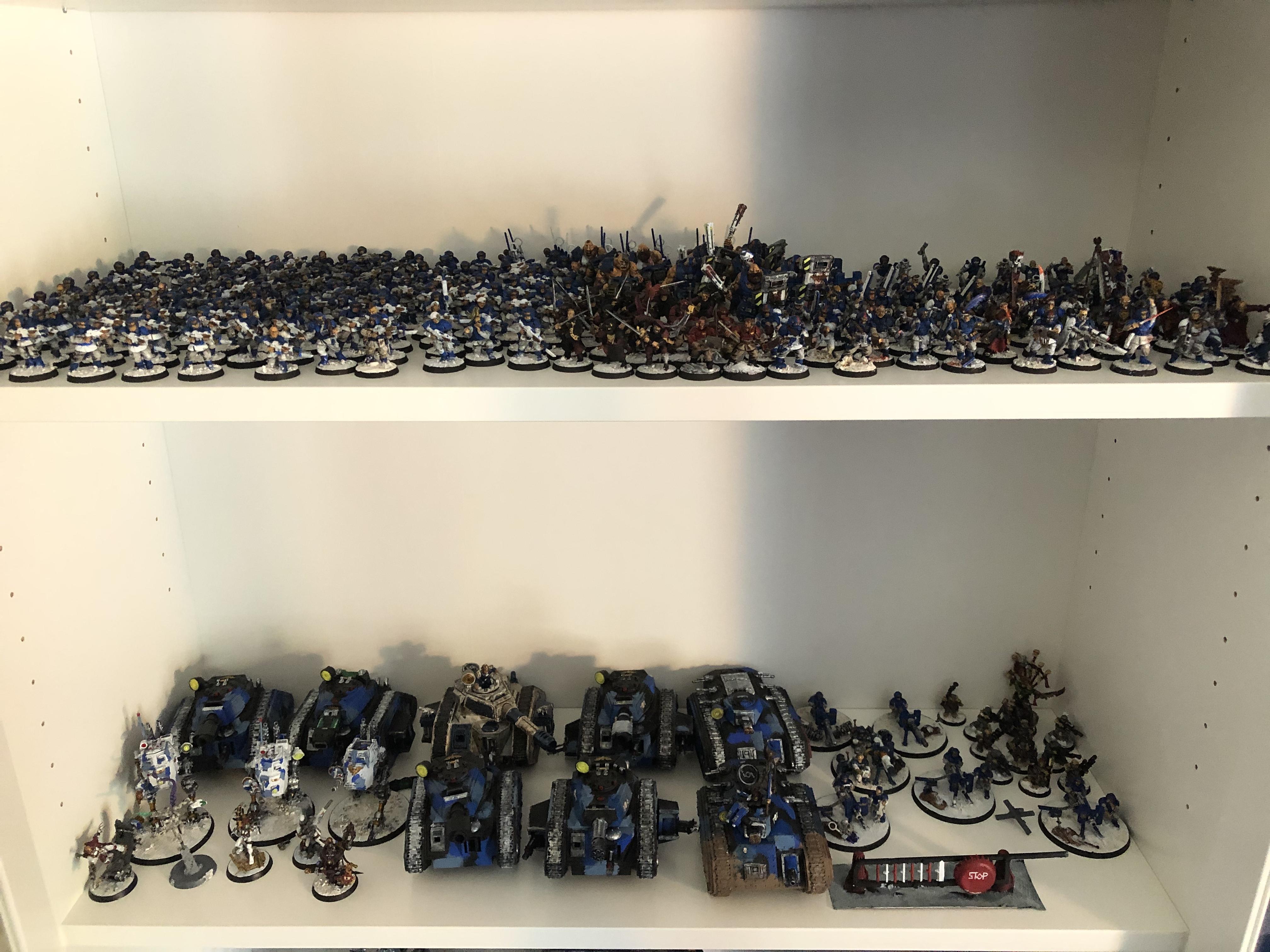 Is this staring into madness??
I still had quarantine levels of energy for painting and wanted to do something different. I decided to try my hand at my first diorama as an entry for Auspex Tactic's painting competition. The piece is completed so I will finish this log fairly quickly just going to split it up a bit.

I chose a Gretchin servitor from the techpriest Grombrindal kit. He became the Ordo Xenos escapee taking vengeance on his creators. The rule I made for myself was to not buy anything for this project and to use whatever I could find in the house. I wanted a forgotten room in an Inquisition facility with a viewing booth and medical ish lab.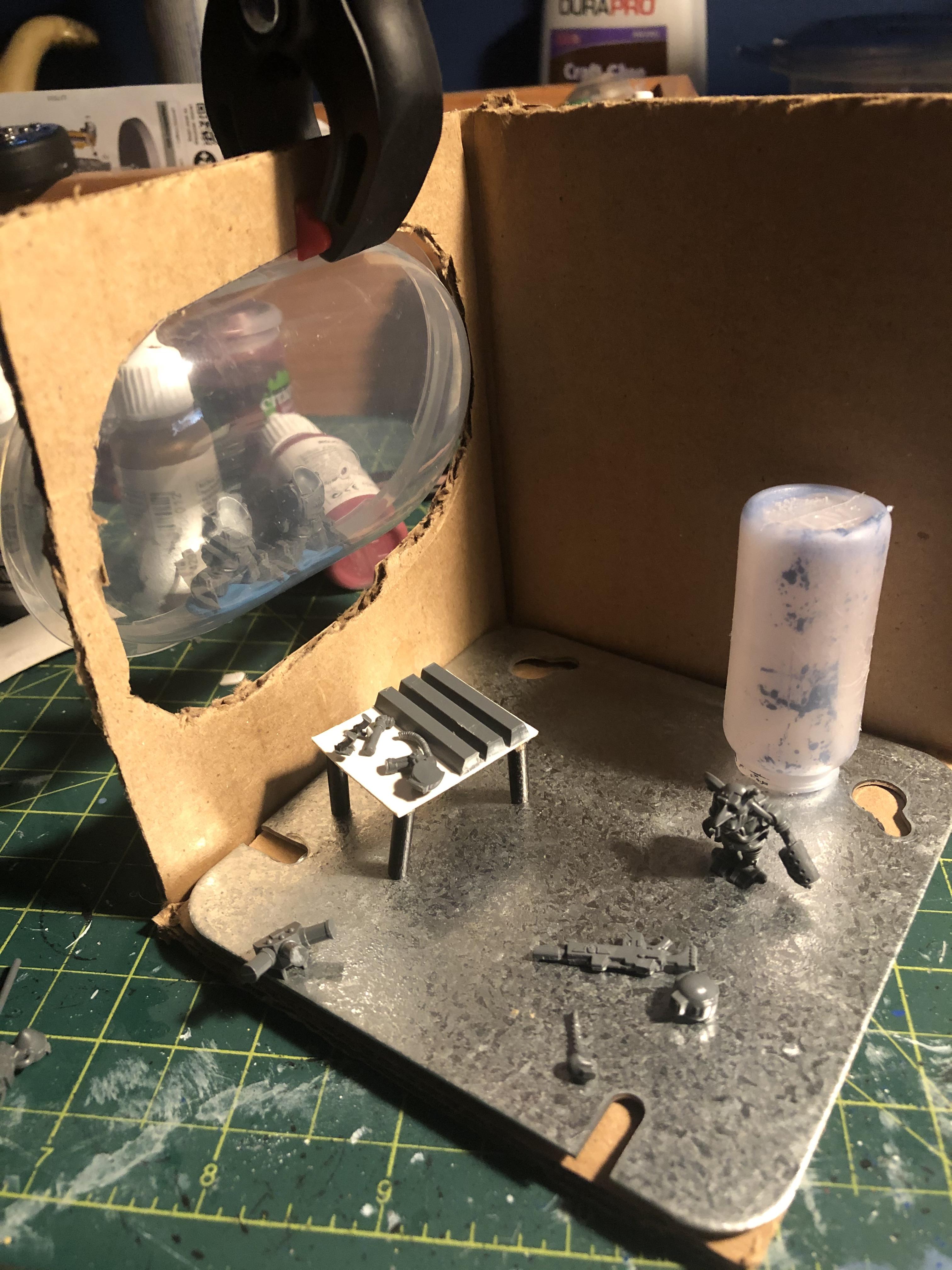 I started pulling out bits that might work in a lab scene, power units, rebreather, brackets, etc.. I used an empty dropper bottle as the tank for the servitor , chopping off the top so it could sit flat. And unfortunately didn't have scrap wood in the house so went with a cardboard box to form a tri-wall using a conveniently sized metal plate I found in the basement and superglued it in as the floor to give the base weight. I really dislike working with cardboard, especially after putting some hours into this project. I'd definitely prefer to use something hardier next time that will last longer. The viewing window ended up being cut poorly and needing quite a lot of reinforcement to support the plastic container and the wall. But it was all part of the process and got done in the end.

The surgery table was cardstock from a warhammer box with the ends of four of my cheap synthetic beater brushes clipped off for table legs. I don't feel too bad as they come in packs of 50 and are still useable for the uses they have now as stir sticks or glue applicators. Then just three pieces of sprue cut into 3 metal slates to make a cold uninviting slab.

The helmet and rifle are going to be turned into part of a pile of ash. Bits of equipment that didn't quite melt under the promethium blaze of sweet Gretchin revenge. I tried not to think too hard about why these inquisitors kept their experimental xenos robot murder flamer in a tank that couldn't withstand the blaze of very same weapon they installed. I ended up just chalking it up to administrative failure, maybe the factory started cheaping out on materials to meet quotas or profit, or any multitude points of failure within the vast Imperium.

Anyways this was the beginning of the build and as with most things in the hobby, I was quite skeptical at the start and was ready to scrap the entire thing at multiple points, mostly involving that window and some of the scratch built props. But most of these were fairly minor in the end and could have been fixed with some minor adjustments. Which in the case of the structure was selecting cardboard as a material, limiting myself to what was available in the house being the main factor. I'll get in to some other lessons learned in the next post. Hopefully this posts alright not sure how the image upload works, been a while since I've used this forum and dont post often.