If youíve opened your eyes while on the B+C, youíve probably bumped into a Community Project; be it the old Stories from IA and here, the Ultramarines and IA character creation, the Rule answering in Amicus and to the Campaign in DoW. If you havenít, well, you should really surf the internet with your eyes open.
After seeing several projects fail, this is unfortunate as the people involved in these projects put large amounts of effort into them. After seeing our story project come and go, I got thinking. Stories, although we house a large number of them, arenít really what Liber is here for. Liber is here for DIY Chapter creation, helping each other with IA articles, back stories and characters.
So, I have a proposal (no, Iím not going to marry any of you). We take a Chapter which has been named by GW; it may have a colour scheme and chapter badge, and make them an IA article. This might seem a hard task, trying to decide what we want with them, and maybe a little pointless if no-one is using the army. But, if youíre anything like me, when writing fluff for your own chapter, or even painting them, you sometimes feel like doing something else. Writing something which is maybe a little lighter, or writing about a shooty chapter. Itís something for you to do. Plus, you never know, you might be swayed by the chapter.
The plan is first to decide upon a chapter, and then discuss the general way we want the chapter to go. Then we progress through the IA topics, discussing each one. No-one should type large amounts of text, just ideas and then those who want to can type up parts of the article when we have decided on what needs to be included. I will edit the post as we get more information on the chosen chapter.
After contacting both Mods, Rex stated
as a GOOD IA article relies on a strong theme weaved throughout the whole of the article, the fractured nature of it's writing style may well count against it.
So I'm planning on finding a chapter which has a really could hook to it so we can drag it all the way through the IA article. If we decided upon a chapter with no information on it, we will decided upon our own hook and use that.
This thread is mainly to see who's intrested and to bring possible chapters up and discuss them slightly. When we have decided upon a chapter, I will open another thread with that chapter in mind and we can start from there. While this thread will go the way of the Second Legion.
Ferrata
Suggested Chapters
Neph suggested using the
Red Hunters
I think this chapter could work because of the Inquisitor symbol on their badge. This could provide the hook that their the Inquisitors Lapdogs, or similar to the Exorcists but for either the Witch or Alien Hunters or they could hate the Inquisition and take up the role themselves.
Some I've found on ironhands.com which could be used
Eagle Warriors
Meso-American Theme maybe being called Eagle Warriors
Marauders
2nd Founding White Scars successors. Maybe a Tartan(sp?) theme. Raiding & Pillaging
Skull Bearers
Something a little more sinister
Warmongers
Suggest By slowki -
Imperial Castellans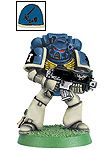 Knights of Gryphonne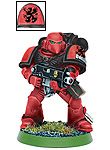 Masters of Proteus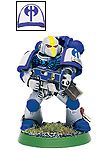 Edited by Ferrata, 04 August 2005 - 02:14 PM.