Well Brothers,after working on nothing but my Deathwatch for two years I have found myself as late rather burnt out on all the black and silver.Not to mention I miss gaming on a regular basis(and not getting knocked for using an "unfluffy" army.
).
To be honest,I felt like a break from my Deathwatch was in order.With that in mind I decided that all the Horus Heresy talk was a sign that I should return to my roots.
The Nightlords.
I have a army of them already,and enjoyed a rather decent win/loss ratio with them.Unfortunately,every time I look at those bat helms I cringe.Everytime I see that my Commander Knightmare ended up a statured DP I shudder,for not only is it unfluffy,but NOT what I intended for him.
With that in mind,I decided to start them ALL OVER.
After reading the IA article on them several times,I took pen to paper and created aesthetic guidelines I would follow this time.
-Knightmare would remain a Commander.
-Mutations would be absolutely minimal.
-Trophies will be plentiful,as will other "fear-inducing" concepts,most notably on the assault oriented squads,Knightmare and my Chosen.
-No Bat Helms!Pre-Heresy/Heresy era helmets are a the order of the day.That means few horns and more modified Chaos helmets and Beakies,most with "Terror Markings".
-More helmetless marines.I've grown rather fond of throwing at least two in each squad.A leftover quirk from my Deathwatch project.
With that said,I'd like to now show my Bretheren here the first of my rank and file troops.
(Please note that I just got this camera tonight,and I'm still learning how to produce the best pictures with it)
This first lad is a fine example of how the Beakie helmets will be utilized,complete with Terror Markings...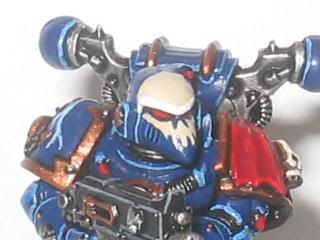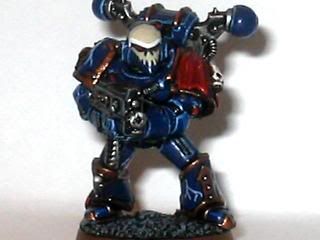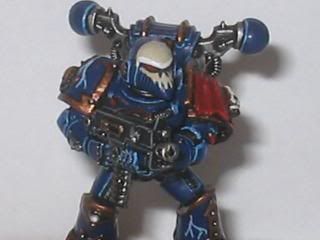 The highlights in the Terror Markings are now softer than they are in these pics.
The next marine is a helmetless Plasma gun weilder.I was initially at a loss on how to do the faces during the Concept phase of the project.The Raven Guard and the Nightlords are both described as being very pale/white with black eyes,and I definately wanted my Nightlords to look more unique.As a result,I created a mixture I call "Nostromo Flesh",consisting of Codex Gray and Skull White at a 15/85% mixture to use for highlights.
My epiphany in regards to the eyes goes primarily to my cat.
The Raven Guard have black eyes due to a mutation in there Geneseed.The Nightlords on the other hand have black eyes because they are entirely pupil,hence the night vision.
While petting my cat one evening,I noticed how her eyes shined in exposure to light.Somewhere I heard it's because of a protective lense behind the pupil.
Did I mention I was watching Pitch Black at the time?
The result was eyes done in Boltgun Metal to represent that "Eye Shine" that opponents would likely see on the dark battlefield.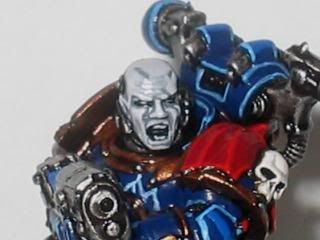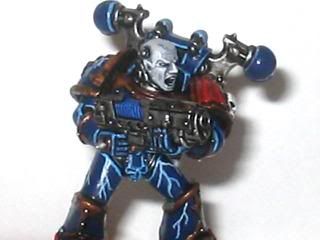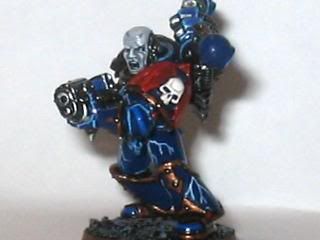 I'll be adding more pics as I chug along,including the insanely extensive conversion that will be Knightmare.
Comments,Critisisms and ideas are very welcome.
-Danek
Aka;
Lord Knightmare