Okay, you asked for it and here it is:
I've made a tutorial on how to do a quick and easy Female Space Marine. This is designed so that anyone can do it, regardless of your level of experience with green stuff, and takes about 5 minutes to do. All of what you are about to see I did in less then 5 minutes, and that includes picture taking time.
Click on a thumbnail for larger pics.
I am using the robed bodies from the Dark Angel Veteran Upgrade Sprue for two reasons:
1) Robes are a million times easier to sculpt then armor.
2) A pair of the Dark Angel Veteran sprues can be bought off the USGW online store for $20.00, giving you enough parts to make ten robed bodies (plus a whole bunch of other stuff) That is $2.00 per robed marine, which is an incredible deal.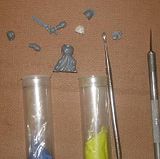 First make yourself a ball of green stuff. (Keep your fingers and tools wet at ALL times or the green stuff will stick to it) Tomake robes you'll want to work with it fresh after mixing, when it is the most soft.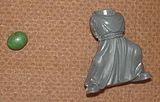 Create a fat sausage of it and lay it down across the chest. You'll want to make sure it is centered and the same thickness on each side so that the breasts don't come out lopsided.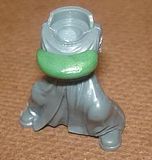 Use your sculpting tool to pull the edges towards the belt, neck, and shoulder. You want it thin at the edges so that there won't be am obvious line where the green stuff ends.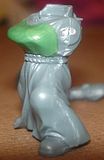 Use the handle to seperate the breasts, and pull the extra material towards the edges like before.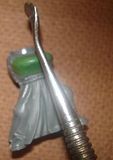 Use your wet fingers and a light touch to smooth everything out and make sure that nothing is lopsided or drooping.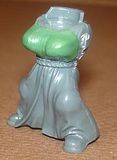 Now take your sculpting tool and create the little wrinkles in the cloth. The wrinkles will occur mostly on the sides and underneath. Start on the inside and pull outwards so that the green stuff blends into the torso at the edges.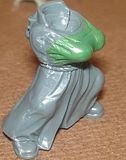 Now you can glue the rest of the model together, but make sure not to touch the green stuff as you do it. It takes about three hours to fully cure. Never glue on the backpack until after you have finished painting.
Here she is, ready to smite whatever you need smitten.