Grail Company
, Part 2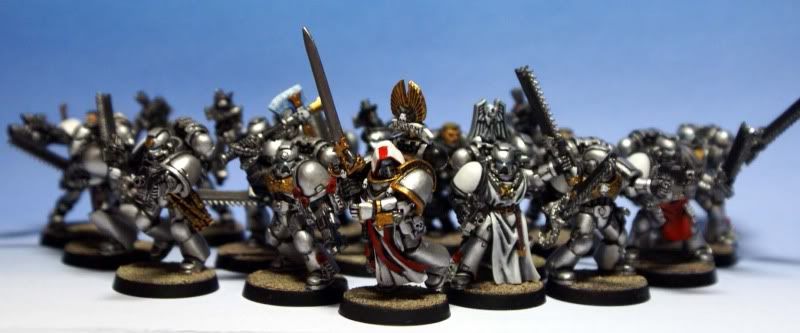 Latham ducked under the Hive Tyrant's first attack, and swung his blade in a wide arc, a feint to see what the hulking beast's response would be. It dodged casually, ignoring him altogether, it's attention focused on the Knights and Squires just behind him.
A cleaving sweep tore through the armour of Squires Santrel and Arvin, while boltpistols pitted the carapace of the beast. Superficial damage.
Taking advantage of the beast's ignorance, Latham pressed the attack. A slash tore through one of the Tyrant's legs, another gouged a chunk of carapace off it's abdomen. The beast still focused on Latham's brothers, impaling Knight Baum on a talon and laying Knight Mandel low with a sweep of it's barbed tail. Latham gripped his blade with both hands and drove it deep into the monster's exposed flesh.
The Tyrant roared, deafening and disorienting, made worse by the scream's resonance in Latham's mind. As the psychic interference faded, Latham silently intoned a prayer against spiritual corruption. The Tyrant whipped around menacingly, its attention on Latham now, talons scything at more Knights in it's fury.
The sound of their Captain's voice bolstered the resolve of every Sentinel on the battlefield.
"Zeal and valour! We end it now, brothers!"
Gerhardt saw the opening the beast had left. With a savage, guttural shout, he vaulted forward and into the air, above the heads of his fellow battle-brothers. Gerhardt took his power axe in both hands and buried it in the back of the Tyrant's head, just where skull met spine. The beast went limp, and crumpled to the ground. Lathamfreed his blade from the monster's carcass and, stoic as usual, motioned to the swarm of smaller Tyranid creatures closing on them.
Gerhardt looked back at Knight Sigvald, who nodded quietly. Latham's Fortitude surged forward with an unintelligible battle-cry.
***
Paladin Latham, Grail Champion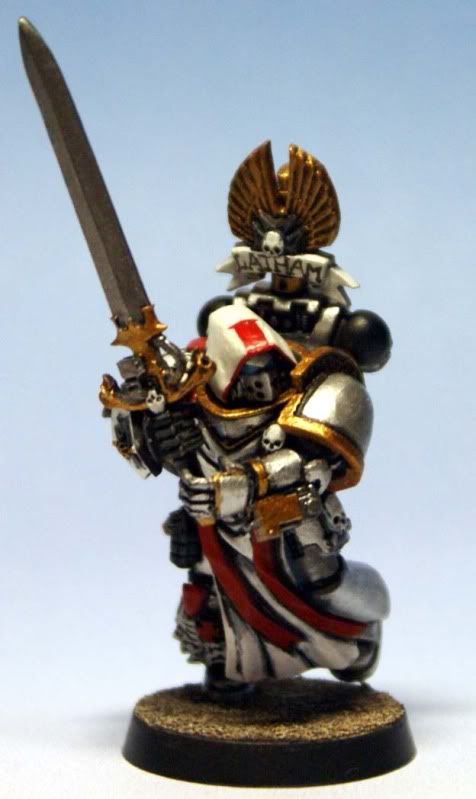 Like his Captain and many others in Grail Company, Paladin Latham has Squired with the Black Templars and that storied Chapter's doctrines have greatly influenced him. Latham himself is a veteran of countless battles and has earned his position as Grail Champion many times over.
In battle, Latham is a frenzy of cleaving sweeps and arcing slashes, punctuated with bursts from his wrist-mounted, underslung boltpistol. Latham's armour has been reinforced in many places with additional protective plates, and many a devotional seal lend spiritual fortitude to the hallowed shell. The armour plate on his right arm incorporates his Captain's heraldry and Latham's own version of a Crux Terminatus.
Mounted on Latham's backpack is a Company relic, Latham's by right of prowess, borne by every Grail Champion before him. Like his Captain, Latham's weapon is ancient, using an energy field to bypass armour rather than a superheated surface.