So for the Call of Chaos IV I must now complete a World Eaters Captain and his 5 man command squad. I intend to base the captain of Chapter Master Seth of the Flesh Tearers (His rules not his model) while his Command squad will be represented using the Honour Guard rules.
I'm also planning to do them as Pre-heresy so expect blue and white rather Red and brass... although thier might still be a bit of red
I'll try and get some links up to a few bits of work that have inspired me and also see if I can get some of my "sketches" up to show some of my ideas.
--- FIRST EDIT---
Some inspiration...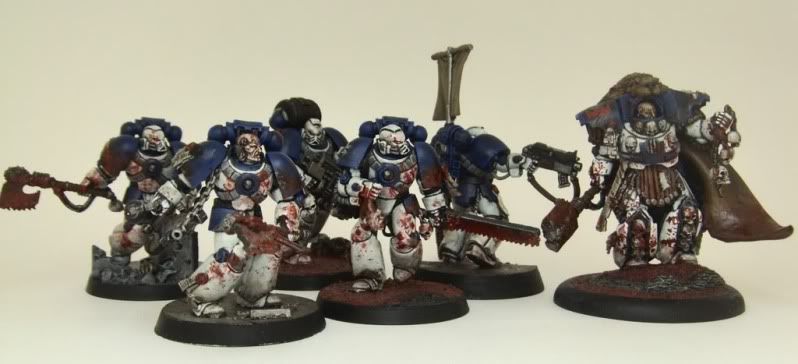 You can see more pictures of his various works including a HUUUGGGE Dreadnought... on the link below...
Synapse's EPIC World Eaters
I would also like to thank the B&C and whoever was responsible for this fantastic article...
Astartes Power Armour
I've also got to say thanks to
mywargame.com
for it's great tutorials on making Pre-heresy pattern armour and also thanks to Kurgan the Lurker for putting links to this in the tutorial section of the B&C.
The inspiration for Brother "Sub-Zero"... just in case people can't tell what the hell is going on in my sketches... I know they are bad...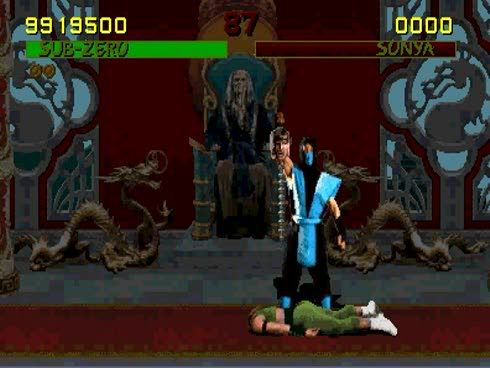 ---2ND EDIT---
Some ideas...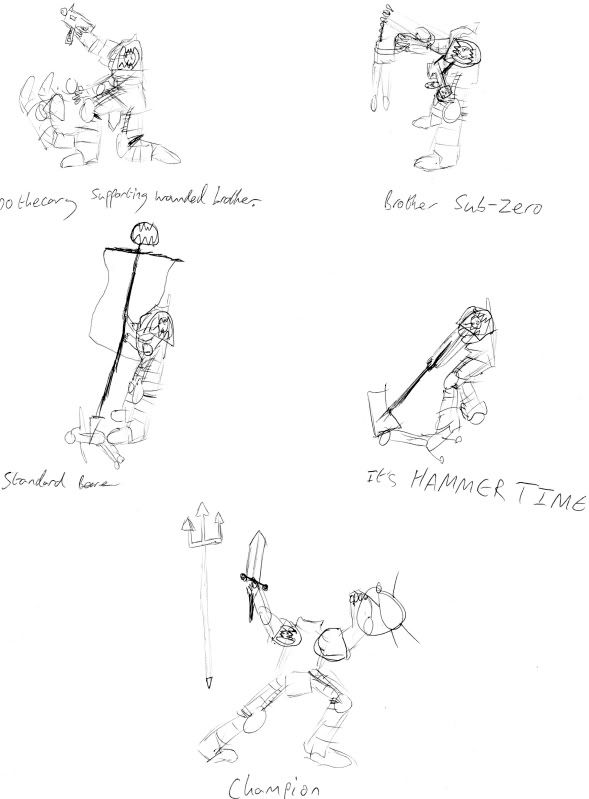 So here is a really bad set of sketches of the command squad.
So we have the Apothecary kneeling down (think the legs that come with space marine command squad I think) supporting a wounded World Eater while firing his bolt pistol at someone getting a bit to close...
Then we have Brother "Sub-Zero" holding someone by the front of thier "shirt" while pulling thier head off with the spine coming out (Hence Brother "Sub-Zero").... funnily enough he has a flamer hanging at his side from a sling around his neck...
Then We have the standard bearer... nothing special here just doing the classical planting the flag into someone...
Then we have Brother Mallet (Not to be confused with Brother Mullet) who is crushing someones skull with a Thunder Hammer
Finally we have "The Champion" who is supposed to be in a just rammed and sending someone through the air with my shield stance while either jabbing someone else with a Trident or doing a swipe with a gladius... I want this guy to have a gladiator theme to link him in with Angrons past (I'm not saying he was a pit fighter with Angron, I just think it would be a nice theme).
Edited by Hellios, 24 April 2010 - 11:02 AM.