Well, with all those annoying noobish questions I figured I'd better post some pretty pictures to stop you guys getting your black rage on.
I've been a painter and modeller as far back as I can remember. To cut a long story short after the Eye of Terror and Storm of Chaos global campaigns I took the essential 'beer and girls break' from the hobby, before rediscovering the joys of warhammer fantasy about three years ago. This was shortly followed by a move to Nottingham, where I live in the student ghetto of Lenton, exactly seven minutes' walk from Warhammer World. To be honest, WFB was always my main love. I'm much more of a modeller and a painter than a gamer, so painting loads of identically uniformed futuristic troopers never appealed. lately though, the release of the hyper detailed new Blood Angels kits persuaded me that the time was ripe to have another bash at 40k. As I said I haven't played since the days of 3rd edition and the Eye of Terror campaign, so this could be an interesting journey.
To begin then! When a mate of mine graduated and moved into his own place, he got rid of a load of his old 40k. Included were a fair handful of his old Space Marines. Now this friend (who will remain nameless) is at the opposite end of the scale to me. For him, minis are just playing pieces to be whacked together, painted and stuck on the table ASAP. When I took the marines off his hands there was a fair bit of salvage work to be done, but being a student cash is tight, so I bought a new bottle of Dettol, some greenstuff and set to work. Apologies in advance for the picture quality, which has washed out a lot of the highlights and shading.
Below is my very first Angels Saguine Marine - a tactical squad sergeant. The third picture should give a good idea of the glowing eyes effect I'm going for, as well as the custom individual Angels Sanguine shoulder pads I'm doing for every veteran, sergeant and officer. At the moment he doesn't really stand out, so I'm thinking of adding a back banner. Thoughts?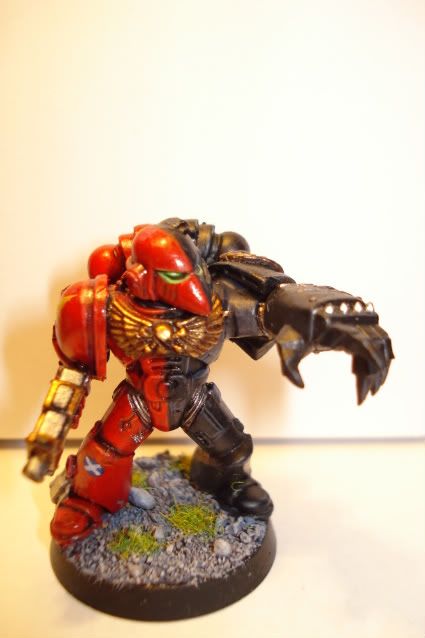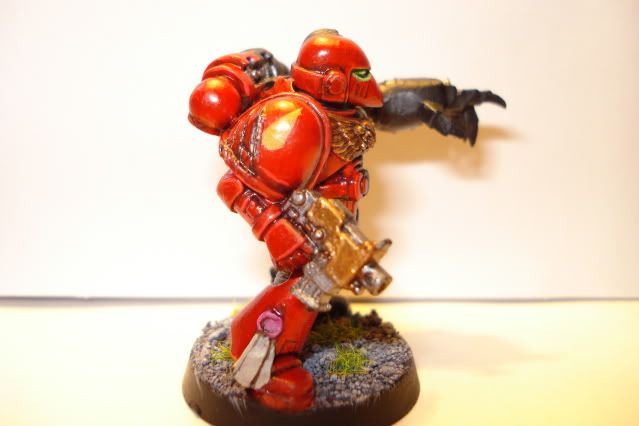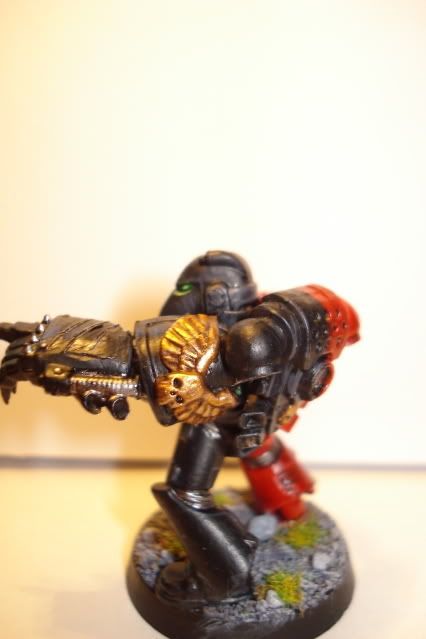 Next up are two PIP assault marines. They still need their eyes finishing and the chapter logo and squad marker adding.
This assault marine is done bar the adding of a death company bolt pistol once my Wayland Games order comes in. I painted him before the others had finished their bath to try out schemes. Turns out the glowing eyse doesn't work as well on the yellow as it does on the red or the black.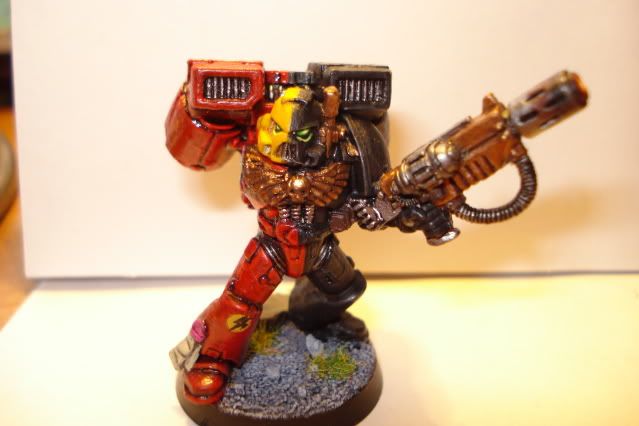 This unfortunate guy is a PIP objective marker, from a conversion done a long time ago but never painted. The Angels Sanguine have a strong association with the Deathwatch, with one of the Chapter's librarians featuring in the Deathwatch novel series from the Black Library, as well as in Inferno magazine, some of the few official bits of fluff about the chapter. For this reason, I decided he would be a Deathwatch veteran, returned to the chapter.
Lastly (for today at least) are some of the custom shoulder pads I've been working on. The first two are for the terminator squad I couldn't resist going out and buying. The second set are the first freehand version of the chapter symbol I attempted (although I'l now have to do this at least forty times for the full army) as well as the pad for my next tactical sergeant.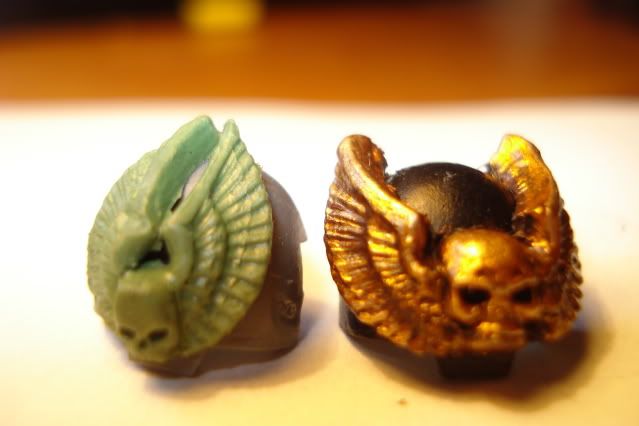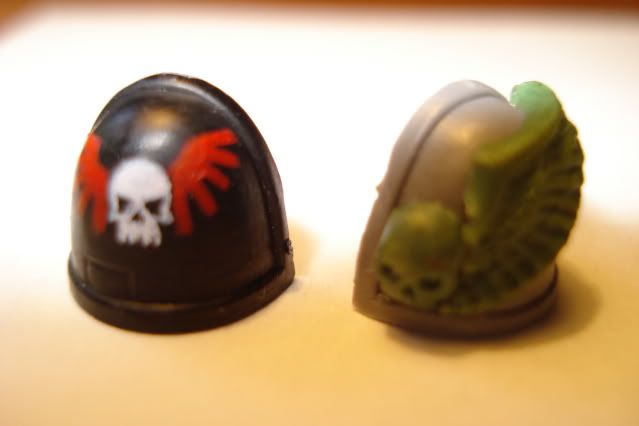 So there you have it folks! Feedback would be very much appreciated as this is my first new army in nearly a decade. I have the parts on order for two tactical squads, an assault squad, death company, priests and special characters, plus a salvaged rhino, dreadnought and about twenty marines to come. That and terminators, so stay tuned
Edited by AGPO, 20 June 2011 - 11:52 AM.