Hey everyone, welcome to my hobby thread!
If you're looking for one of the colour scheme tutorials from my 'March of the Legions' project or one of the basing tutorials, please check the bottom of this post for all of the relevant links.
​If you can't find what you're looking for or if you have a question that's not answered in the relevant post, please feel free to send me a private message.
Regards, Kizzdougs.
I've recently been feeling the urge to start a new 40K project. After much musing and many false starts, i've decided on the Thousand Sons, Pre-heresy.
They aren't my favourite legion or chapter but the TS have always be a legion full of character, imagery and conversion opportunities. A perfect combination in my opinion. This project has been at least two years in the planning process. It all started when i converted a PH TS sorcerer for a conversion competition at my local GW (which i was lucky enough to win). After building the Sorcerer i knew i had to make some more TS, they are just so fun and different. Unfortunately it has taken me over two years to finally get here.

The Sorcerer who started it all. He is a relatively simple kit bash with minimal GS work. I took inspiration from the Thousand Sons art in 'Collected Vissions', especially that of Ahriman and Uthizarr.



The test mini. I used bits from several kits to build this terminator, the majority are from the GK terminator kit and the Tomb Guard kit (WHFB).



With crest added. I can't decide whether to give all the terminators these crests or just keep them for the squad leaders. Any opinions and suggestions are welcome.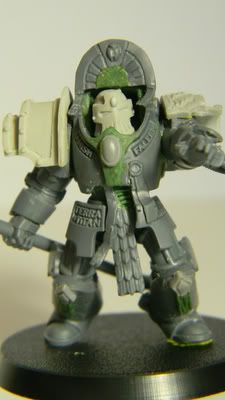 A close up of the force weapon. Such a simple conversion but i'm fairly happy with how it turned out. Sorry about the bad lighting.



Hopefully this project will develop and progress at a not too slow pace (fingers crossed). I plan on adding some Sisters of Silence and maybe even some Custodes at a later stage. I'm certainly feeling the necessary inspiration at the moment.
Any and all suggestions and advice are more than welcome, as are questions and queries.

Thanks for looking
EDIT:
Painting Tutorials:
Legions without tutorials:
Legions with tutorials:
Emperor's Children Metallic (airbrush)
Alpha Legion (no airbrush) -
Alpha Legion (airbrush)
Hobby tutorials:
Edited by Kizzdougs, 12 May 2021 - 01:04 PM.