68th Armored Company - Vesuvio Rats
Origins
Name: Vesuvio
Discovered: M38 ( Explorator Fleet )
Class: Death World
Segmentum: Ultima Segmentum
4,261,952,103 Population as of 941.M41 Imperial Consensus
Tithe Grade: Exactis Prima
Vesuvio is a Death World, a planet covered in equal amounts of Dense Tropical Rainforests and Inhospitable Deserts marked with Volcanic activity. The habitable areas are covered in lush wildlife, the apex predator known as the Vesuvian Asp in it's coiled state is far larger and taller than your typical Leman Russ, a single drop of it's venom is more than capable of killing one thousand adults.( Vesuvian Assassins have been known to coat their edged weaponry with the venom of the Asp. )
The planet's entire ecosystem is perpetually hostile to all forms of foreign life, native flora and fauna dual for supremacy, from the lowly Vesuvian "Brain Bug" to the serpentine Asp. The planet itself is rich in resources, key resources revolving around Ceremite and Rare Mineral Magnets used in Magnetic Accelerators for Plasma technology.
Vesuvio was colonized by humans and abhumans long before Imperial records can remember, a majority of it's population are madeup of Homo Sapiens, a quarter of the population are Homo Sapien Minimus, otherwise known as "Ratlers". Besides the apparent height differences, there are no other physical aberrations between the two. The first colonies that came to Vesuvio were forced to live within the cramped confines of their landing crafts due to the hostile environment, over the generations they were able to expand, cutting large expanses into their surroundings so as to build communities. Unfortunately due to hostile flora and fauna, most communities are often forced to uproot and resettle elsewhere as fauna are drawn to communities.
Over eighty percent of all children die before they reach the age of ten, those who survive are often quick to learn advanced survival instincts, quick with natural aim are able to survive to adulthood. Children often learn to shoot long before they're able to walk, much like Cadian and Catachan children.
Vesuvio Flora
The Vesuvian Mantrap, a carnivorous plant common on Rainforest Death Worlds. It resembles the Terran Venus Flytrap in which it derives its name and apparent shape, but often rises to twenty five feet in height and is readily capable of catching and digesting adult-sized creatures, rendering flesh and bone to nothing in a matter of days.
The Mantrap is exceedingly aggressive in it's ability to search and capture prey, the leaves of the Mantrap connect to an inert body by long stalks which are capable of moving at double the Mantraps distance, for instance a fully grown Vesuvian Mantrap of twenty five feet has a striking distance of fifty feet.
Each leaf and stalk can coil around it's prey to form a powerful trap capable of breaking a adult's armored torso, sensitive trigger hairs detect nearby prey, causing the plants trapping mechanism to active as it uses it's rudimentary instincts to move outward to catch it's prey.
The Leaper, a five foot cylindrical plant that resembles the Terran Cactus, but covered in far more spines, the plant itself is considered one of the far more deadly flora specimens of Vesuvio due to how it spreads. The spines themselves are fired as a defensive mechanism; the spines release a mutagenic chemical into the bloodstream that reforms the body into another Leaper.
The victim remains mobile for some time, the mutagen quickly destroys all cognitive thought yet keeps rudimentary movement a viable means to move, abet randomly. The victim themselves will slowly start to sprout spines from every pore and due to a ravaged mind will be unable to react. Eventually all mobility is lost and the host becomes another Leaper to repeat the entire process once more.
The Silent Kiss, a plant that appears to be a small thorn bush. It's purple flowers only blooming once every year before dying, dropping it's seeds in place to reform and grow once more, using the decomposition of it's parent plant to fuel it's growth. The plant is often found in tight clusters on mountain sides and steep hills. The spores which are released are capable of inducing a mindless rage that all but destroys it's victims personality and dulling their abilities to register pain and mortal wounds.
Vesuvio Fauna
Grox, although originally native to the Soloman system, the animals are prized for their highly nutritious and tasty meat, and have been introduced to many worlds throughout the galaxy, so that the Grox is now the most ubiquitous livestock animal in the Imperium. The Grox however are extremely ornery and virtually impossible to keep under control without some form of brain-implants or lobotomy. On Vesuvio they have become wild, and are deadly predators. Grox are used by a galaxy-spanning food consortium to produce the famous 'Grox Burgers'.
The Vesuvio Rough Riders are known to use brain-implanted Grox as their given mounts since they naturally move through the native Rainforests with graceful ease and are known to feast upon their intended targets, the riders themselves using this innate drive to feed as a psychological deterrent for their enemies.
Vesuvian Asp, the apex predator of Vesuvio, a serpentine creature that's often on par or larger than a Leman Russ battle tank and far faster which means escape is often rare, it's jaws capable of snapping Astartes Power Armor with ease, a drop of it's venom can kill one thousand adult humans in less than twenty heart beats.
Tithe
Vesuvio falls within Exactis Prima, which means it gives it's first born child to the Vesuvio Regiments, more often than not, their siblings will follow in the eldest footsteps if they aren't established in the Mining or Crafting elements that allow Vesuvio to trade with neighboring systems. All Vesuvian's serve a five year period in the Planetary Defense Force, which means if called upon, all able bodied men, women and children will be able to fight.
Vesuvian's are proud to serve in any aspect, be they on an off world Vesuvian Regiment to the Planetary Defense force, from the highest of Nobles to the lowest of hive gangers, all can be accounted for to serve. Planetary pride unifies all Vesuvian's and they see it as an honor, a mark of reaching adulthood, becoming a citizen and more importantly a member of the Imperium of Man.
The 68th Vesuvio Armored Division "Vesuvio Rats" is a regiment of the Free Standing Vesuvio, currently stationed upon Vesuvio Prime at Fort Pius.
The Regiment has a history in the Free Standing Vesuvio that dates back to it's founding in the 527.M39, when it was formed into the Free Standing Vesuvio as the 68th Armored Division. The only remaining Armored Division on Vesuvio which are equipped with Vesuvio Pattern Chimeras, Hydras and Manticores. These relatively light vehicles were modified to be quick response armored vehicles for the rapid assault tactics that the "Vesuvio Rats" are known for.
The majority of the 68th are known mavericks, often gathering the newly minted recruits of Vesuvian gangers from Vesuvio Hive. Even for all their insubordination, the Free Standing Vesuvio as a whole views them as a pure representation of the "working class" citizens of Vesuvio, for all the ill they are, they in turn are willing to give their lives in the defense of home and Imperium.
Due to the unique arrangement of the 68th Armored Division, it has 3 Armored squadrons. Each Armored Squadron is divided into 3 Cavalry troops and 1 Armored Company. Each Cavalry troop is divided into 6 platoons. 2 Scout Platoons ( with Vesuvio Pattern Chimeras ), 2 tank platoons ( Vesuvio Pattern Leman Russes ), 1 Fire Support Platoon and 1 Headquarters Platoon. The squadrons armor company consists of Vesuvio Pattern Leman Russes, serving as armored reserves to fill in specialist roles or to replace battlefield losses.
Regimental Headquarters and Headquarters Troop "Asp"
1st Squadron "Raptor"
2nd Squadron "Dragoon"
3rd Squadron "Thunder"
4th Squadron "Nightstalker"
Support Squadron "Big Red"
1st Squadron "Raptor"
Raptor Squadron is currently organized as follows:
A Troop "Argonaut"
B Troop "Bandit"
C Troop "Carrion"
D Company "Dragon"
Manticore Battery "King"
2nd Squadron "Dragoon"
Dragoon Squadron is currently organized as follows:
E Troop "Ebony"
F Troop "Fate"
G Troop "Grim"
H Company "Heavy"
23rd Combat Engineer Company "Savior" ( Free Standing asset which falls under the administrative control of Dragoon Squadron. )
The 23rd Combat Engineer Company Savior is organized as follows:
Headquarters Platoon "Charon"
1st Platoon "Charger"
2nd Platoon "Charlie Four"
3rd Platoon "Crash and Burn"
Assault and Obstacle Platoon "Collateral Damage"
Maintenance Platoon "Cypher"
During conventional combat operations, one sapper platoon plus a portion of the A&O platoon would be attached to each maneuver squadron.
3rd Squadron "Thunder"
Thunder Squadron is organized as follows:
Headquarters and Headquarters Troop "Havok Hounds"
I Troop "Ironside"
K Troop "Killjoy"
L Troop "Lightning"
M Company "Mad Dog"
Hydra Battery "Regulators"
60th Military Intelligence Company "Ghost" ( Free Standing asset which falls under the administrative control of Thunder Squadron "
4th Squadron "Nightstalker"
Headquarters and Headquarters Troop "Headhunters"
N Troop "Nomads" – Valkyries
O Troop "Outlaws" – Valkyries
P Troop "Predators" – Vulture Gunships
Q Troop "Quicksilvers" Valkyrie Vendettas
R Troop "Renegades" - Marauder Destroyers
S Troop "Slayers" – Forward Support Troop ( FST )
T Troop "Tomahawks" - Valkyrie Sky Talons
U Troop "Ulysses" – Aviation Unit Maintenance
AVIM Troop "Air Pirates" – Aviation Intermediate Maintenance
Support Squadron "Big Red"
Headquarters and Headquarters Troop "Baker"
Supply and Transportation Troop "Pack Mule"
Maintenance Troop "Blacksmith"
Medical Troop "Sawbones"
5th Chemical Company "Devil Dogs" ( Free Standing asset which falls under the administrative control of Big Red Squadron )
Honorifics
Vesuvio Honorifics of the 68th Armored Regiment as of 941.M41
1 Star of Terra
3 Order of Ollanius Pius
5 Macharian Cross
23 Honorifica Vesuvio Imperialis
1,641 Crimson Skull awards
2,102 Medallion Crimson
-
The Veterans are going to be a mixture of Colonel Schaeffers Last Chancers, Hasslefree Miniatures, Pig Iron Conversions, House Escher and whatever else that strikes me, just for the hell of it, I'm also going to paint up an old Macharius and 2nd/3rd edition Commissar Yarrick.
I want to build a rag tag company of veterans who get the job done. In so far, I only have the name of the Hive inwhich they were originally inducted from, Vesuvio. Vesuvio Rats works since they don't exactly have a uniform and each vehicle will be personalized for the crew that "owns" it. Plus, they scavenge a majority of their weaponry and parts for repairs.
Though onto the important parts.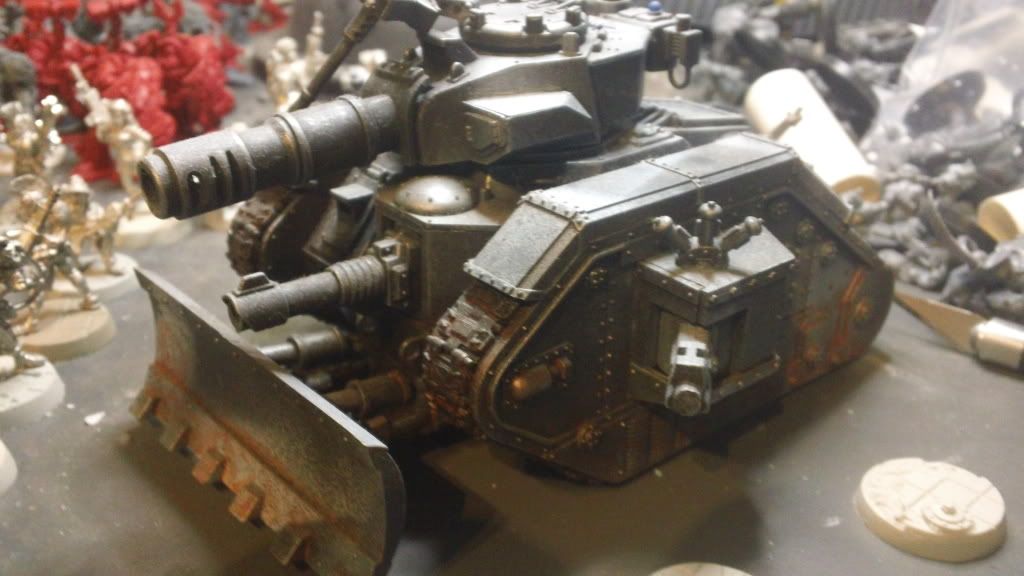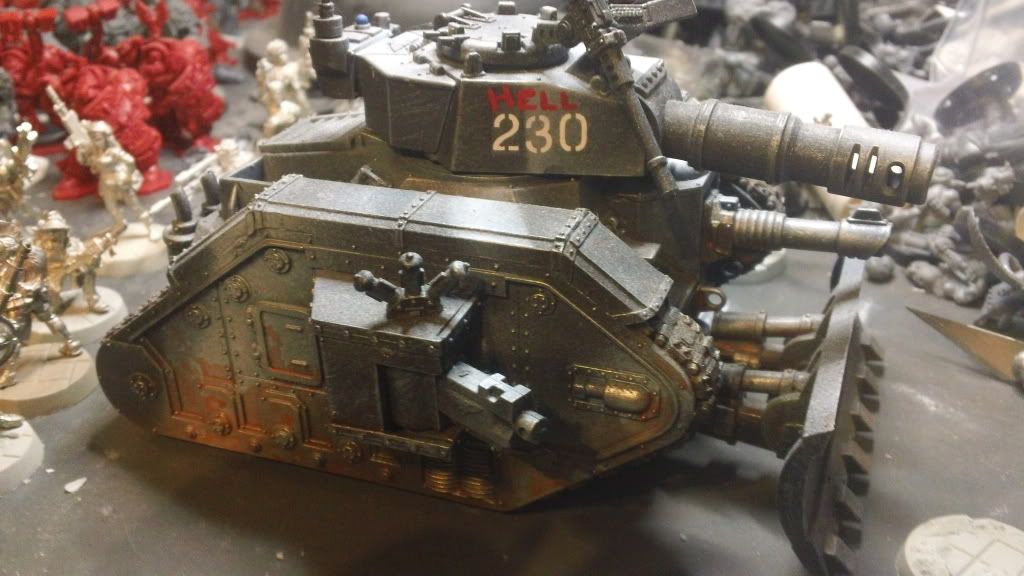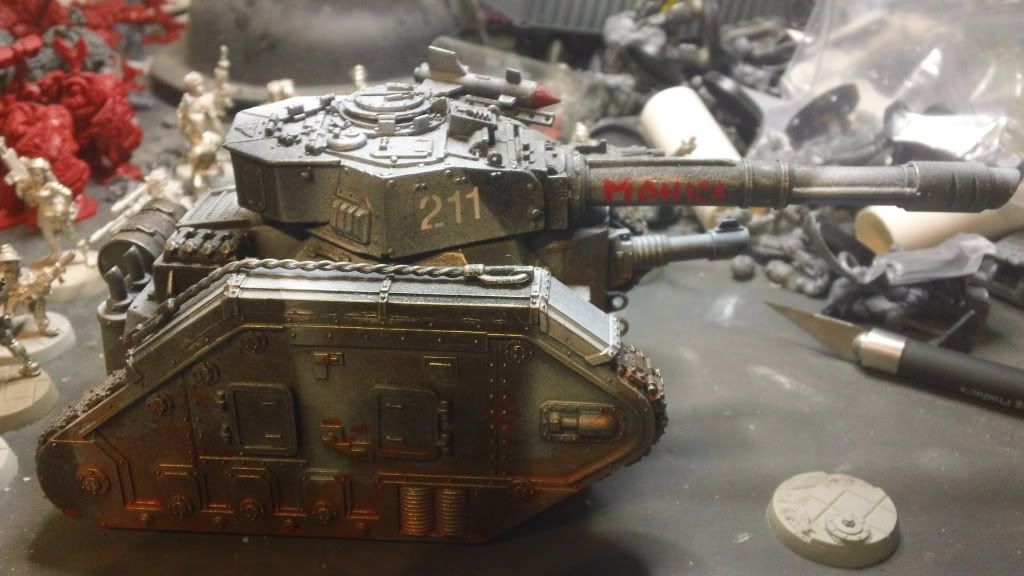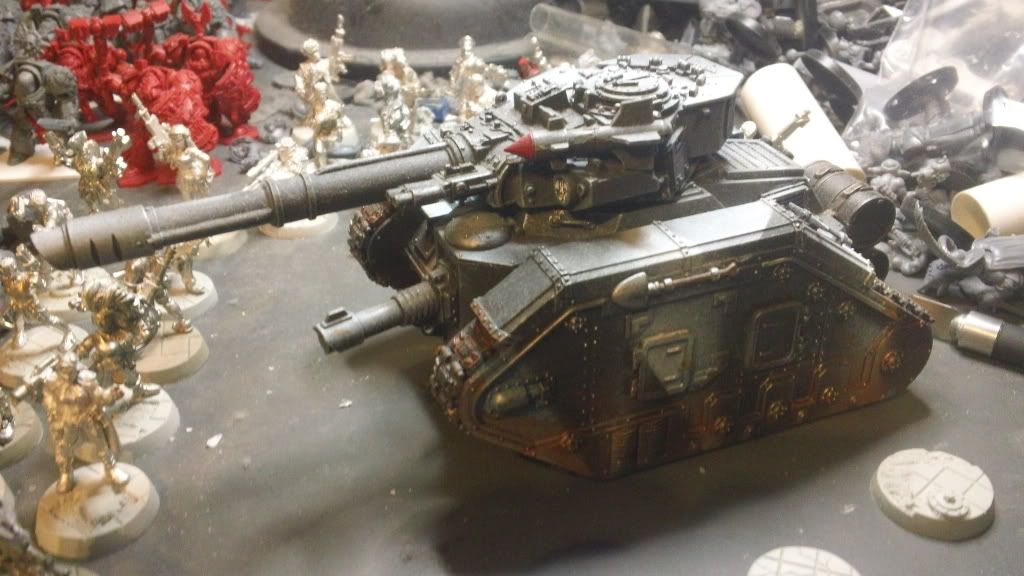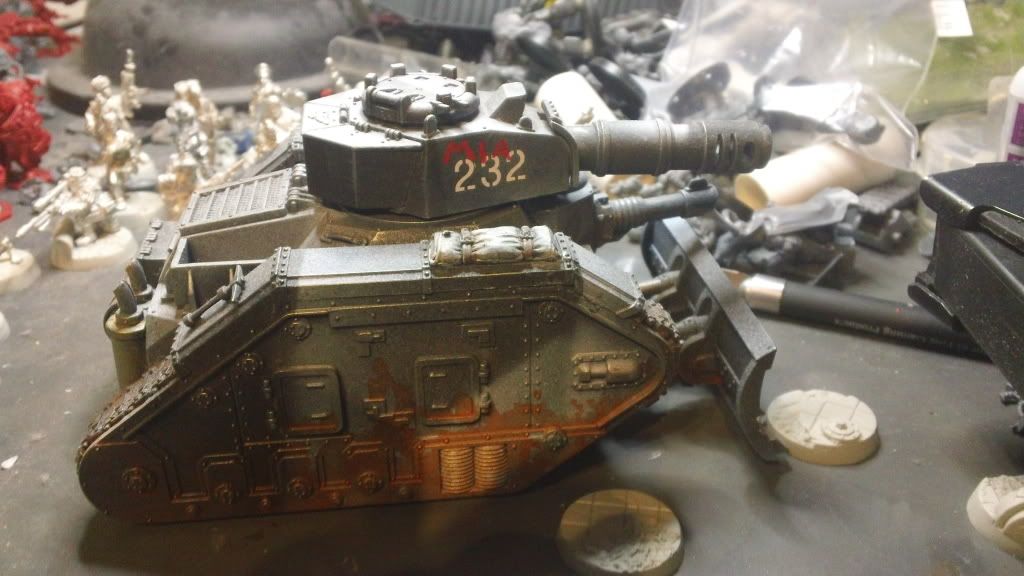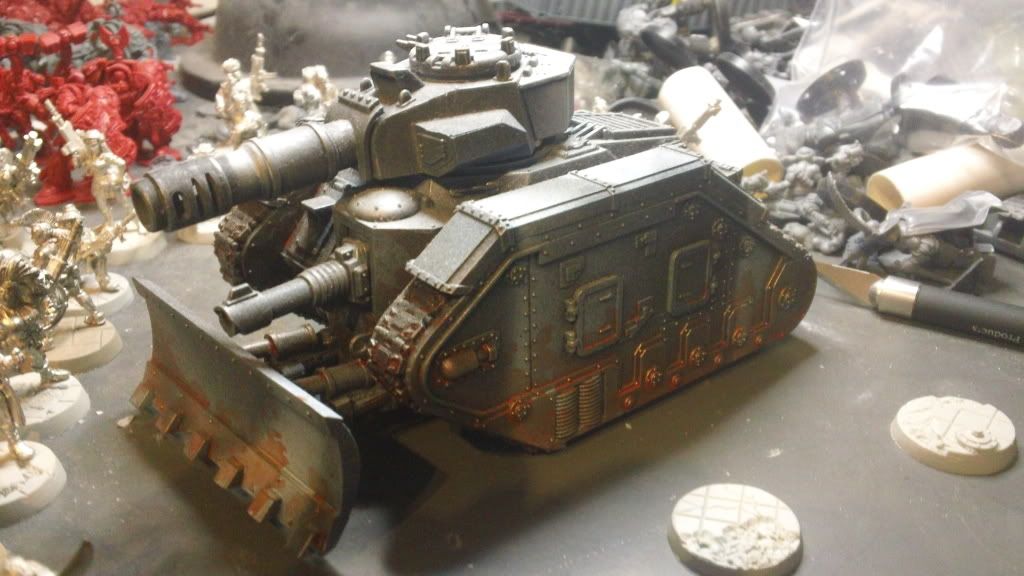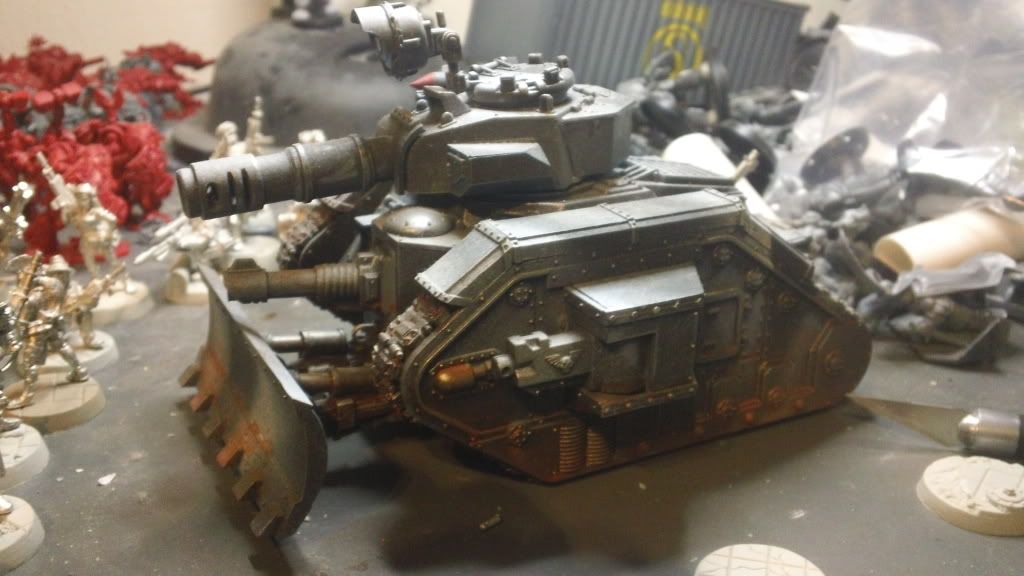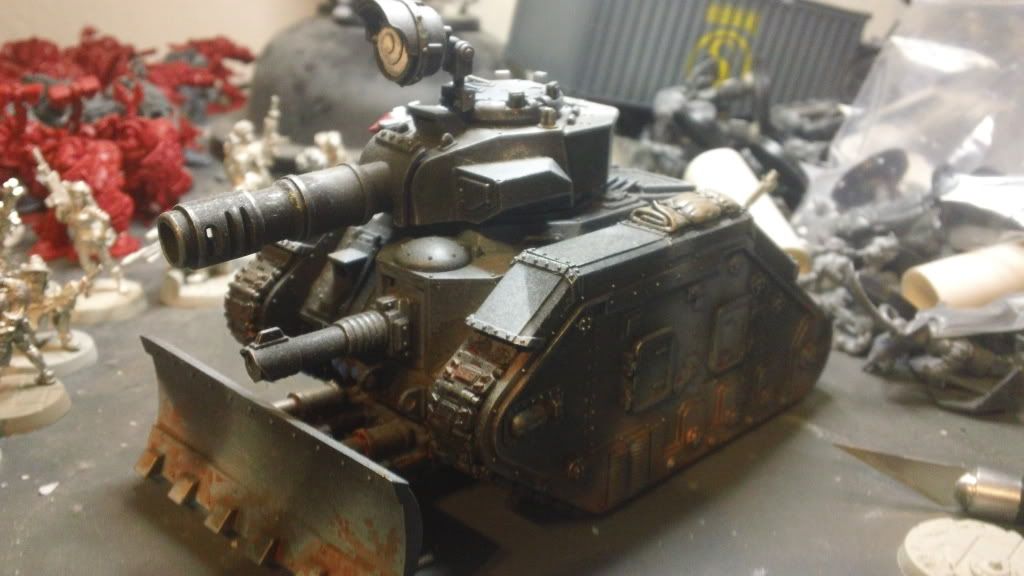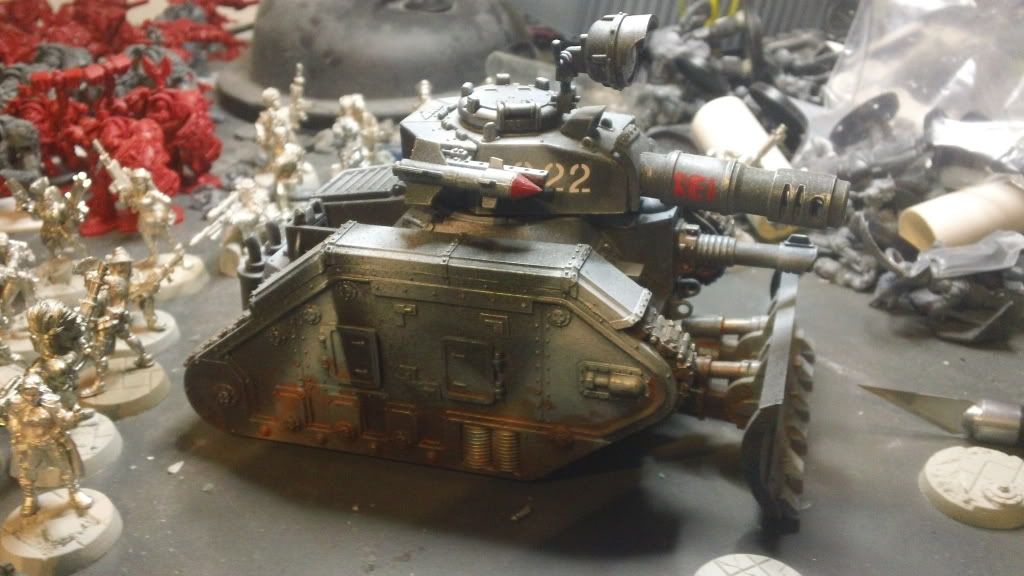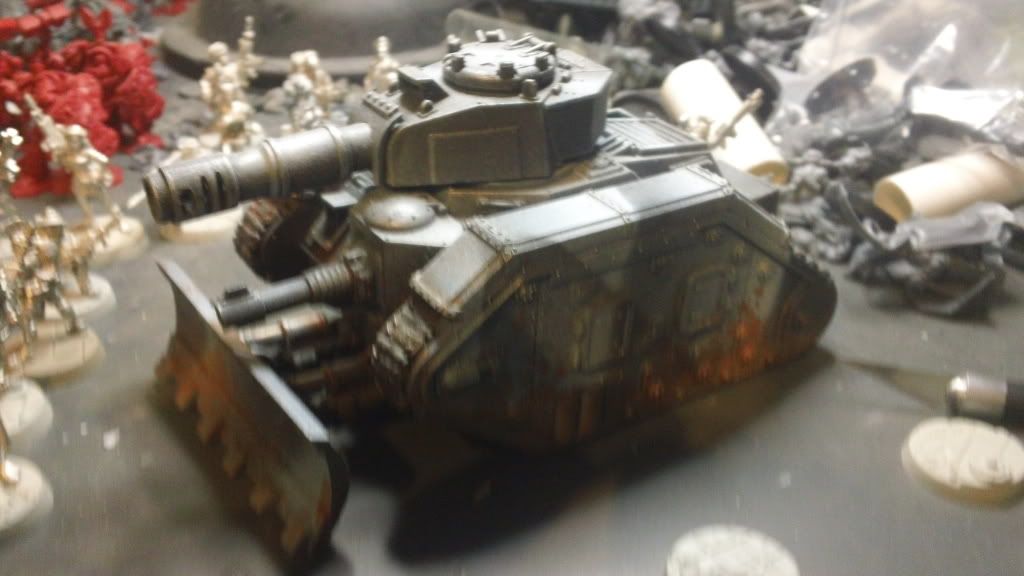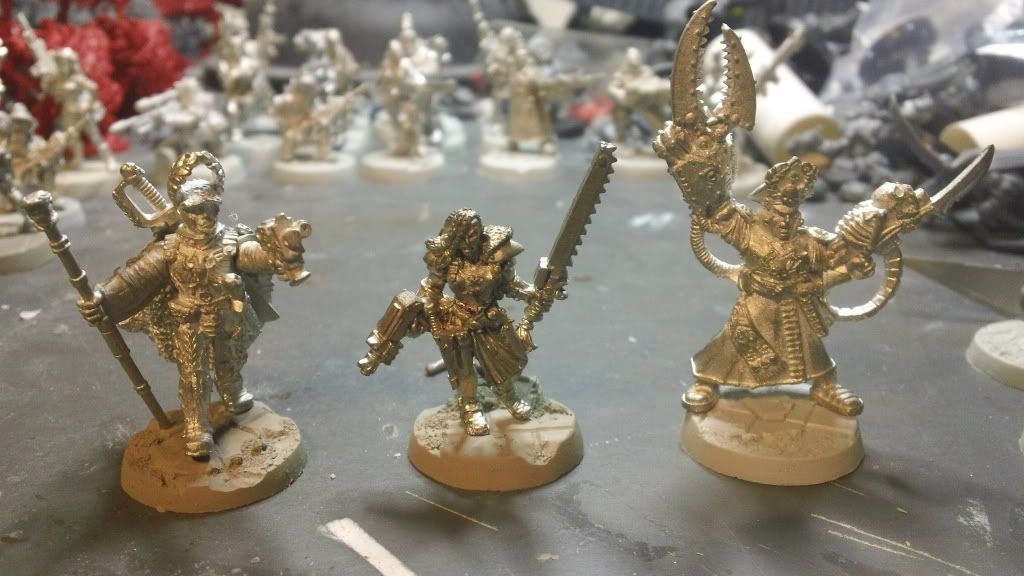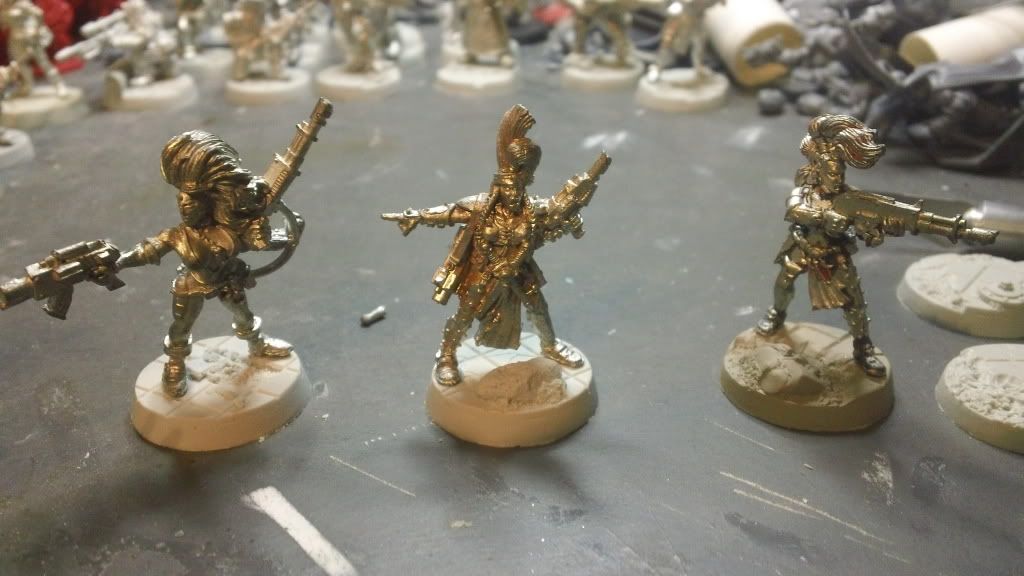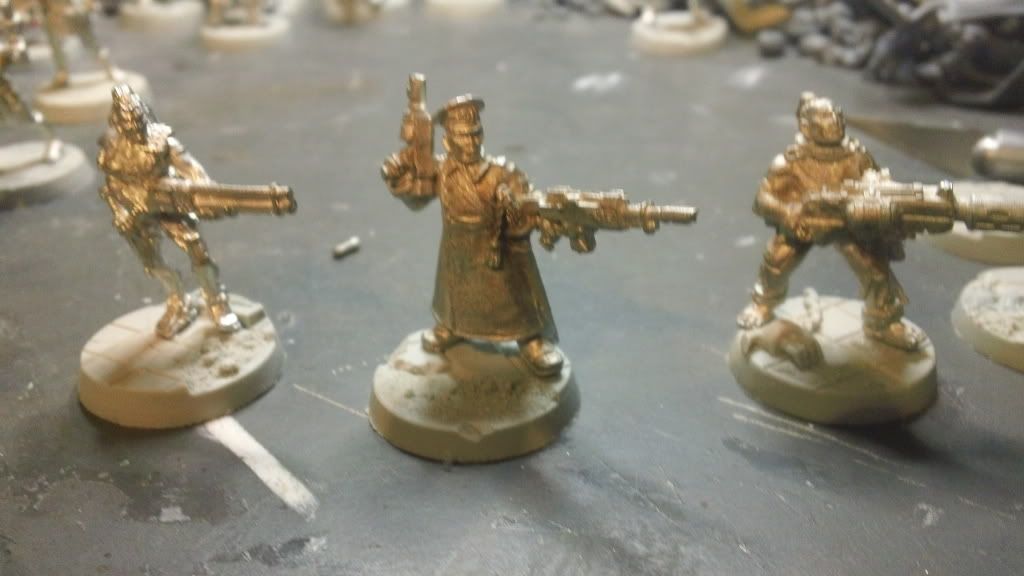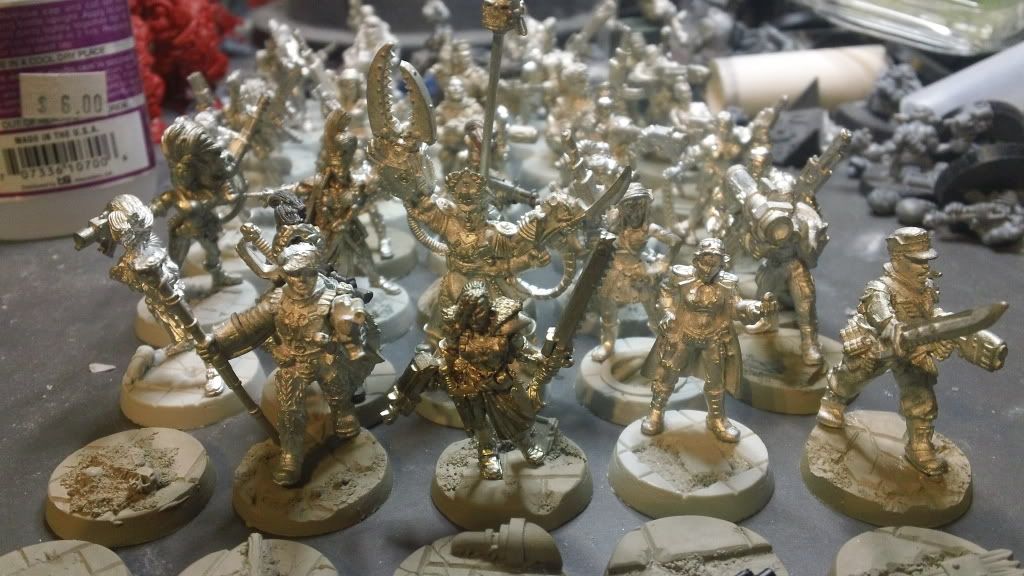 Because every regiment needs a "mascot", so I went with a wolf thing.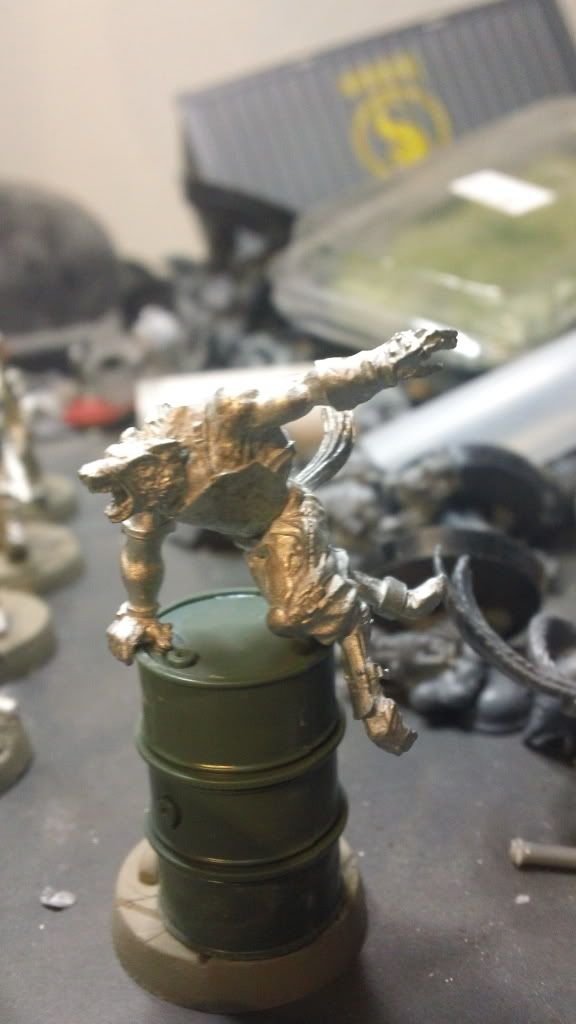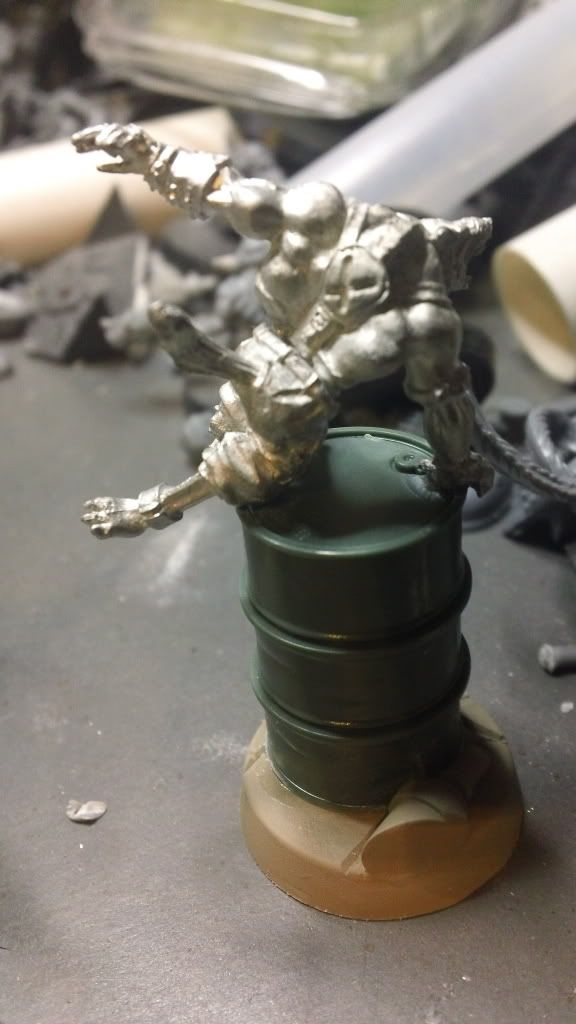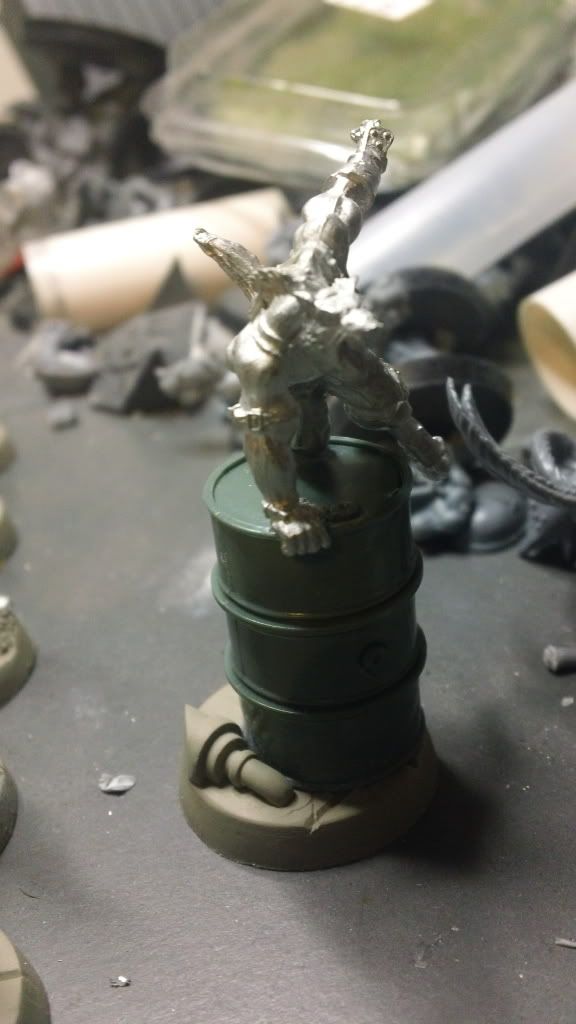 Posting more in a moment.
The scary thing is, I actually applied paint to some of these models. . .
Edited by Obscura, 11 March 2014 - 08:48 PM.