During the end of the last edition i started working on a themed Scythes of the Emperor force that i intended to be different to play and interesting to model, when 6th edition arrived it forced me to entirely rethink how i wanted to play and the army i was building towards had to get a complete overhaul. Sadly alpha striking scouts were out, as was the usefulness of Shrike and fleet becoming redundant, power fists are no longer the best choice due to challenges, the added scourge of the outbreak of flyers and the need to defend against them......
After months of play testing various builds and units against my local gaming group it's finally time to get down to the nitty gritty of fully painting my army, I've started this new thread to mark my new beginning and hopefully (time permitting) it'll be updated more regularly
First up my WIP AOBR dread.....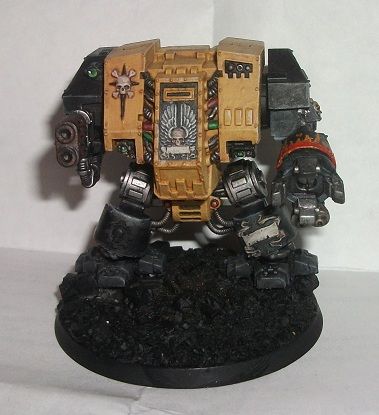 Still a fair bit of highlighting and detailing to add and stuff like the chapter symbol.
Edited by Cornelias, 22 February 2013 - 10:49 PM.