CHДPTЁЯ ОF THЁ ЯЦЇЙЁD КЇЙG


Шояd Бєaґєяs Lёgюи




F̦͕̖͈̦̞̻̦̎̏̋͌̾͌̆̕̕͜͝ͅṛ̩̺͖̦̪͇̙͚͌̃̅͛͛͒̈͗̓͜͝ơ̧̙̙͕͈͖̣͈͓̆̈́̃̑̅͂̆̕͝ͅm̢̳̫̟̳͙̝̙̥͍̎̎͐̓̈̆͊̽̕͝ ̡̨̯̖͇̝͔̱͖͊̈͊͐͑̈́̾́̒̚͜ţ͕͚̣͚̣͚̹͍̮͐͒̈͒̒͊͑͌̈́͠h̨͎̩̫͈̝̫̮͕̳̑́̐̈̌̽̎́̏͝é̡̛̬̰̜̺̼̗͓̬̭͊̏̍͋̋͑͂̚ ̨̡̥̳͍͖͉̠̠́̏́̍̑͑̈́̾̈́͝ͅĄ̩͖̬̘͚̜̩͆̈̓͌̈́̐͗̀͂͜͝ͅb̩͎͚͇̼̮̻̹͈͖̓̎̊͌̓͊̌̾͒̎y̢̨̛̘͍̮̩̩̪̲̌̔̎̔̿̑́͛͝ͅş̛͇̪͕̗͎̤̦̒͂̐̂͂̈́́͘͜͝ͅs͈̠̘̮̼̪̦͎̮̬̃̿̔̾̐͐̈́͒̾͝,̡̹͇̳̬̜͓̊́̄̓̈̕̕̕͜͜͝͝ͅ ̝̘͓̳͓̘͚̟̟̙́͌̄̐͊̐̂͐̆͘t̫̪̙͉̙͓̭̯̽͗͋̓̌͌̆͘͠͝ͅͅh̞̠͇̝̝̳̪͈̗͚͑̍̃̐̀̅̚͝͝͝e̡̜̣̠̹͚͓̼̬͉͆̓̆͒̇̿͗̈́̃͘ ̜̫̝̞̩̻̟͙̺̑̒̊̃̔̀̽̿̿̔͜r̛̹̖̠͖̺̞̜̥̪̱͐̒̄͑́͂̏͊͝ú̡̺̬̗͈̱̬̭͖̟͐̽́̿̉̈́͒͝͝i̧̧͓͎͉͔͎̩̣̥̔́̔́̑̽̌̌͘͝ṉ̨̧̳͚͎̜͙͉̗͒̑̆̄̈̾̐̔̕͝ȁ̝̯̠͓͕̮̺̹̻̔̎͐̌̄̓̾́̑͜t̨̨̛̛̩̩͉̞̺͍͎̼̉̑͛͑̈́͐̉͝ȉ̢̡̛̫̫̯̤͎̪̜͛̅͛̓̄̑̽̚ͅo̜̘̺̭̦̭̭͙̞͂̋̍̽̃͛́͘̕͜͠ñ̤̩̞̪̗͓̟̝̺̯̎̏̅̓̄̊̅͋̚ ̡̡̛̰͓͉͕̼̮̿̌̅̈̃̌̏̎̈́͜ͅő̻̗̱̝͚̹͓̫̖̬̽̈́͛͐̍̍͘͝͠f̧̨̛̱̭̣̖͙̟̦͆͐̍̄̌̊̇̒̑ͅ ̠̙̘͔̣̠̱̥̜̭̀̒̍̅̓͆̆͛̐͠ả̮̬̩̱̪͚͎͙̻̍͌̉̐̏́̇̄͘ͅl̢͇̹̲͚͎̟̟͔̐̒̾̿͑̋̿̅͒͐ͅl̢̯̪̙͚͇̳͈͈̱̄͊͑̉̀̂͆͐̃͆ ̡̛̙̪̝̖͎̲͕̈́͛̓͗́̂͊͛͘͜ͅk̢̨̛̖̥͎͚̟̱͇̮̉̃̋̈́͛̾͌͘͠į̣̲̮̝̠͙̟͔̼̀͋̐̋̏̍̏̑̔͘n̨̬̗̙̳̜̣̰̞͈͐̾͑̒̓̒́̃̒̏g̨̫͓̤̹͓̪̤̬̀͒̅̆̈́͊̏̅̈́̚ͅd͈̱̻̙̝̠̺͉̯̖͗͊͋͑̂̂̓͗̾͆ǫ̧͎͍̥̱͍̼͕̘̒̈́̆͊͆̇́̾̾̕ḿ̨̞̳̣̯̼͓̖͍̼̈́̌͊̈́̇̆͘͘͘s̝̥̼̖̠̲̬̲̳͉̿͊͒̄͆̅̽͗̄͝ ̛̛̦̤͇͔̠̞̩̬͎̾͂̅̓̑̈́̑͝ͅc̢̰̹̭̖̙̩̪̭̼̐̊̍̀̃́̈́̊̂̆ơ̡͖̹͖̟̹̫̯̳̑̀͌̈́̊̏̓̿̀͜m̠̮̭̩̭̲͈̪̞͙͊̾̋͑̔͛̆̐̿̚e̛̳̞̪̭͉̹̺̘̻̓̆̀̿͊͋̐͜͝͝s.̬͎͖̜̦͔͎͚̄͋̍̓̈́̊̃̚͝͝ͅͅ.̧̙͕̖̯̦̙̜̑̈́̓̈́͂̏̉̉͝͠.̢̧̛͙̮̖̮͂̊̉̈̆̾̓̀̚

Here do I swear, with final breath of life escaping my lips, fealty and service to the Dead Word and King of the Abyss.
For the sovereignty of the Four Winds, and their thirsting Neverborn, I do cast my soul into their whims as homage to my Lord.
Just as crimson blood drains from my wrists, so too does my will. The Neverborn may tear at my spirit and and forever feast on my grave,
Unless my King see fit to drag me from the sea of souls, and bring me into this world anew by His hand as His vassal.
My voice I silence, so that His may be heard. My ambition I tarnish, so that His is seen true.
My blade I grasp, so that His foes be slain. My lords I follow, so that that His will be done.
My life I sacrifice, so that His reign may continue. My soul I ruin, so that He may live eternal.
I call upon the Pantheon as my witness in these final moments, for with my final breath, I do make this covenant whole.
I plunge myself body and soul into the Abyss, so I may be judged worthy of service.
- The Covenant of the Abyss
Good evening, brothers and sisters. So, after that lengthy (and probably over the top) opening, I do welcome you to my newest WIP thread. As I'm sure you have noticed, this will the the progression log of my Word Bearer Warband known as the Chapter of the Ruined King. Here I will be posting models, painted pieces, lore, stories, and occasional artwork for these Bearers of the True Word aswell as their allies that herald from various regent Legions. While the progression of allies will come as time progresses, I can confirm that Night Lords and World Eaters are among those allies and will probably the most numerous of them. But, of course, the primary concern here is my Word Bearers who will form the main body of this army.

So, without going into too much detail, I would like to explain a bit about where I plan to go with this army. One thing that has always struck me as incredibly awesome and awe-inspiring in War Hammer is Chaos Knights, true and absolute devouts of Dark Gods that fight in their name with beautiful and baroque armour. Now, to be perfectly honest. I do not enjoy playing Fantasy in the least, so actually playing Warriors of Chaos is simply not an option. However, I have always wanted to incorporate the many bitz that I've acquired over the years from their bitz range. Anything from baroque helmets to their beautiful shilds and twisted mutations. It has simply always been a bit of an obligation, if you will, to make every Chaos Marine model as chaosy ans twisted as possible. To that end, Word Bearts no only fit the twisted and mutated concept but also ride the themed of 'panadins', true knights of chaos who will fight and die fore their Gods.

Now, without further adieu, I leave you with a model that some of you may have already seen before on Grottsmasha's chaplain conversion challenge, but his is by no means the worst and I'm actually quite fond of him.

Here is Dark Disciple Zerrith. Yes, Dark Disciple, not Apostle. I'll explain to you his fluff at a later date when I have more time but I am simply too tired for now and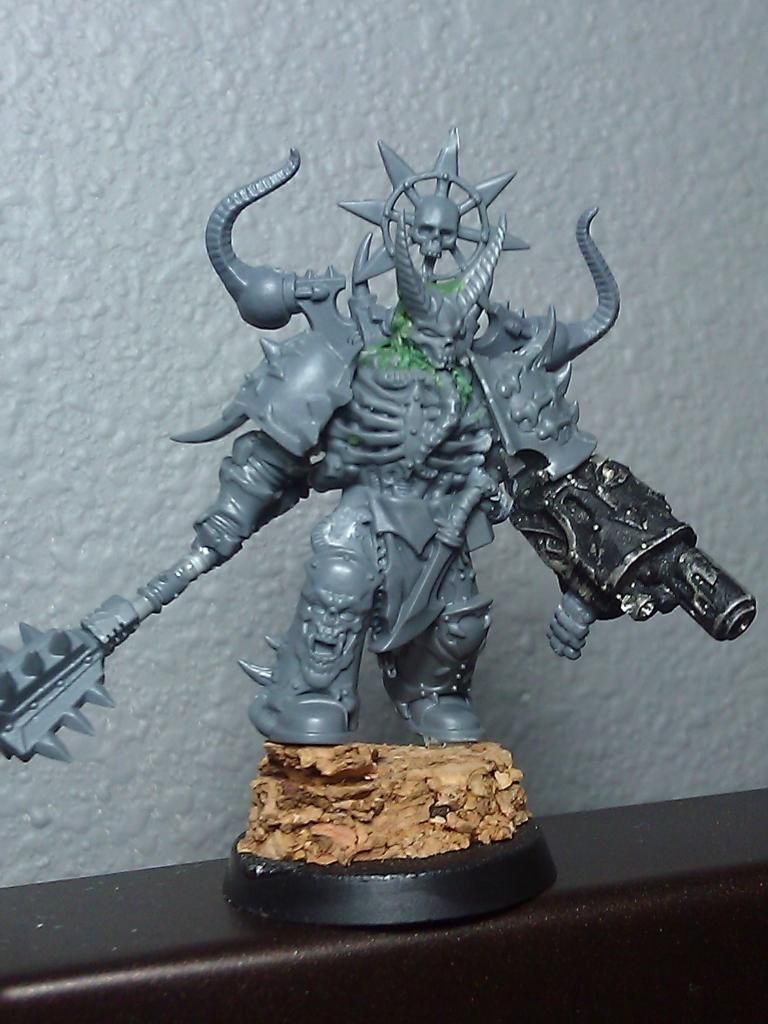 As Always, if you enjoy it or if you have any questions, feel free to ask.

Untile, then, Enjoy.
Edited by Noctus Cornix, 25 May 2020 - 03:23 AM.