The Skull Champion is finished, along with another two-handed axe dude, of which I haven't even shown you the WIP pics. With this, my first squad of World Eaters Khorne Berzerkers is finished, and I can somewhat begin to justify that reddish Lord of Skulls in my sea of blue Night Lords.
So here's the Skull Champion, named Arekh Haar. I decided to not do do the blade of his power axe in blue but just stick to the regular metal colour. The axe's size is enough to justify that AP3, I believe!
And then there's the last of the eight berzerkers in Squat Haar. I love the helmet of this guy, wherein his face is visible through a damaged bit over his right eye.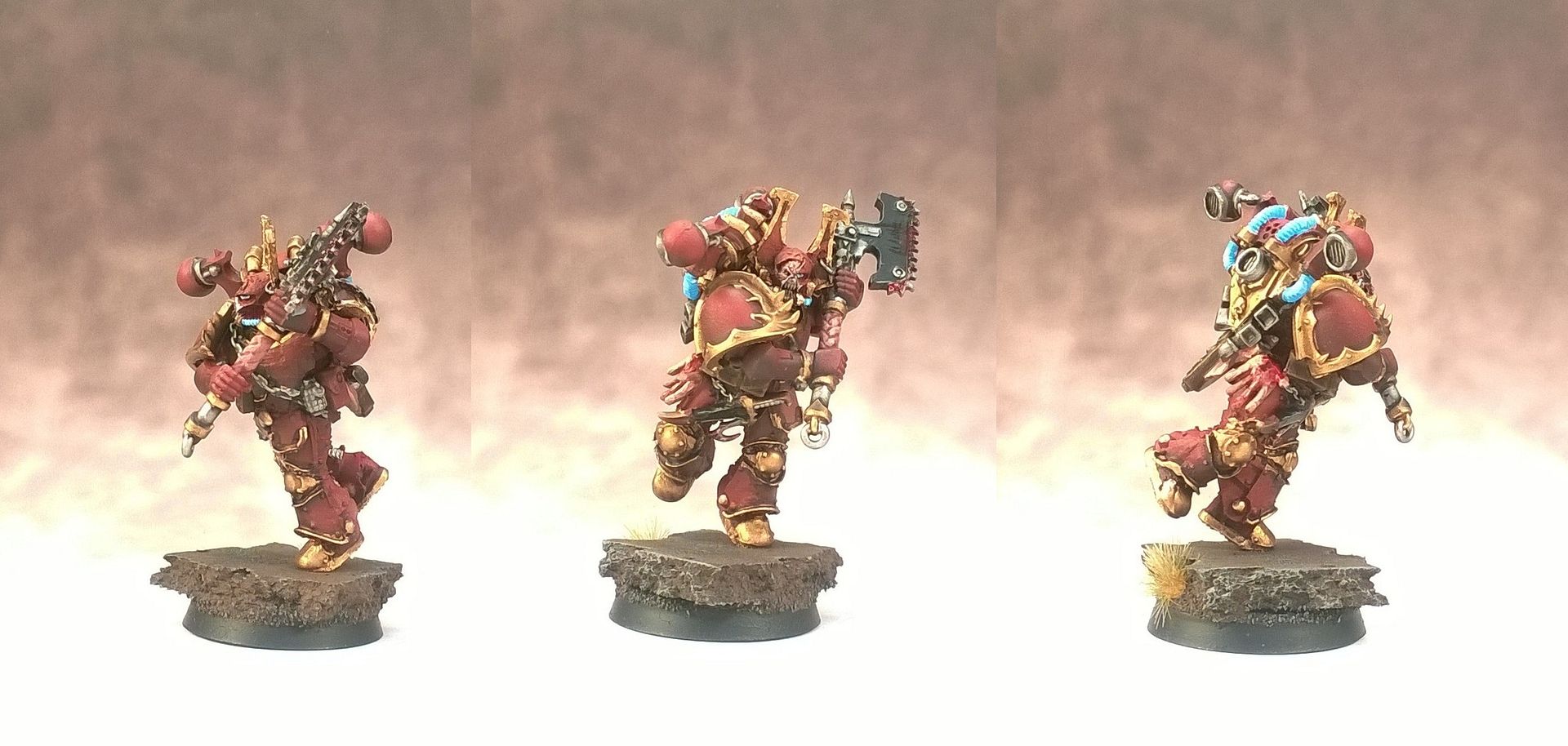 Hope you like, and as always: feedback more than welcome.
Replies:
@KrautScientist: I know right? That head is just too good to pass up. I regularly scour bits sites just looking for it. I will take your encouragement under 'advisement', meaning I will most definitely think about doing another daemon engine. You have given me the idea of making my own blood slaughterer... which might even feature the ogre gut plate
@Midnight Runner: Haha thanks mate! Seven foot psycho was what I was going for!
@sockwithaticket: Cheers mate. Hahah yeah he might be compensating for something? I agree about the group shots. I'll take one of the whole bunch soon,
@Elduderino: That's a wonderful looking Khorne champ and those ears look the part. I understand that the pads might get in the way though - which is why I'll prolly stick to the FW khornate termies... And I agree with KrautScientist that you should finish him! FINISH HIM!!
@Atia: Trophies are the best aren't they?
@AlanofAngels: Yeah the chaos warrior torsos make him bigger, no?Try this for chains: http://www.modelling...s.co.uk/19.html
@Paerson73: It is! Ask Kraut where he's from, I have no idea...
@MrBear: Well thanks! I love doing them so far, so I'll keep this up for a while. Perhaps until the ETL, after which I have several predators to finish. And don't you dare sway completely off the path of the VIII, as I sure won;t
@Tarvick: Aha! I checked and the axe is from the gorebeast chariot!