I've recently had a but of a new found love for one of my older collections, my Imperial Fists, over the last year or two i've really struggled to motivate myself to continue with this project, I think one of the problems is every two or three years I find myself becoming unhappy and jaded with the miniatures i've already painted, and whilst i've had some of these feelings i'm simply ignoring that problem till it goes away, another major impending factor is that the Burning of Prospero box came out.
I've always loved the idea of how The Imperium wages war, not only Space Marines going to war but Guard units alongside them, Sisters Of Battle, even the forces of the Mechanicum. So expect to see some of my Inqusition models here too, and i'll be painting the other models from the Prospero box, in fact i've already just about finished the Sisters Of Silence from the box set, I just need to do the gems, eyes and bases, the Custodians will hopefully not be too far behind, I've always loved the Legio Custodes and long strived to convert models I was happy with, but I never managed anything as cool as the miniatures that have been released, the temptation to grab another 3 or 4 Prospero boxes and do an army of just Custodes is unreal.
For the moment I need a bit of a break from my Black Legion and i'm gearing up for an Apocalypse game in March, so i'll undoubtedly be taking one of these two armies as I already have the most miniatures, my Necrons are all ready to go but that would feel like cheating.
To start with I thought i'd try and motivate myself and get the ball rolling with some of my existing miniatures, as I said i'm not entirely happy with some of these now, but i'm going to keep a hold of them and soldier on, forcing myself to paint two or three new Tactical Squads every few years just isn't working. I'll be starting by working through all the half painted miniatures I already have and painting the miniatures from Burning of Prospero, i'm going to take a different approach to normal and borrow my friends airbrush to get the yellow basecoats on, just for the sake of ease.
Anyway, rambling aside, have some toy soldiers.
Firstly a Tactical Squad, the foundation of any Space Marine army, led by one of my favorite miniatures ever, an old metal veteran sergeant, I hope this guy makes a comeback with the made to order range.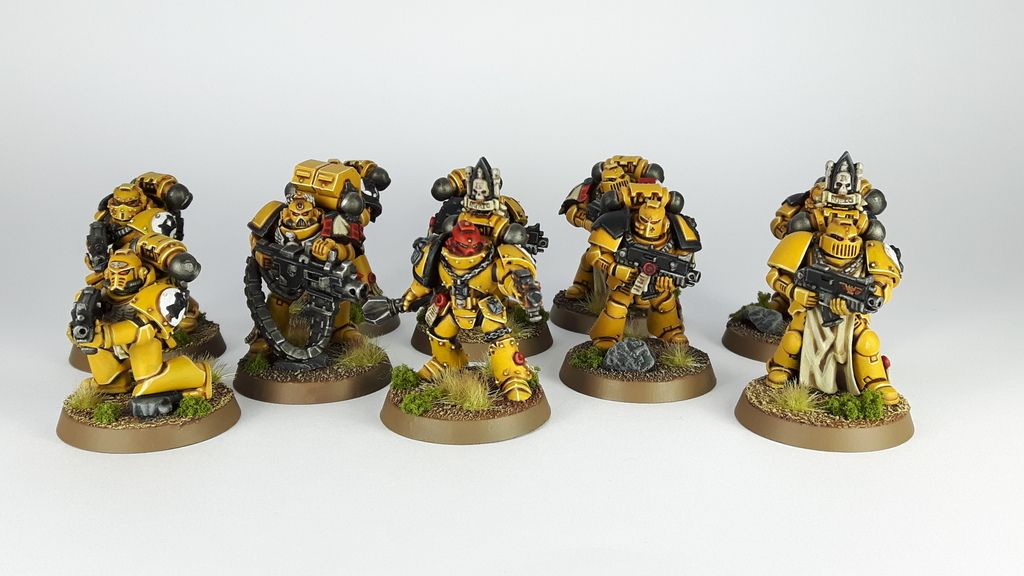 And a bit of a close up on the sergeant, the marine with him was the first model I painted for the army when I changed my colour scheme. I think i'll go back to this squad shortly and give them some squad markings, and turn the sergeant in to a veteran sergeant.
And what army could function without a leader, so here's my Terminator Librarian, converted from the Blood Angels Librarian, with a few Grey Knight bits, he needs a bit of tidying up perhaps, but to be honest I might just paint a new one and use it as an excuse to have a Librarius Conclave, after all, more toy soldiers is always fun.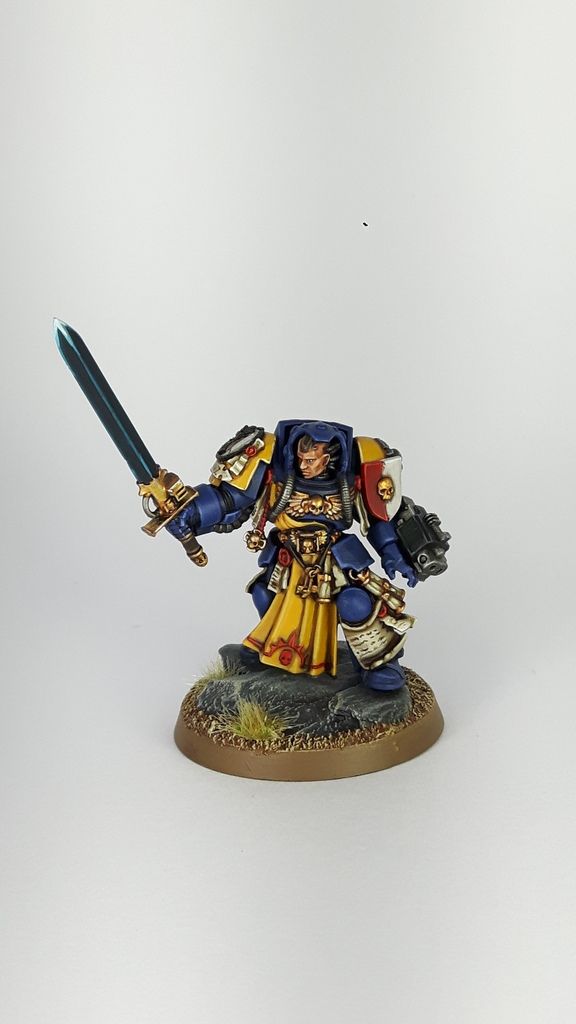 That's all for now, but i'll hopefully be back soon with a few more existing miniatures and maybe even some new models, expect some Sisters Of Silence and i'm hoping to finish Captain Lysander soon too.
Edited by Brother Tyler, 02 April 2017 - 04:25 PM.
Tags edited