I have to admit that the Kroot have always appealed to me. Sadly, their role in the Tau codex has been rather lackluster since forever. However there is hope! Rumors drift through the forums of a possible codex Kroot and online (unofficial) codex have existed for years. Kroot are a unique race for 40K and really do deserve more support. So I decided that since I prefer the modeling aspect anyways, I would create my own (unofficial) Kroot mercenary warband.
So first things first, the model range for Kroot is a bit limited. But it lends itself to kitbashing and with a little imagination, they are able to be turned into some very unique models. I have imagined my warband as largely a mounted force with some light infantry elements. Kroot trackers are a light mounted force riding small Knarlocs. No model exists for these particular models, so I had to do some serious searching for something I could convert to make convincing mounts that would stand out against the larger Knarloc and greater knarloc models.
I have seen some people use various cold one models. The original design came from the GW workshop and used a Krootox head with a (now OOP) old style cold one body. More modern designs use similar fomulas, but finding any large number of those models proved a challenge as I live in a tropical island without any sort of gaming stores. Ebay is my best source of models. Piecing these out was turning into a challenge until I randomly found an image of a Imperial rough rider on a velociraptor. With a bit more Google-Fu, I discovered that Tamiya has a range of small velociraptors that come in a box of six models. Slender bodies that would look good as lightweight mounts. Except they had very distinctive velociraptor heads.
I did also randomly find a range of oversized Kroot Hound models offered online that I chose to purchase so I could field a good number of Kroot Hounds along with my Carnivore squads. The heads from these oversized Hounds were just the right size for the Tamiya Velociraptors. So with a little greenstuff and a pressmould, I forged enough heads for all my new mini Knarlocs.
But Kroot have those distinctive spines on their heads and I needed to add those to the models to complete the conversion. I tried rolling greenstuff and realized that I am a clumsy, clumsy person and the rolled spines looked silly and uneven. Then I tried toothpicks. Waaay too big. A round hairbrush proved to be my saviour. I could pluck out the individual bristles, cut them to size and then laboriously glue each spine in place. It was tedious, but it worked. And looked right.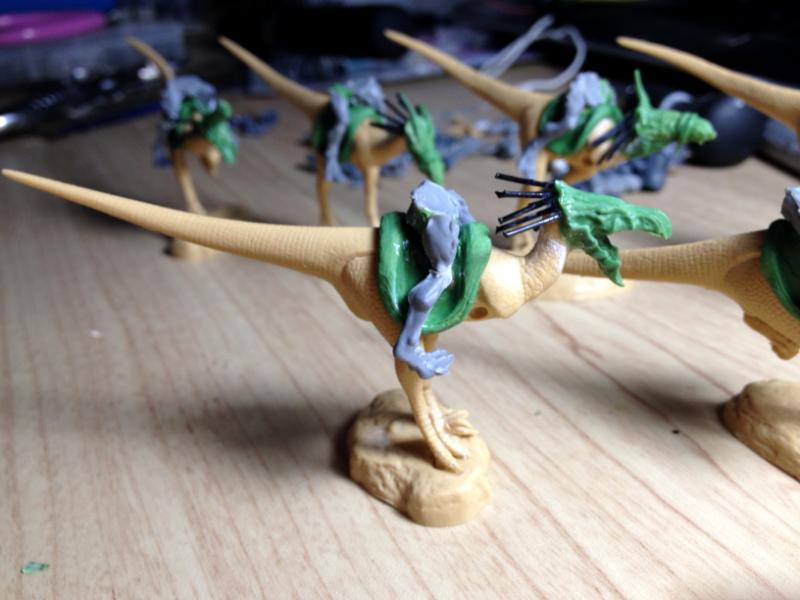 A simple saddle for each model was made from greenstuff and pressed into shape with a plastic tool I found at a thrift store. The legs of each Kroot rider required a bit of cutting and greenstuffing to fit properly on the mount, but was surprisingly simple to convert.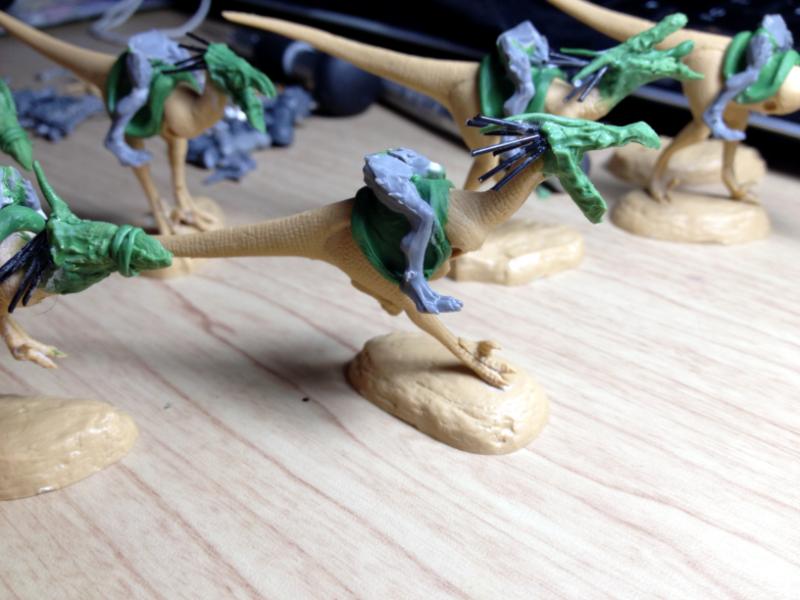 Being scavengers, Kroot would have a mismatch of gear strapped to their mounts. This warband would need to carry whatever items they would use to make camp and to fight on their mounts, so I scoured my bits boxes for potential stuff to glue to each mini Knarloc.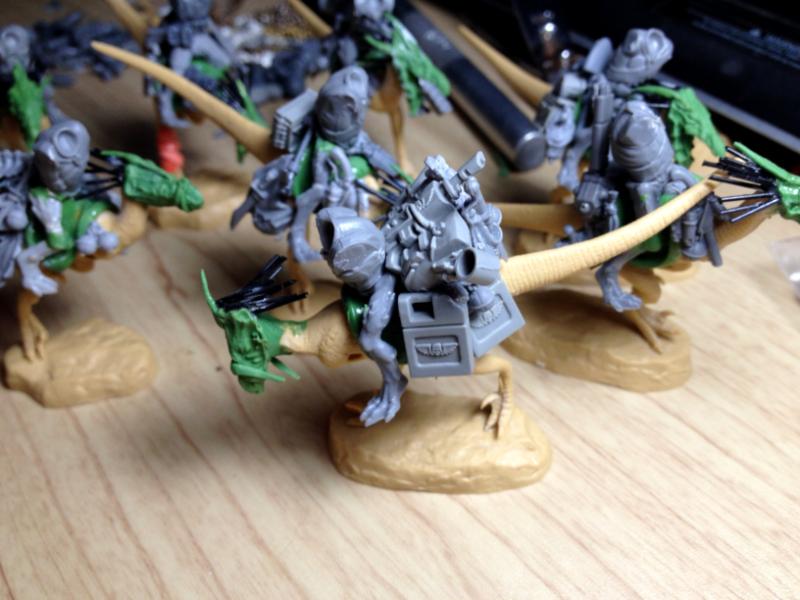 The Kroot sprue from the Carnivore kit has a ton of neat bits to add to each model. Mixed with the imperial and other bits I had accumulated over the years, the mounts look properly savage and futuristic.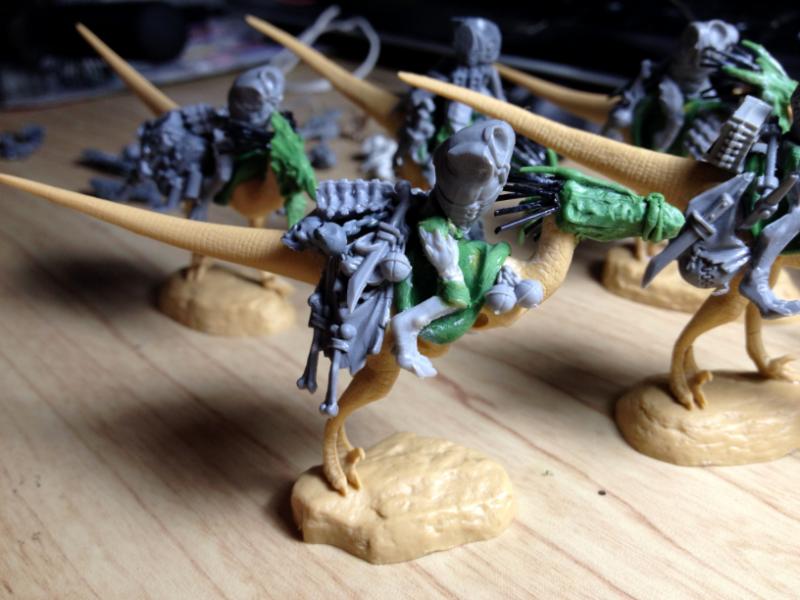 The Kroot are led by a Shaper who is both the military and social leader of the group. I gave him a falcon (likely related to the other Kroot by some distant ancestor)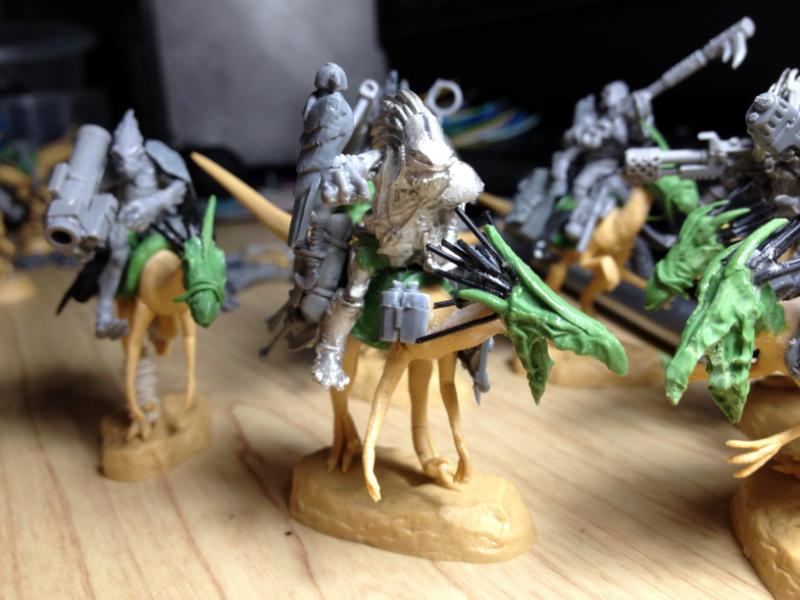 Their communications officer has a cybernetic eye and carries the standard Kroot rifle.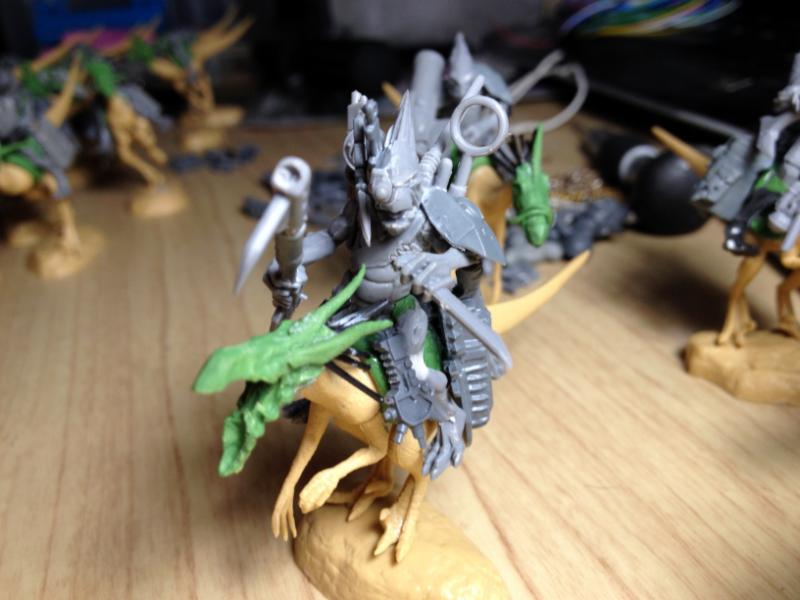 A mounted warrior carrying a missle launcher and another with a flamer are among some of my first models to near completion. I bought four boxes of these velociraptors and have all 24 in various states of conversion. Here are the first six.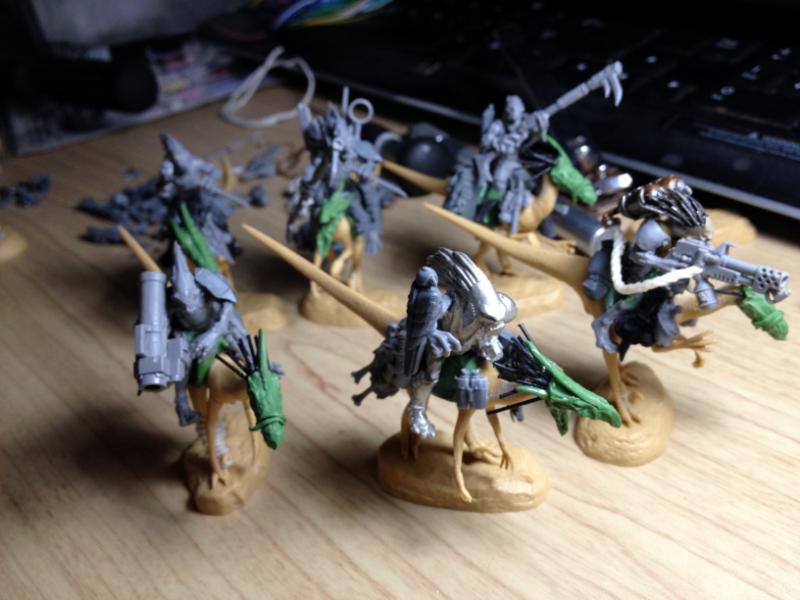 I did forget to order proper bases for these guys. Anyone know any good sources online for cheap bases?