Departing from their homeworld of Pech centuries ago, these mercenary warriors have endured loss and isolation for generations. Originally a small fleet boasting four massive War Spheres, numerous smaller battle Spheres and a plan. A plan to sweep outside of known Kroot Space to discover unknown species to add to the genetic material of the Kroot. Now, the Fleet has been ruined. First one War Spere and several Battle Spheres were lost to Ork Voidships. Surprised and rammed from all directions, only three of the War Spheres made the entry to Warp space. Entering reality afterwards proved dangerous and the experimental warp drives were prone to erratic behavior. Soon afterward, Human zealots dressed in Black armor struck. Again, a War Sphere was lost defending the remaining two craft as they slipped away into the warp. Plunging deep into unknown space, the massive space station battle Cruisers risked fiery unreality consuming them and as the craft sought safe entry far away from gravity wells that might rip them apart, they found themselves lost and far from even the closest planetary systems. Drifting for decades, they salvaged parts back and forth raiding far abroad in their smaller Battle Spheres. Sometimes emerging from darkness with stolen (or earned) supplies, weapons and even captured warships. Soon several heavily armored battleships were taken from a vicious pirate armada. Ancient craft loaded with smaller fighters and landing ships, these soon replaced the aging Battle Spheres as the favored cruiser for planetary raids. Human Frigates allowed safe entry into Imperial territory. Unable to return to Warpflight, the two massive War Spheres have been modified and built together into a confusing array of passageways and outward facing weapon systems. Alight with life and two fully functional Gellar field generators, the Massive craft has avoided the fate of being cast into the warp and becoming a Spacehulk. Drifting safely in deep space, the massive Space station has become a home for the wayward and the abandoned.
The Warband of the Four Fingers still searches for new genetic material to add to their bloodline. Kroot warriors range far abroad searching for mercenary work and have developed a dark reputation for solving problems that more civilized elements might shy away from. Demonic forces, pirate raiders and ancient Xenos threats have seen these unusual Blue skinned Kroot appear with lightning fast effect, driving the darkness back and then fading away to claim their reward. Imperial, Eldar and many other civilized species have turned a blind eye to the Kroots unsavory needs as their honorable nature proves them to be reliable allies time and time again. When all else fails, there are always those in positions of power willing to consent to a small sacrifice to resist the greater darkness from closing in.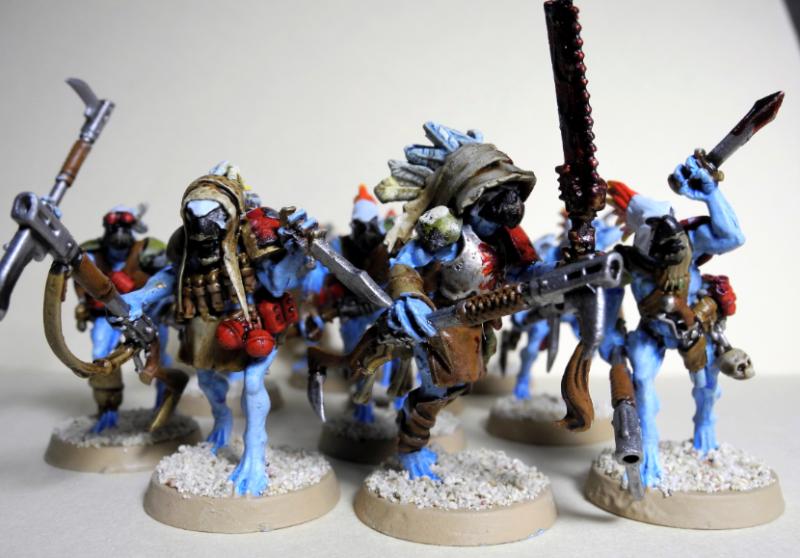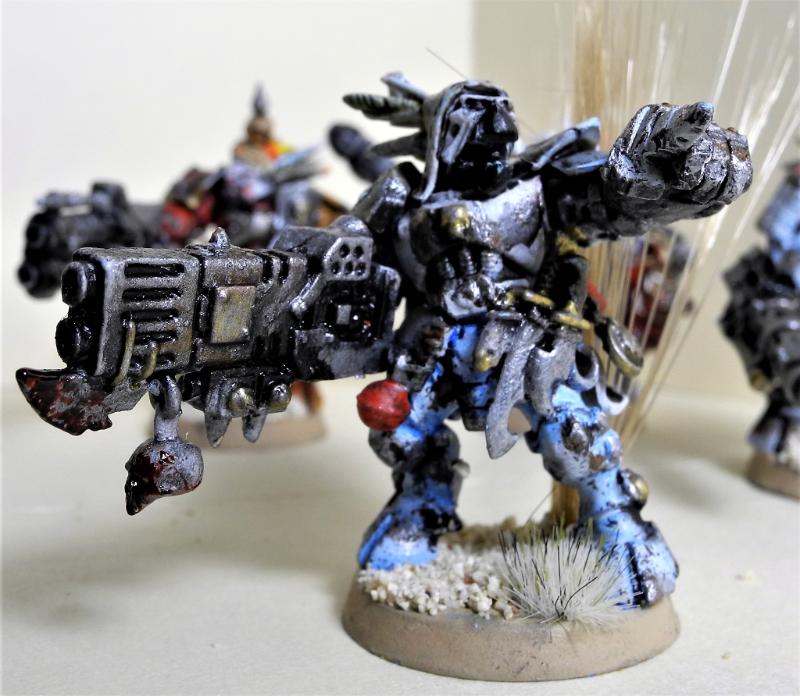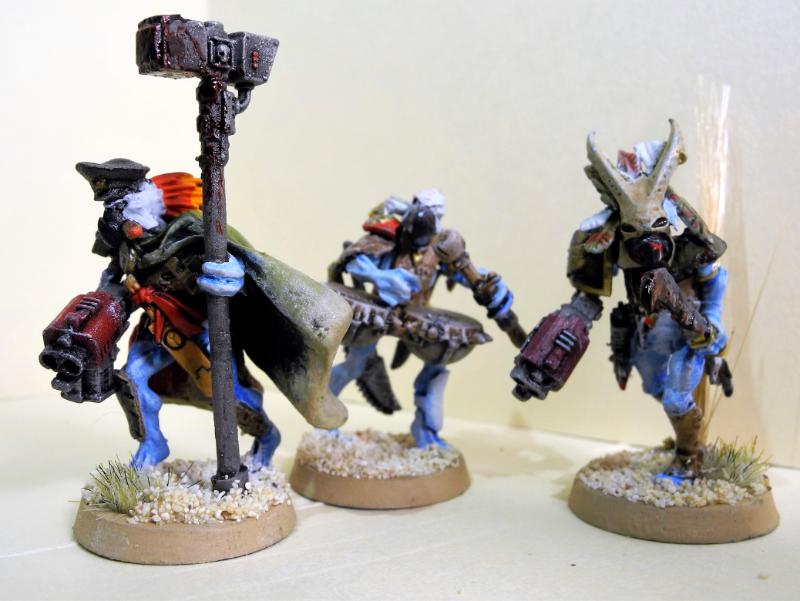 Kroot Warriors sometimes are paired with massive Kroot Hound specimens dubbed "Trackers". These spindly beasts develop massive cranial formations that block out their sight and even hearing within the first year of life. However the same growths magnify the beasts sense of smell greatly. Nurturing these blind, deaf beasts Kroot riders develop a bond allowing them to ride into the most terrifying of combat. Unflinching beasts, they move silently across the battlefield until the time to rush the enemy arrives.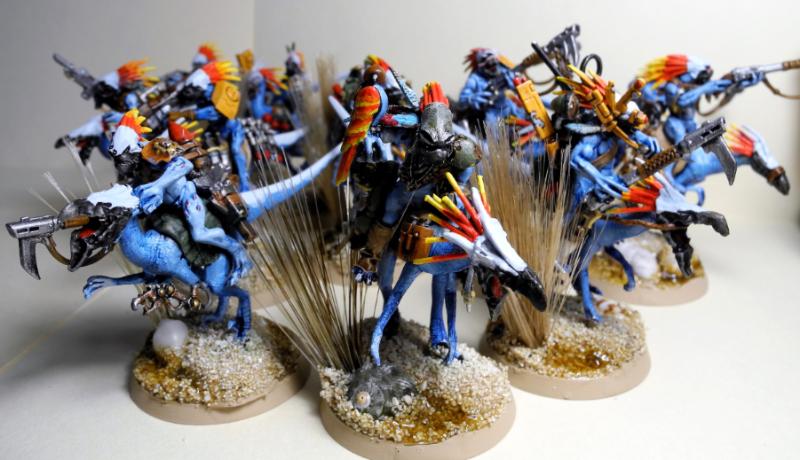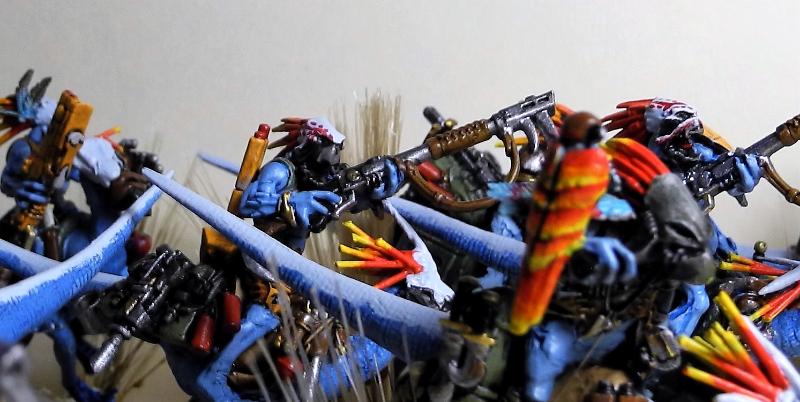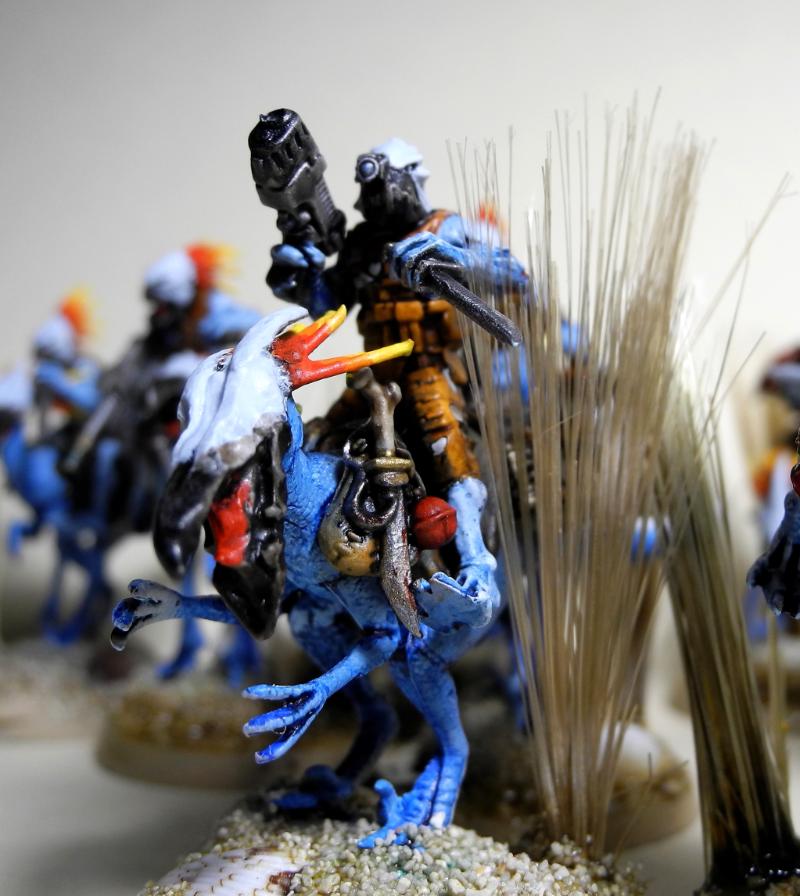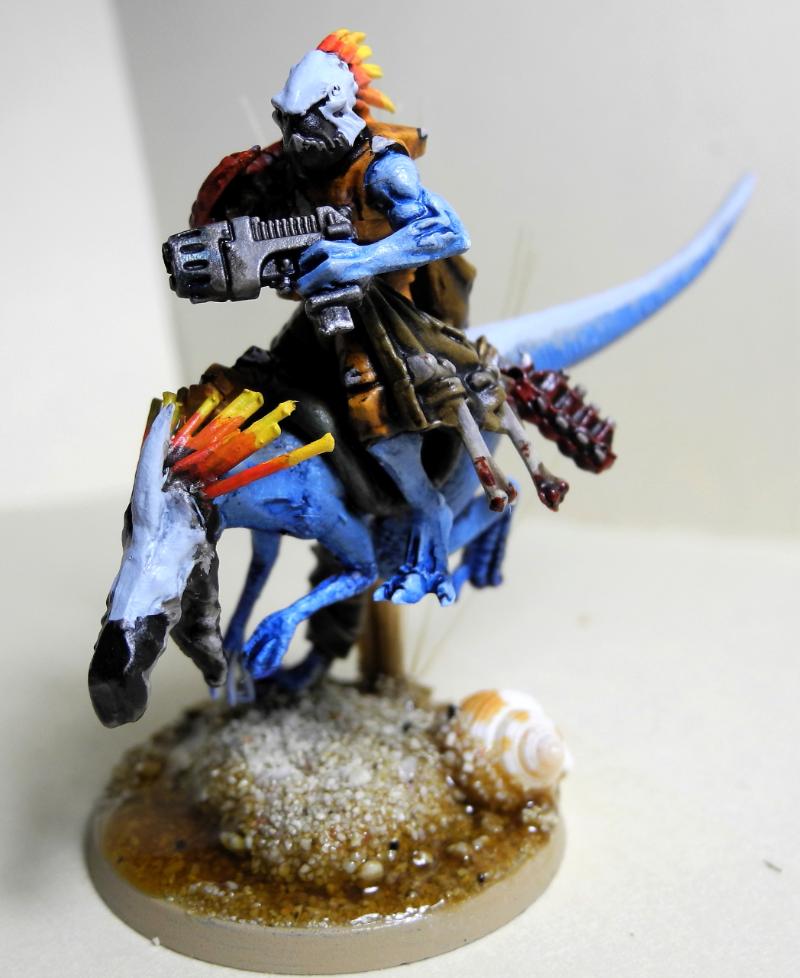 Adult male "Trackers" grow to massive size do not display the cranial overgrowth and are wildly aggressive beasts. A team of two Kroot riders is required to control the beast and its powerful frame is able to carry heavy weapon systems and armor into battle. Easily able to outrun the smaller "Trackers", these lone males are held back to provide supporting fire as the smaller females rush ahead until the time is right for them to charge the enemy in a frenzy of claw and beak.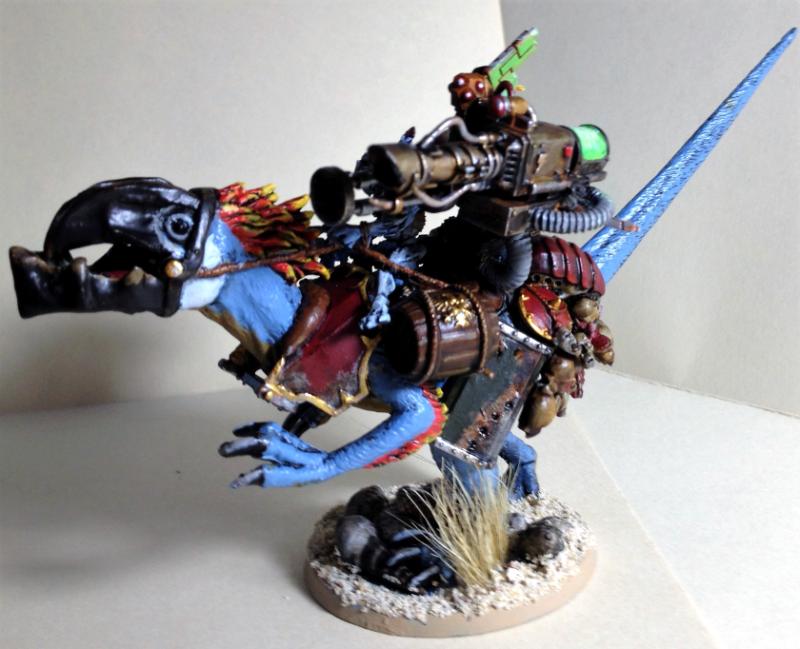 Kroot Hounds race ahead of their "Tracker" brothers. Cybernetic limbs are used to mend wounded hounds. Nearby, mutated Kroot warriors degenerated by contact with Tyranid specimens run wild with the hounds. Unwilling to murder these aberrations, the infected are sterilized and watched for further signs of mutation.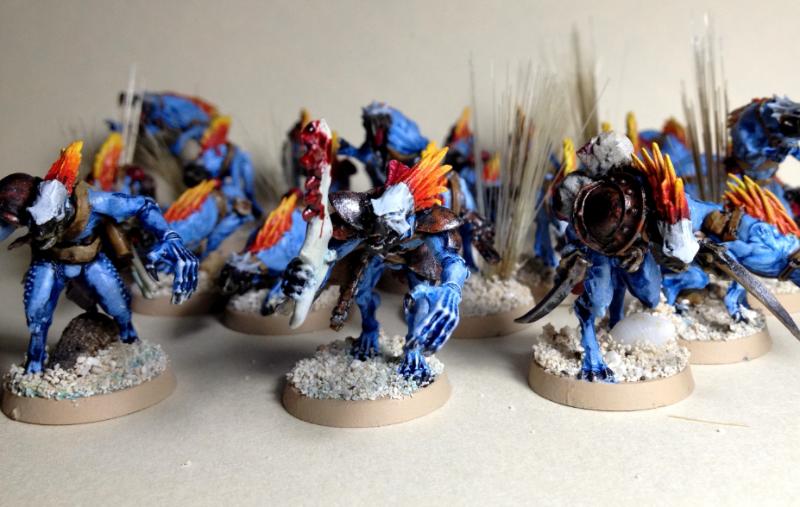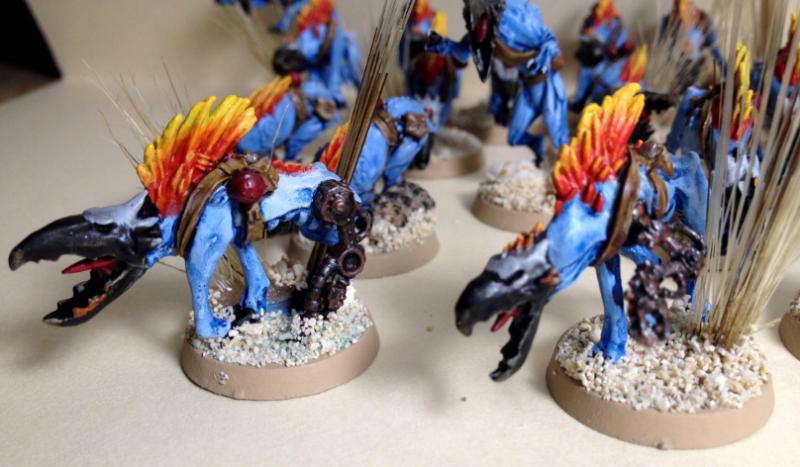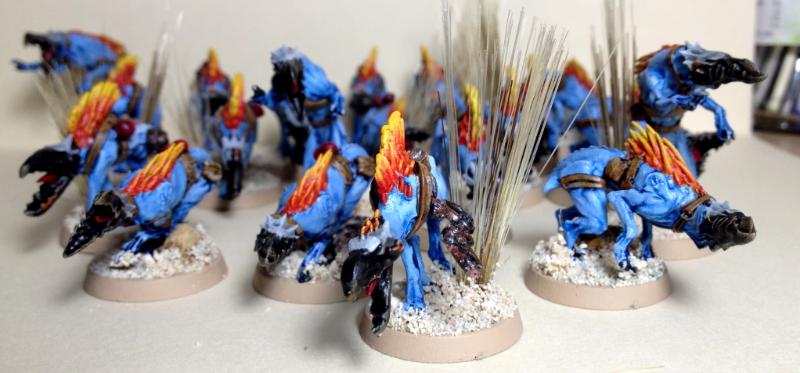 Knarloc beasts carry weapon systems scavenged from a burning Tau Warship. Arriving too late to rescue the crew from an Ork assault, the warband took time to carefully salvage the advanced Tau weapon systems. The decision to recover so much advanced tech cost the warband deeply. The Orks had already called for help before being wiped out and soon an armada rushed the Kroot fleet. One War Sphere and several Battle Spheres were lost as the fleet jumped away to safety.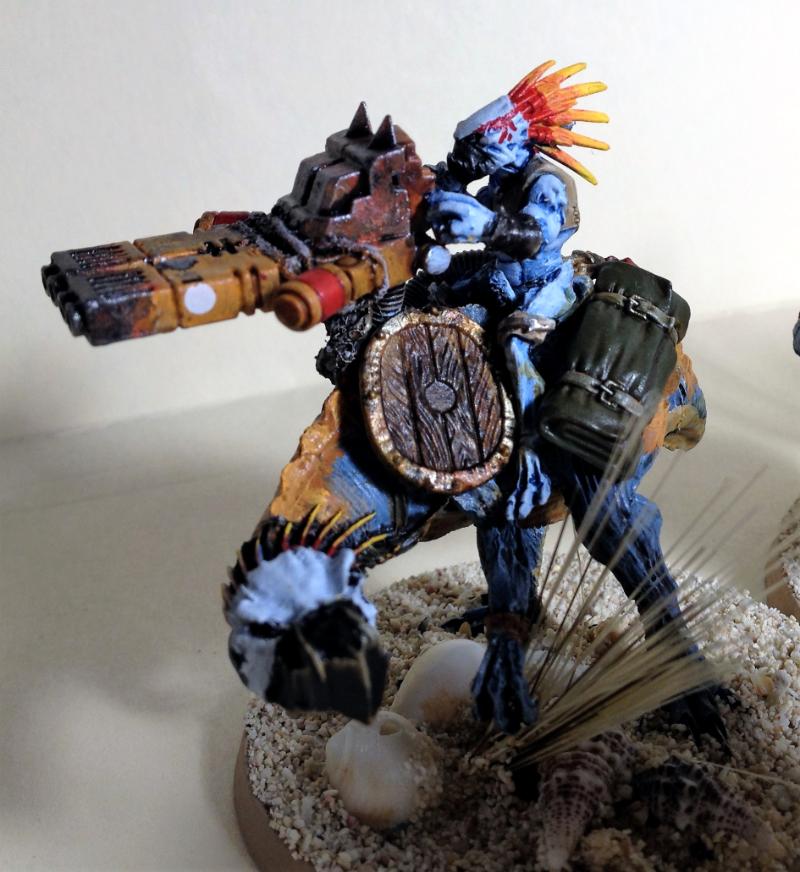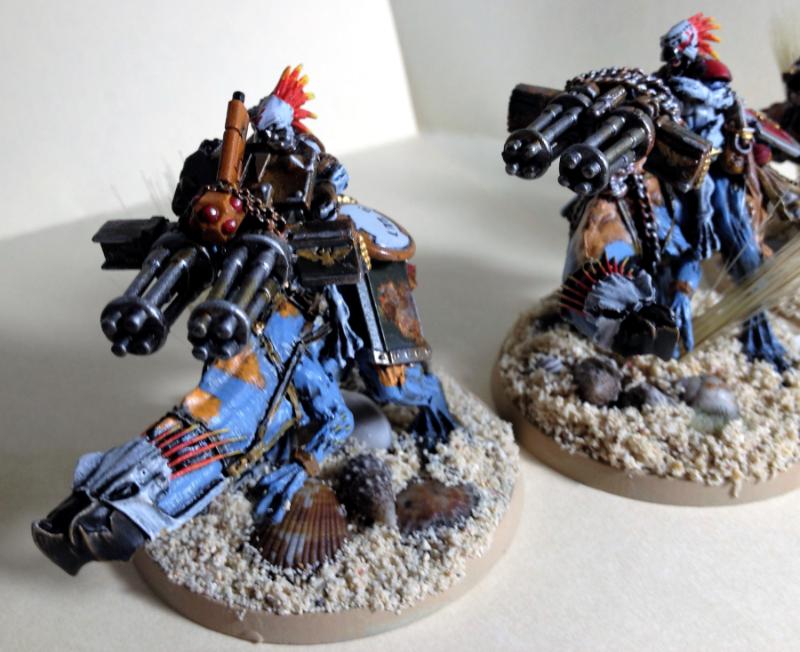 I have been wrapping up this army for the last several months. Right now I have Twenty odd Kroot, six Krootox and five armored, heavy weapon Greater Knarlocs in development.
I wanted a different army. Kroot models always appealed to me, but they seemed overly simplified. Space cavemen standing as a meatshield for the noblebright tau mechwarriors in their cool Gundam armor. That description might fit the tamed Kroot assigned to bubblewrap duty for a Tau army, but as I read the story around the Kroot, I realized that was a ruse. These simple savages built their own warp capable battleships. They paid lip service to their Tau allies, but in the same breath they denied sharing their technology. These honorable warriors spread across the galaxy outside of the range of their Tau allies and set to fighting as mercenaries for those they deemed worthy. These are not galactic rubes, but savvy arbiters searching for genetic prizes and honor.
Or they are in my headcannon.
Coming soon..... Greater Knarlocs, WIP images, conversions, Dropships and BFG cruisers.
Edited by airinhere, 04 December 2018 - 12:20 AM.