CLASSIFICATION: *Primary Level Intelligence*
CLEARANCE: *Vermillion*
DATE: *451.M41*
AUTHOR: *Visual Record Unit 3140*
LOCATION: -UNKNOWN-
SUBJECT: *Debriefing*
++Audio activation code accepted++
++Vid-capture initializing++
++Warning. No Authorised interrogator present++
++Override accepted++
++Interrogation room 337 Alpha++
++Astartes prisoner - No discernible marks of allegiance++
++Record starts++
Many of my brothers would call me a traitor.
Thinking of many of them, I will gladly take such title and all that comes with it.
I know this to be the truth, as I would call them all but the same. But what is the opinion of masses to one such as I?
I know what I am, despite the millennia of confusion, the centuries of pain and the eternity of war. I know I am a true warrior of the Astartes.
The Imperium as a whole has forgotten what we did for it. Ten millennia of stagnancy, one hundred centuries of religious dogma and degeneracy.
Can your mind wrap its tiny self around such thoughts? You are but one of countless others, all of whom have been born, lived and died pointlessly more times than even a mind such as mine could calculate.
If an intellect such as mine, built from stock of the very homeworld of our species, engineered by science and technologies that have never been replicated since, cannot contemplate such wonders, what chance does one such as you have?
It almost makes me smile.
I know you are watching me, my hidden observers. Your hearts beating so eagerly inside your chests, your shuddering breaths with each word I grace you.
I hear the scratching of your scriveners as they take everything in triplicate, the hushed whispers you share when you think you have captured some unknown nugget of information from the pittance I allow you to absorb. It's almost amusing.
But alas my friends, I tire of talking to these blank walls. You have me here for a reason, I allowed you the grace of my presence for far too long to continue the almost oppressive lull. But you still give me nothing.
++Access panel opens++
++SCANNING++
++SCANNING++
++SCANNING++
++Identity confirmed++
++Inquisitor Lhyras Zhoul. Ordo Hereticus++
Ah! Finally we meet. I was beginning to grow tired of these games.
Please, take a seat. No, you don't have to say anything. You are here to listen, not speak.
I will make this simple for you, as we do not have a lot of time.
No, questions are not needed just yet. We will get to them later.
I know you have the pict-captures, I know you have the images of them all.
Bring them out and I will tell you everything. I will answer all of your questions before you even ask.
But first, the simplest answer of all.
My name is Barquiel Myda.
I am a true son of the First Legion. Born of Terra. Forged by war.
And this is the truth.
++Record ends++

Hello to all.
I am a bit of a hobby tornado and am always starting projects that never get finished.
But me and a few of my buddies have all jumped on a new year/new army wagon at the moment and I have fallen on The Fallen!
This army will be my go to this year and I am aiming for about 2500 points.
I also want to try and build/model it all so it can be played as either Dark Angels or CSM. So it's gonna be interesting!

First and foremost, let's see some pictures of what we have so far!
First off the build pile.
Tactical squad/CSM squad.
We have the SGT/Champion.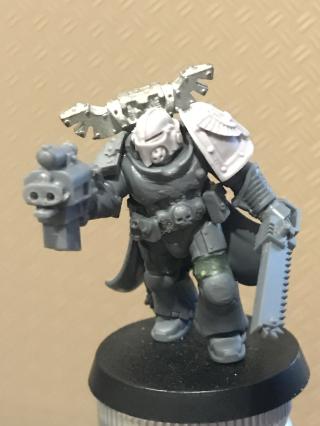 Two standard marines.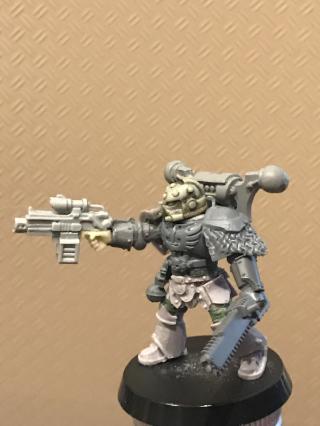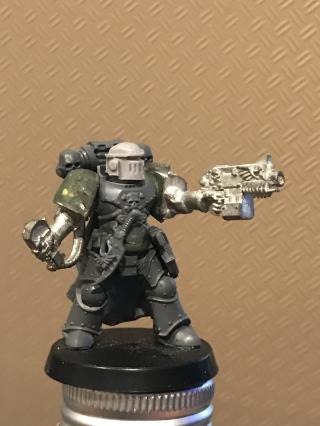 I am doing a little bit of size variation to these guys, I can't understand the idea of marines all being so uniform in size.
Here's the second brother compared to a standard veteran.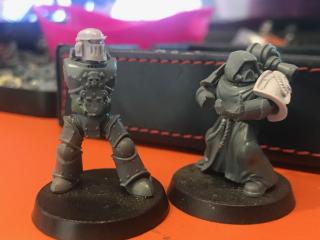 Next up is the SGT/Champion for the first Veteran/Fallen squad.
I imagine this squad is made up of former Destroyers, so I wanted him to look a bit more brutal in his bearing.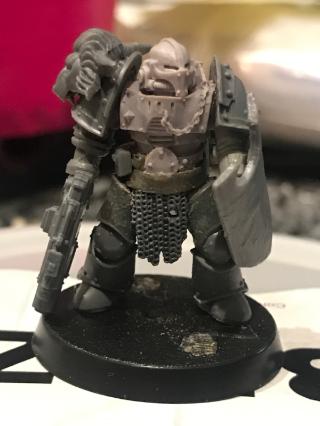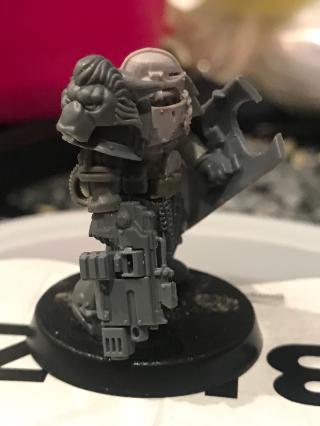 I have always loved the Destroyers. Brothers who were shunned by their own legions, in so many cases they were openly hated.
It almost makes you want to betray your oaths to the Imperium and strike out on your own!
Last but not least, some glorious Devastators/Havocs.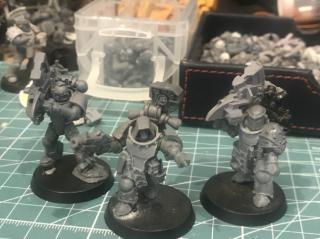 There's something about a missile launcher that makes me happy.
I think it's the ability to destroy dreadnoughts.
That's it from me tonight.
I have a whole mess of other bits that I have started for this army so far, but I am trying to make myself stay on target with this!
Until next time.
Edited by Kraad Belak, 05 February 2019 - 12:48 AM.