Hey everyone,
one of my new year's resolutions for 2015 has been to devote some more time to a couple of hobby projects that have been sitting on the backburner for quite a while. One of the projects in question is the one that will be detailed in this new thread of mine: My kitbashed Legio Custodes army, the Lionsguard.
So what we are looking at here is a small army of Pre-Heresy Custodes, the Empire's personal bodyguard. I have been in love with the Legio Custodes ever since I read through German WD 112 (from April 2005): Not only did it feature rules for a Horus Heresy campaign, but it also marked the first time I ever saw Dave Taylor's spectacular Legio Custodes army. There was something about those guys that really clicked with me. And even now, quite a few years later, Dave's Custodes are still easily one of my favourite armies ever.
So the seed was planted, and when I took a at all the fantastic Space Marine kits, my love for the Legio Custodes was rekindled. I wouldn't even have to work nearly as hard as Dave, since all the cool new bits would allow me to build the models by mostly sticking to kitbashing. So I did a bit of research and discovered some more great Custodes armies (Kaleb Daark's Custodes thread here on B&C and Hashashin's blog The Buddy Times come to mind, above all else). And so everything was in place.

To make things a little more challenging, I wanted to kitbash the entire army from GW (plastic) parts. I also wanted to explore several different unit types: The iconic Praetorians with their conic helmets as well as Custodes in older pattern Astartes armour (again, a callback to Dave's army), Cataphractii Terminators, jetbikes and maybe even Sisters of Silence.

I started by building a small squad of Custodes Praetorians, using parts from the Grey Knights, Dark Angels Veterans and the Sanguinary Guard (and the occasional Tac Marine bit). I also used heads from the WFB White Lions of Chrace: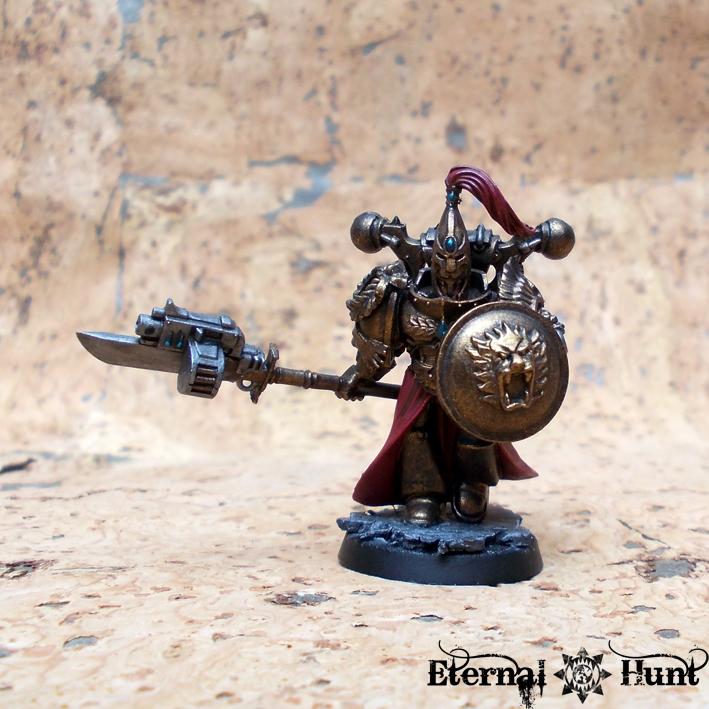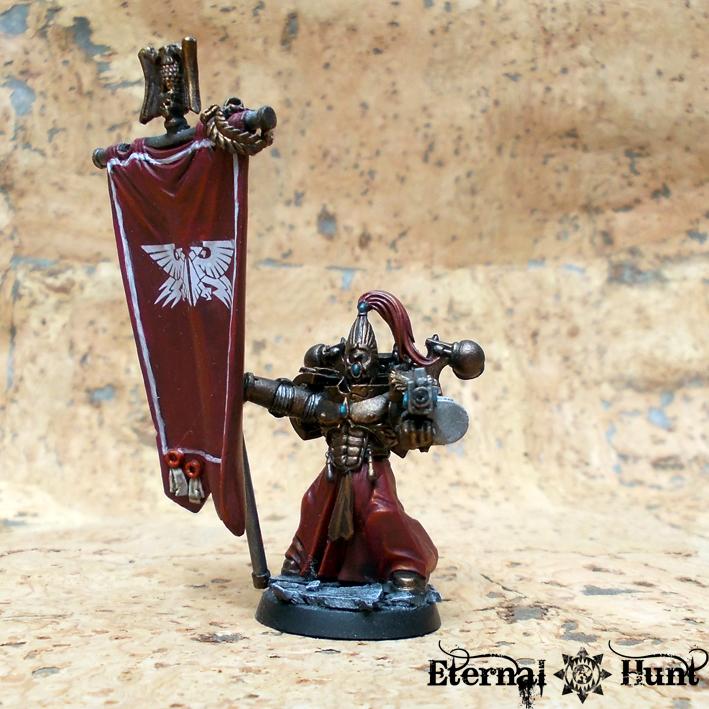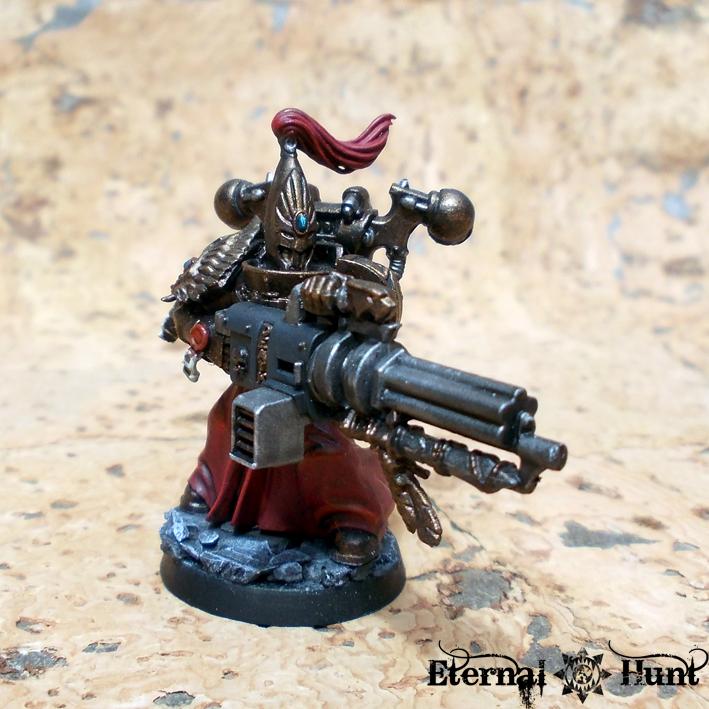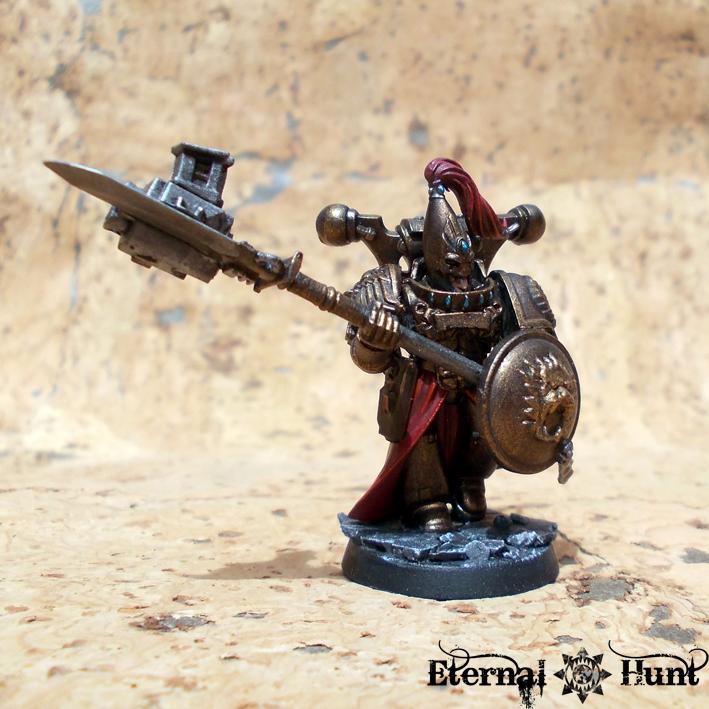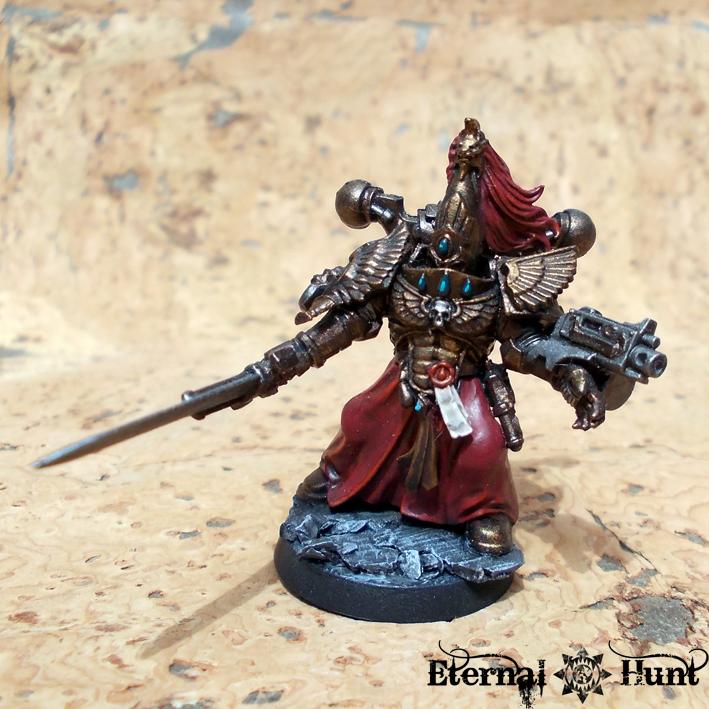 As you can see, this recipe allowed me to create a couple of pretty convincing Custodes models. Here's a look at the whole squad: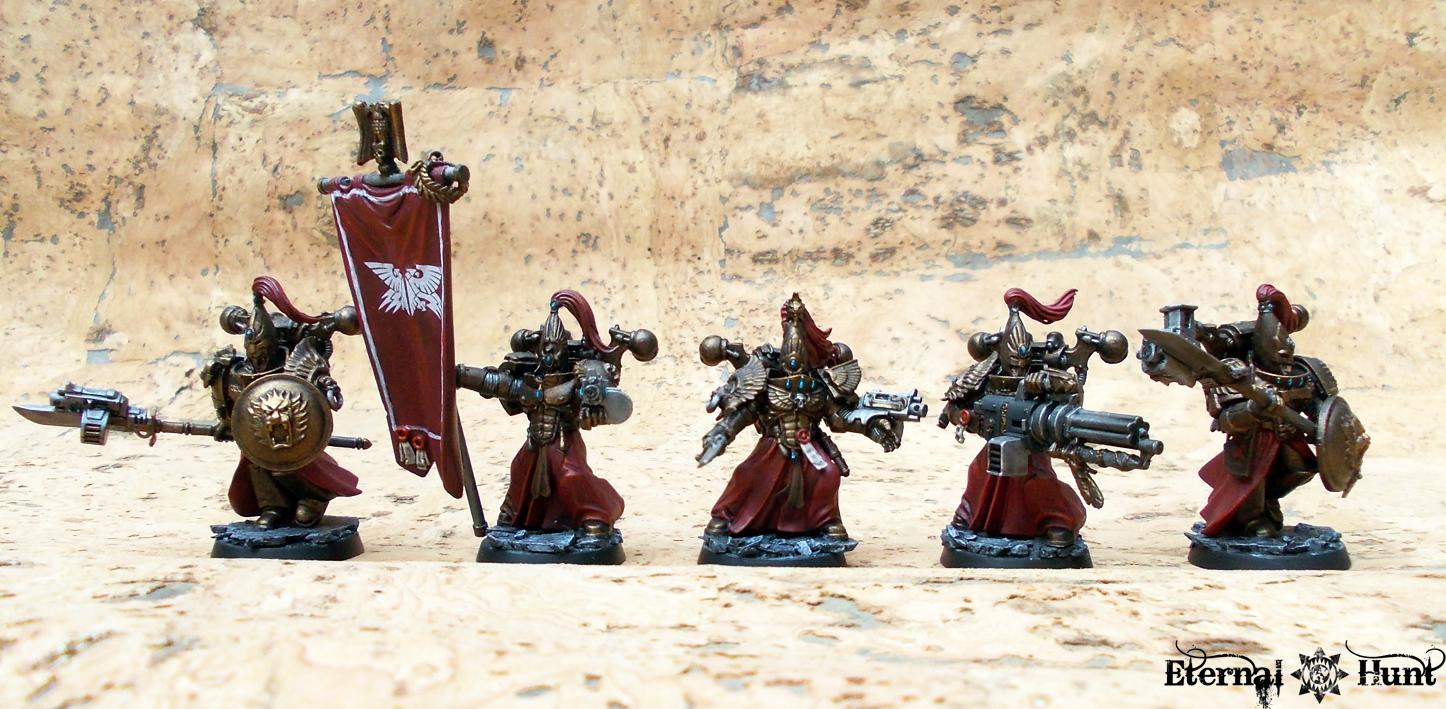 Squad Heraklion
One of the Praetorian squads in the Legio Custodes' elite Lionsguard, squad Heraklion consists of warriors as fiercely loyal as they are accomplished. Clad in the traditional Praetorian plate and wielding an array of mastercrafted weapons, the members of the squad know no goal more important than guarding the life of their Emperor. Leading the squad is Centurio Jastilus Petrarca, a relatively young but exceedingly talented officer. In spite of his young age, the inside of his ceremonial plate already shows an astonishing number of engraved names and titles, earned through great feats and deeds of honour.
As my next project, I started building a squad of Custodes in regular power armour. I am not sure whether there is any precedent for this in "official" HH artwork, but the fact that Dave Taylor had also done a squad like that was definitely a good enough reason for me ;-)

I tried using different plastic parts to make the armour resemble various, older patterns of power armour that would have been widely used during the Heresy. My background for this squad is that they are basically "field-testing" different marks of armour before they are adopted for mass production for the Space Marine legions (and they sticking to their older armour even after the testing phase is completed, as a way of showing the pride they take in their task). Now I do of course realise that trying to kitbash this squad using "regular" GW plastic parts rather than actual Heresy era stuff by Forgeworld may seem like a pointless (and futile) exercise to many of your, but it was a part of the outline I had set for myself on this project, and also part of the fun


First up, a model in armour resembling the Mk. III "Iron" pattern: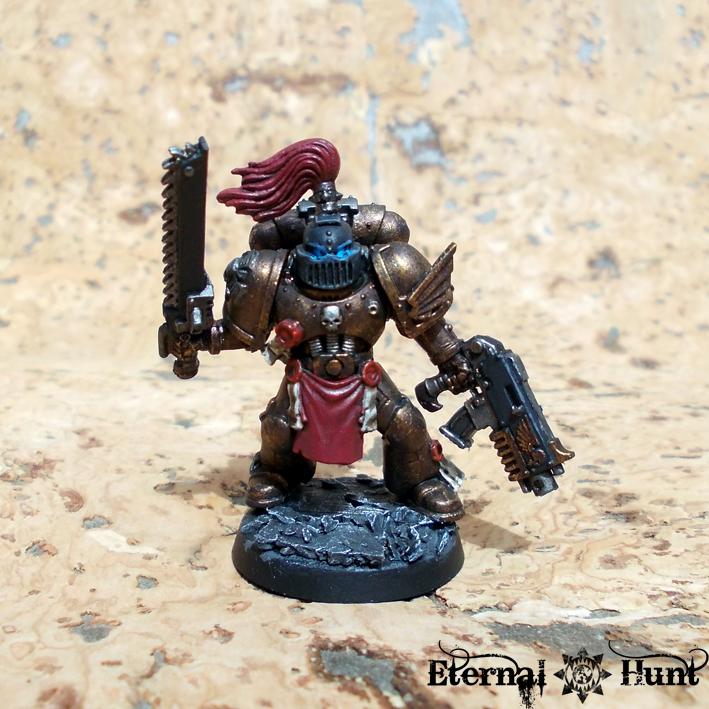 Next, a model wearing armour resembling the Mk. V "Heresy" pattern: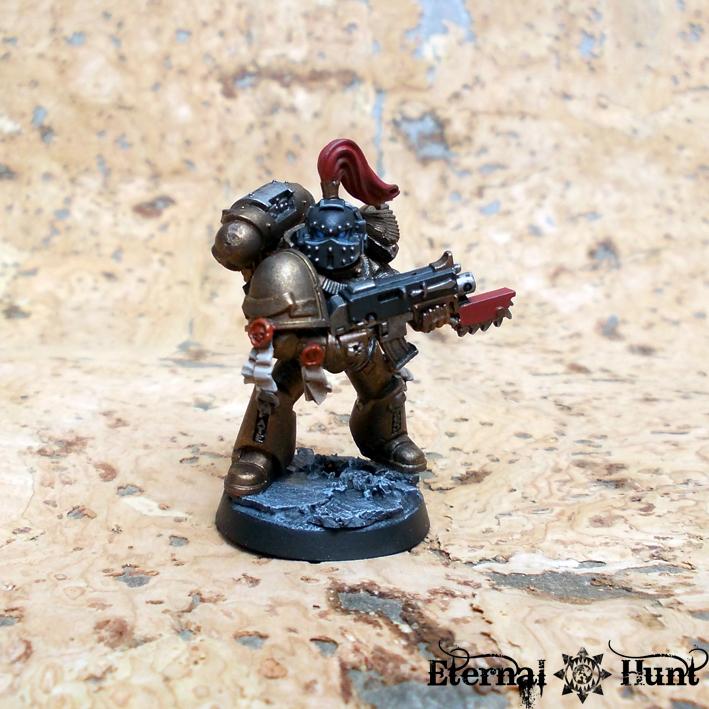 This next model was rather easy to complete, wearing straight up Mk. VI "Corvus" armour: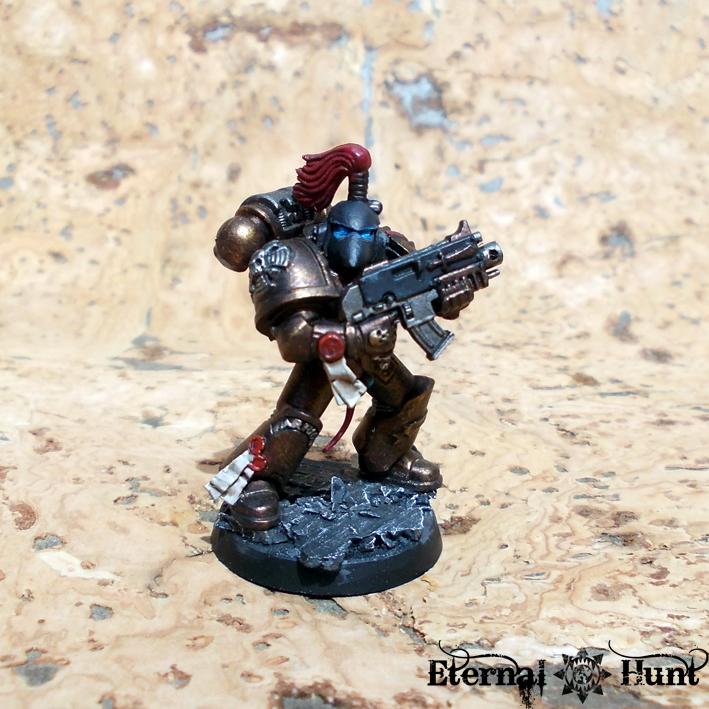 There's no actual precedent for the next model's armour design. Still, I think the rather classical, almost "hoplite" look, makes it fit in rather well: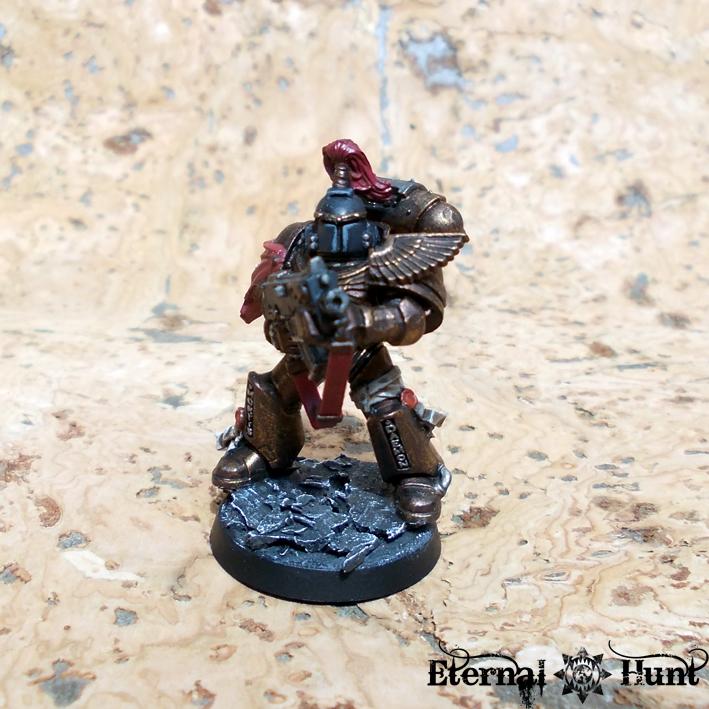 And finally, the squad leader in mastercrafted armour (actually measly Mk. VII, but that hadn't officially been invented during the Heresy, so…):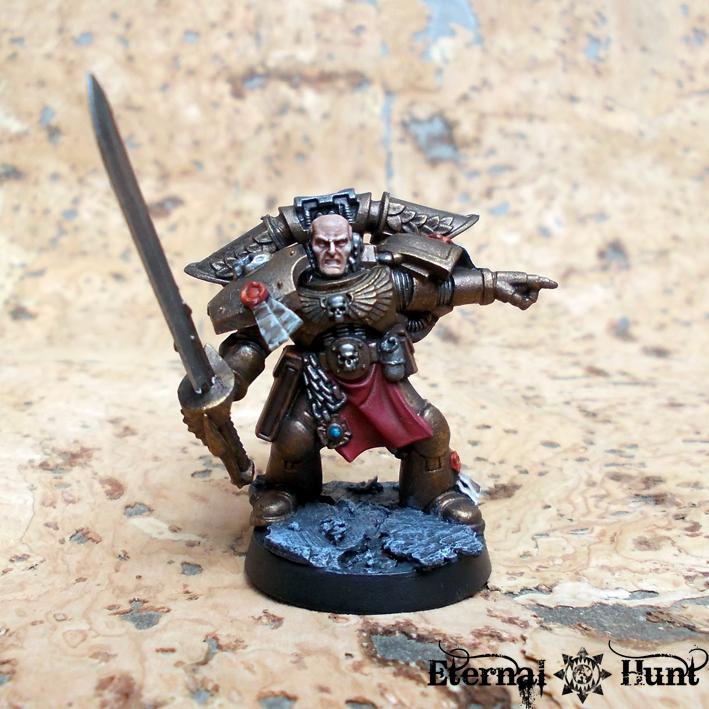 All of the models in the squad were built using parts from different Marine or Chaos Space Marine kits, with a bit of deft cutting involved in places. Here's the finished squad: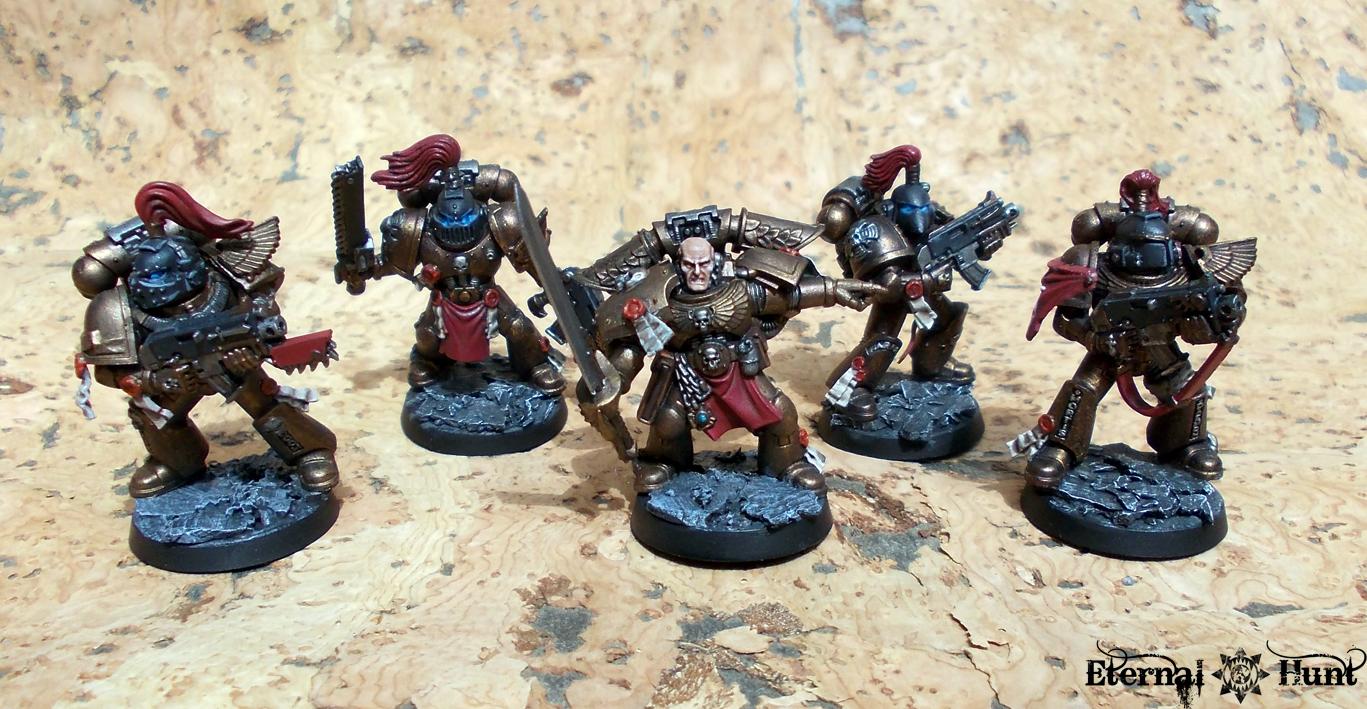 Squad Asklepian, "The Artisans"
The members of squad Asklepian forego the classic armament of the Legio Custodes and are instead clad in different marks of power armour. But this is no token of shame, for the squad's honoured veterans are tasked with testing newly developed armour patterns in combat. That is why their armour is highly individual, with many different patterns across the squad. Some of its members are even wearing patterns that were never approved for mass production, yet they maintain their plate with utmost pride, sometimes even further embellishing it. For it is due to squad Asklepian's diligent work that the legions of the Imperium may be armoured to the best possible standard, and Centurio Kletian Varios and his men take pride in that knowledge.
Putting these guys together proved to be so much fun that I decided to add additional models to the squad until every armour pattern from Mk. I to Mk. VI was represented. Here's a sneak peek at some additional models: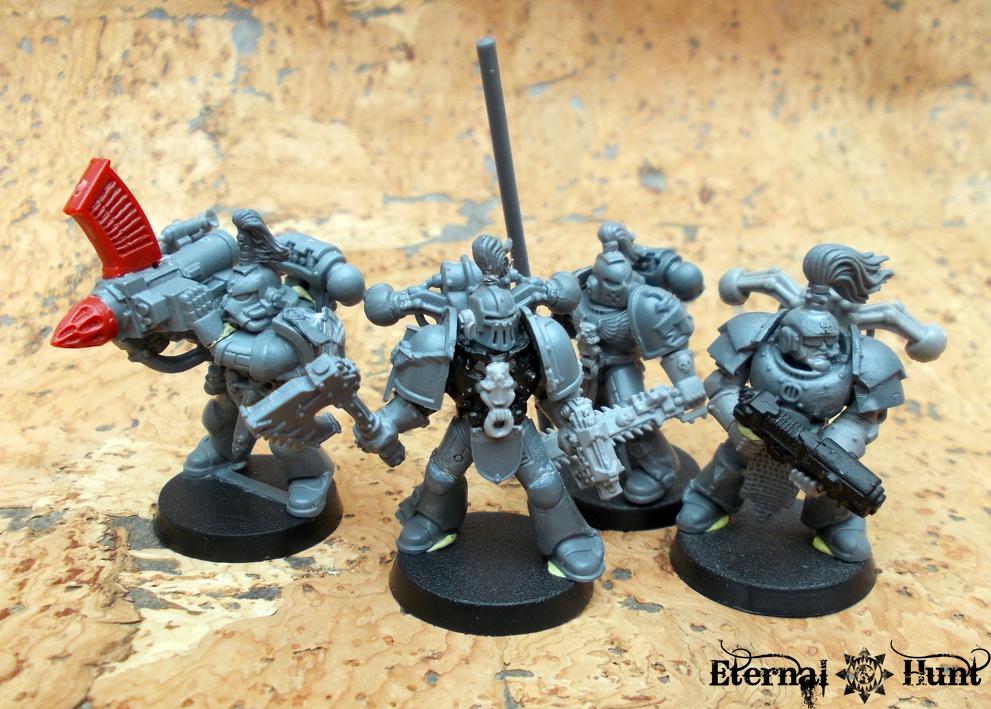 After having built these two squads, I wanted to add a commander to make the models I had so far "legally" playable as a very small army -- at least in theory ;-)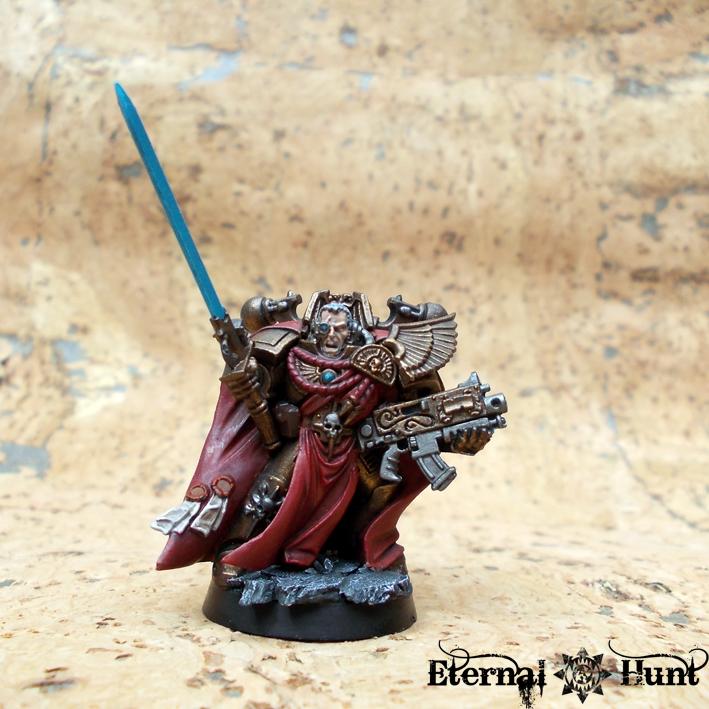 Shield Captain Fennias Andronicus, "The Old Lion"
One of the commanding officers of the Lionsguard, Fennias Andronicus is a veteran of the Legio Custodes: Many are his honorary titles and names, and they cover every inch of the inside of his master crafted armour. Called "The Old Lion", Shield Captain Andronicus' age and experience make him a skilled and levelheaded tactician, yet his name is also synonymous with heroism and prowess in combat. When the Legio has to face an enemy on the field of battle, Andronicus leads from the front, relic blade in hand, and becomes and instrument of the Emperor's wrath.
So far for my first post about the Lionsguard. There's more to come -- much more, in fact: Since this project has been ongoing for a couple of years, I have lots and lots of additional models. Sadly, most of them remain yet unpainted, but I hope that I'll be able to change that sooner rather than later -- after all, once Forgeworld gets around to releasing "official" Custodes models, nobody will want to take a second look at my own effort
So yeah, thanks for looking and stay tuned for more! And, as always, let me know what you think!
Edited by KrautScientist, 07 February 2015 - 02:28 PM.