++Khorne - Daemonkin community topic++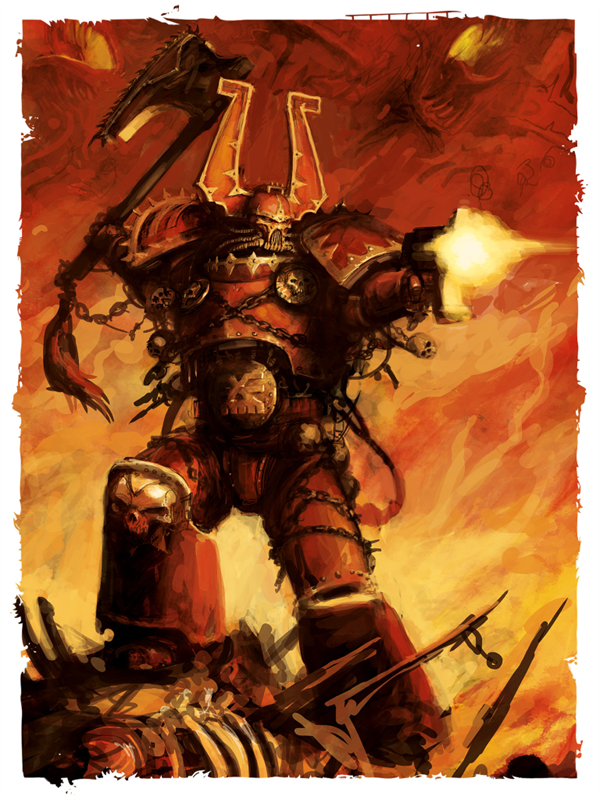 Slay without pity; Triumph without remorse
You are the legions of Khorne, His favrite warriors
You shall bring defeat & death to his enemies
You shall crush thier worlds under your heel
To battle! Let blood flow in his name!
Hi everone
This topic is for all memeber of the Bolter & Chainsword forum who collect the Warbands from the Daemon-kin supplament. Warrior battling in the name of Khorne.
To talk about theme for there armies, show some great models, links to army logs & background for your warband. Discussion any great Black Libary novels with the Daemonkin feture in them.
I will update this as often as I can with memeber warbands, any Black Library novels & links to topic & memeber army logs.
You sought to cower behind your walls, weakling? Instead, by the will of Khorne, you shall die bhind them!
Reavax the Cruel, Lord of the Harvest
I salute you! For though out path has been bloody, you have served our Lord with unflinching courage & the honour of true warriors. We have seen many fall today & must rememeber, ecen as we die, that our blood too is welcome
Last word of the Renegade Harkan Ironfist
List of warbands from codex Daemonkin - Please note down which Warbands you collect, your Warband lord & any title/names for the warband.
++Daemonkin warbands++
Charnel Wraiths to the fury of the Blood God. Chieftain Skarra Cadeyrn, The Battle King of Chuvin - Larkyn
The Wraith - Scribe
The Wrath - Brother Mayhem
The Harvest - kalbik
The Brotherhood of Slaughter, a sub-sect of The Wrath Khorne Daemonkin - Brother Mayhem
Karulagar Captain of the 48th company of World Eaters - Aspiringchaoschampion
Bloodgorged worshippers of T'labldell'phuzda, Eater of Gore and Flesh, Bloodthirster of 6th Host - Adra'Melek
The Brazen Beasts - Blackheart1223
Iron Slaugther - Slayer le Boucher
Stillborn - Noctus Cornix
Eightscarred force - Khar'vros the Crazed
The Brass Stampede - Venomlust
++Armies of the Blood God++
Army logs for the Daemonkin

Khornes Children, A Demonkin Warband by HairyPainter
http://www.bolterand...monkin-warband/
The Sons of Khar'Akhash'Gar, WIP Daemonkin by Luther - the fallen
http://www.bolterand...-wip-daemonkin/
Bloodgorged - Adra'Melek
The Harvest - Dragonlover
chaplainmikey
Blood and Shadow (40k Skullcrushers WIP) -
Venomlust
Daemonkin commuinty banner thanks to
Venomlust
Edited by Insane Psychopath, 18 March 2016 - 02:37 PM.