BROTHERHOOD OF THE ANGELS 2015





Sons of the Lion!

Supreme Grand Master Azrael has called for a Gathering of Angels at the Rock. Representatives from each of the various successor chapters are requested and with them is a brief data summary of their chapter's history and past glories to be added to the vast data banks of the Unforgiven.

So arm yourselves with your quills and your cogitators!
Activate your savants and servitors!
Gather your banners of honor and let loose the Brotherhood of Angels!

INTRODUCTION:
The Brotherhood of Angels (BHoA) is a Dark Angels Forum Event aimed at participants creating unique DIY Unforgiven chapter histories. In other words you enter the event by submitting a written description of an unforgiven chapter that you have created.


HOW TO ENTER:
There are two ways to enter, both requiring you to submit a completed Index Astartes article about your chosen chapter.

1. Make an oath in this thread in the following manner:

I, <<your name>>, chapter master of the << name of your unforgiven chapter>>, in the name of the Lion, make this oath of moment to submit a complete history of my chapter and it's honored brothers.
2. Write a completely new Index Astartes Article, based on the structure below, on the Chapter you have created and submit it for the event.
OR

Take a chapter you may have created in the past for previous contests including the BoA 2012 and 2014 and update and upgrade it to the BoA 2015 level and then re-submit it. We encourage all those who had previously submitted such an article to review it and upgrade it and then resubmit it.


ENTRY CRITERIA:
1. The article should have minimum 2000 words

2. It should include the livery of your chapter using the Space Marine Painter with at least one image each of Power Armor, Terminator Armor, Scout Armor and Captain. Optional images of the specialists (Apothecaries, Chaplains, Librarians & Techmarines) are encouraged but not required. A sketch or image of the Chapter Badge is also strongly encouraged.

3. The chapter should be of your own creation.


STRUCTURE OF THE ARTICLE:
The article should include the following sections, most of which are self explanatory.

CHAPTER NAME:

SUMMARY
▪ GENE-SEED (PREDECESSOR):
▪ FOUNDING:
▪ CHAPTER MASTER:
▪ CHAPTER WORLD:
▪ FORTRESS MONASTERY:
▪ MAIN COLOURS:
▪ SPECIALITY:
▪ BATTLE CRY:
▪ CURRENT STRENGTH:
▪ KNOWN DESCENDANTS:

ORIGINS:
Include Founding if it is known; What made that Chapter come into being; Are they a Successor of a Successor?
CHAPTER HOME WORLD/FLEET:
Description of the home world along with an image, if possible

PRESENT ACTIVITIES:
Narrative about the Chapter at the dawn of the 41st Millennium

ROLL OF HONOR:
Short descriptions of famous battles and outcomes in chapter history

CHAPTER ORGANIZATION:
The way the chapter is made up, where they differ from Codex Astartes; Deathwing, Ravenwing, Battle Company? Inner Circle?

FLEET ASSETS:
Description of the chapters fleet strength, vessel names and any significant fleet action based conflicts.

RECRUITMENT:
How neophytes are recruited.

CHAPTER COLORS:
Livery/color schemes (Include Space Marine Painter images) of the various armor types and specialists

CHAPTER BANNERS OR BATTLE STANDARDS (Optional):
An image or sketch of the Chapter Banner or Standard

HONORS, RELICS, DECORATIONS AND AWARDS:
Description of specific awards, honorariums and honors.

COMBAT DOCTRINE:
How they fight. Deathwing & Ravenwing in use? Armor Heavy? Specializations? Intolerances?

BATTLE CRY:
"Poke 'em in the eye!" or "Repent! For tomorrow you die!"

LOCAL RITUALS:
Any rituals in their home world/base.

BELIEFS:
Unique beliefs and practices.

GENE-SEED:
Description of origin and current status - Dark Angels, Obviously!
CHAMPIONS OF THE CHAPTER:
Special characters (As many as you wish)

REWARDS:
Once you make your oath you may wear the following banner in your signature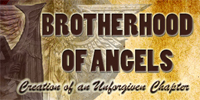 Once you complete your submission you may wear the following banner in your signature: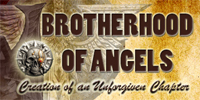 END DATE:
The Deadline for submissions is Midnight GMT JULY 15, 2015

SOME HELPFUL GUIDES:
Octaguide 2.0
40K Timeline
+ + + PRAISE BE THE LION + + +

OATH BEARERS
Aquilanus - Angels of Salvation
blood hounds - The Blood Hounds (Thread)
Brother Arkley - Blades of Alaric - Sons of Thanatos - Zealots of the Emperor
Brother SP - Lion Warriors
Brother Tyler - Angels of Veneration
Conn Eremon - Knights Sovereign (Thread) - Blades of the Lion LIBER WIP (Challenge Complete)
Dizzyeye - Blades of Truth WIP Thread
Dosjetka - Lions of Karthaga
Epher - Blades of Oblivion (Text from before the Purge)
Grand Master Belial - Brooding Swords, Blood Swords - Fortress Updates: The Huntsmen, Angels of Repentance, Angels of the Lion, Angels of Mercy, Storm Swords, Order of the Black Guards, Angels of Genesis, Penitents, The Wraith Talons, Angel Guard, and the Angels of Destruction
Grand Master Raziel - Night Angels
Greenz - Angels Hospitaller
GreyCrow - TBD
HolyAngelX - Thirteenth
Hrvat - Angels of Malediction
jaxom - Lightbringers
Knurd - Obsidian Lions (Thread) - Death Ravens
Mehmen - Clerics
Moiamania - Tempest Sons
Olis - Brotherhood of the Lion
Sindiferous - Sentient Angels
teh_stwnerer - Scions of the Forest
TheWeeping Angel - Guardians of the Covenant WIP
Volt - Brotherhood of Normant WIP
A Message from Brother Tyler (taken from last year's competition)
For all of those that haven't already done so, please submit your DIY Unforgiven Successors to the Tabula Astartes. The submission criteria can be found here (as far as I can tell, every Chapter with a completed submission for this challenge meets the criteria).
Note that this includes DIY renditions of official Chapters, such as my Angels of Vigilance submission. These DIY versions are listed separately from the official entries (so there is a canon Angels of Vigilance entry and a DIY entry - this is what we've done for a number of other DIYrenditions of official Chapters).

All you need to do to submit your entry is post a reply with the following information:

Chapter/warband name:
Creator: (only necessary if you are not the author)
Founding:
Gene-seed:
Predecessor:
Article link:
Image(s) link: (only necessary if the images aren't in the article)
Notes:
Note: If/when you submit your Chapter, please ensure that you provide a link that goes directly to your entry, either a dedicated topic or the reply in this topic in which your Chapter is presented. If you post a link to this topic, you can find your Chapter's post by right clicking on the post number that appears in the upper right, then copying the URL.
Edited by Grand Master Belial, 16 July 2015 - 02:45 AM.