The Castigators
"We are the Emperor's will made manifest!"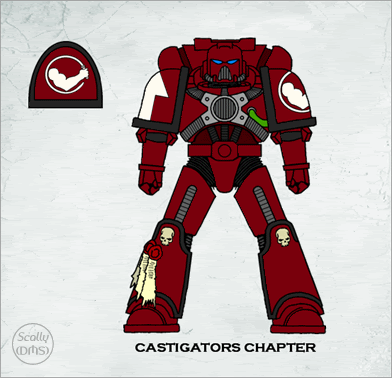 The Castigators, my DIY Chapter, have lingered around the Bolter and Chainsword for a long time. Indeed, 2015 marks ten years since I first put their IA article on the internet. In that time the Castigators have gained a bit of recognition in the 40k forumverse, and I wanted to do something to pay tribute to them this year.

This year, I finally intend to make the idea of a Castigators force a reality. I've been working on true-scale Deathwatch and I intend to add Castigators to the force.

Ultimately, by the end of the year I want to put together some form of PDF booklet or the like, a sort of mini-codex compilation detailing the Chapter that I can put up on the web and that will hopefully be of some use to others who are starting DIY Chapters. I hope that this thread can help to chart that progress as well.

I am hoping that I can entice others - primarily my hobby friends, but other stalwarts of the community too - to contribute to this celebration of the Castigators. Keep an eye out for more news on that front!

Stay tuned for more - I hope to have more news on my army plans soon.

Mol
Edited by Commissar Molotov, 06 September 2015 - 10:31 PM.