+++CALL OF CHAOS IX+++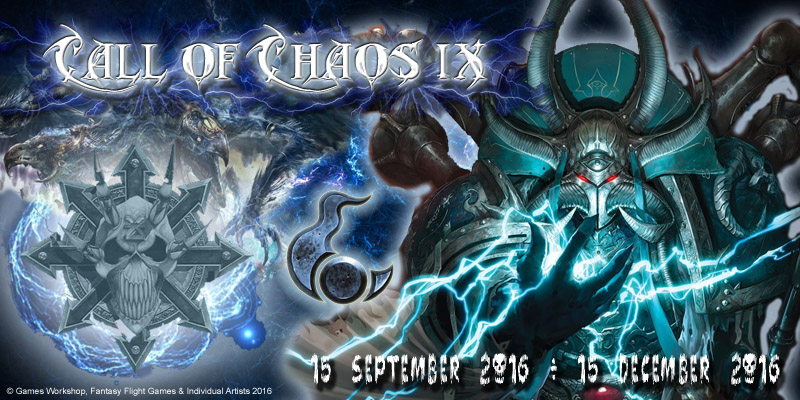 Chaos becomes united when fighting its eternal rivals, winning the ETL three times in a row. But now the common cause is over, now it's time for infighting! So put idealism aside and fight each other to the death because the Gods only care for sacrifices done in their name. If stay idle and you will lose your patrons' favour, but if you remain active there is still no guarantee you'll satisfy the thirst of the Gods: Will you fail miserably and become a mindless spawn? or will you emerge victorious to claim the title of the Warmaster? There is something in the air... can you hear it?

It's the Call of Chaos!
Overview:

Call of Chaos aims to motivate participants to build up their Chaos armies and also serves as a melting pot for the collective talent of the B&C community, allowing the Frater to share techniques, ask questions and offer advice, thus promoting the hobby in the service of the Dark Gods. The event is addressed not only to those who have chosen Chaos as their primary army but also to those who feel like painting the odd mini or unit just for fun. After all, Chaos is the ultimate point of reference in the 40k Universe!

This is the 9th Call of Chaos and this year it is dedicated to Tzeentch!!!

The event will be run by me Captain Semper so if you have any questions feel free to ask publicly or through PMs – I'm notoriously fast in my replies.


Rules:
The entries must be supported by the Chaos faction on the B&C. Simple and, let's face it, largely expected. This includes any Chaos unit from any GW or FW range as well as other gaming systems supported by the B&C such as Epic and BFG
You must make one vow and one vow only to complete at least one LEGAL unit from a relevant Chaos list (see FAQ below). There is no limit on how many units you may pledge in your vow for but keep in mind that you're liable for all your pledged units. If you fail to complete even one unit your vow will be deemed incomplete.
You must provide evidence of progress. This translates to posting a "before" and "after" picture for EACH unit pledged!
To keep track of each participant and their commitment, the Deities of Chaos will require a binding oath in their name. Please use the standard format below or any other format that will contain the following vital information:
Name of participant
Number of units
Name and details of units
The standard format is:

I [enter your name] answer the Call of Chaos and vow to complete [enter number and details of units] before December 15th 2016. If I do this successfully I will receive the Mark of Ultimate Deception and continue on the path to ruin. If I fail I'll wear the Mark of the Lost and I expect no mercy on my soul!


Once you take the vow there is no going back. If you fail for whatever reason to complete by December 15th, you will be awarded the Mark of the Lost and become Chaos Spawn. Real life happens to all so make sure your vow is on the safe side!

Do you think the road to damnation is easy? Think again!

Duration:

Start date: September 15th, 2016

End date: December 15th, 2016

Participants may enter at any time - there is no cut-off date to get in. The deadline is immovable though so plan your free time accordingly to avoid disappointment.

Rewards:

All of you who participate in the Call of Chaos may wear the relevant badge:







For those who successfully answer the Call of Chaos and complete their pledged units in a timely fashion will be awarded the majestic "Mark of Dark Glory"! This year we rename it to "Mark of Ultimate Deception" in honour of Tzeentch! The badge will denote how many units you have successfully completed as well as the rank among the lost and the damned – a long-standing tradition in the Call of Chaos event.

So the mark of Dark Glory has 6 denominations based on the amount of units completed by each participant:

1 Unit: Servant of Chaos
2 Units Chosen of Chaos
3 Units: Aspiring Champion
4 Units: Champion of Chaos
5 Units: Lord of Chaos
6+ Units: Warmaster of Chaos

Those who fail to complete even one of their pledged units will receive the dreaded and abhorred Mark of the Lost, which they have to wear until the next Call of Chaos!







FAQs:

Q: What is the Chaos Faction? What units are we talking about?
A: Well everything from a Chaos related list that is supported from the B&C. This can be Codex: CSMs, Codex: Demons, Codex: Khorne Daemonkin, FW Imperial Armour lists (including Traitor Guard of course), any other official supplements (e.g. Traitor's Hate) or indeed Epic and BFG units. Let's keep it in the 40k setting though – there will be a time and a place for Horus Heresy stuff. If there is something you want to do and is not mentioned above let me know and I'll give you a ruling on the spot.

Q: In what state should the minis be when pledged?
A: Minis should be undercoated at most. Of course the undercoat can be any colour – don't worry, the Black Legion will not be getting an advantage! If in doubt let me know and I'll give you a ruling on the spot.