THE INNER CIRCLE PRESENTS
+++ E TENEBRAE LUX VI +++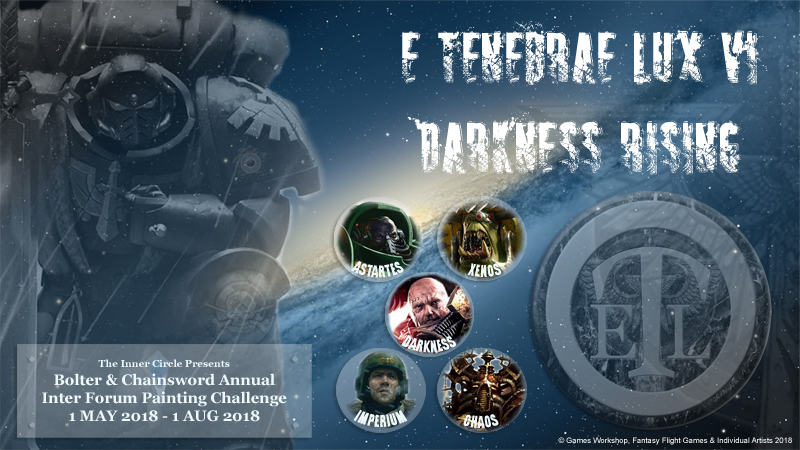 Captain Semper was looking at the green-glowing screen in front of him. All the rivals of the Chapter have assembled – that much was certain. The question was, when the carnage would start. Semper was waiting for the right moment.
- The moment is now 10thMaster!
Semper jumped as the booming metallic voice of Interrogator Chaplain Javert filled the room.
- Javert… I did not expect you.
- No-one expects the Interrogator… But that's not important right now. Give the signal to advance!
- I do not take orders from you Javert! Stay at your station!
- Not orders from me Captain, orders from an authority you cannot refuse…
And at that point, Javert produced the scroll with the Seal of the Inner Circle. Semper went through it and looked back at Javert.
- It seems I'm left with little choice Interrogator Chaplain.
- It seems so Captain...
The gauntleted hand of Captain Semper moved steadily towards the oversized red button in his control panel. Without second thought, he pressed it!
- It is done. Inform the Grand Master accordingly Javert.
- Oh, but he already knows, 10thMaster, he already knows…
WELCOME TO ETL VI
Welcome to the sixth ETL! After a year of hiatus, the ETL is back, and it is back in a new environment not only of gaming but of the B&C too!
Indeed, over the past year we've seen a new edition of 40k that changed the rules of the game in a significant way, advanced the background and produced an avalanche of new Codices (and official Indices as placeholders for the remaining ones) in what seems the speed of light compared to previous GW practices. In this new environment, new factions and sub-factions have appeared not to mention the presence of Primarchs for the first time in the 40k context.
Interestingly, at the same time, the B&C took the brave decision to cater for all 40k factions transforming into a fully integrated 40k site. That means that Xenos now maintain dedicated forums and are an integral part of our community. I think it is easily understood that these major changes have a profound effect on the ETL, so much so, that taking a year off and wait for the dust to settle, was imperative.
The ETL is now revamped, taking into account the aforementioned changes and is moving forward. However, it does so in a manner that not only preserves its basic mechanics but also the spirit of the event! As such, even veterans of previous incarnations are invited to read the new rules carefully
To make reading the rules, a less intimidating affair, I'm organising them in distinct posts, so frater can easily access them and refer to them throughout the event.
You can find the links to individual topics below:
OVERVIEW OF ETL VI | THE TIMING OF ETL VI | THE RULES OF ETL VI: INTRODUCTION
APPENDIX A: LINKS TO FORUM OUTPOSTS
APPENDIX D: THE SPIRIT OF THE ETL