The Inner Circle presents:
+++CALL OF CHAOS XI+++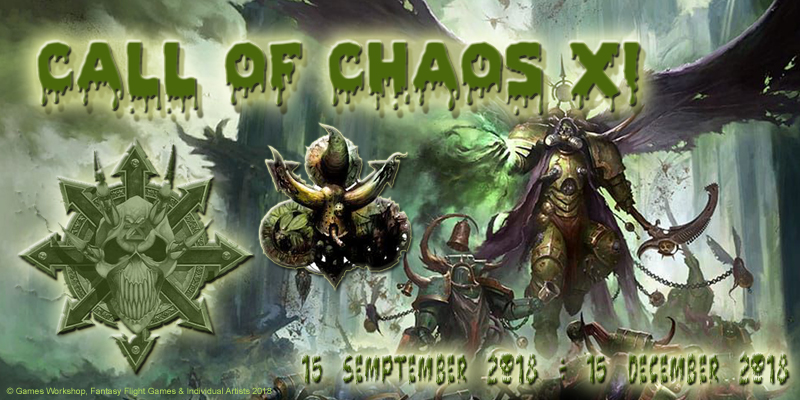 Chaos is calling! The armies of the Lost and the Damned, the Space Marines fallen from grace, the Daemons that howl in the night, they all wait to make their appearance again this year in the hallowed halls of the B&C!

The Chaos range has had a lot of support from GW in the last couple of years: Three Chaos Marine Codices, a Daemons Codex and extensive lists from Forge World. And we should not forget the recent addition of Rogue Trader with those lovely new abominations! All you have to do is give in, embrace the Ruinous Powers and start painting as if your mortal soul depended on it (maybe it really does)!

You have to answer this Call…
…it's the Call of Chaos!

OVERVIEW:

Call of Chaos aims celebrate chaos in 40k and to motivate participants to build up their Chaos forces. It also serves as a melting pot for the collective talent of the B&C community, allowing the Frater to share techniques, ask questions and offer advice, thus promoting the hobby in the service of the Dark Gods. The event is addressed not only to those who have chosen Chaos as their primary army or current project but also to those who feel like painting the odd unit of this fabulous range or a single mini just for fun. After all, Chaos is the common denominator of 40k Universe!

The event will be run by me Captain Semper so if you have any questions feel free to ask publicly or through PMs (I prefer publicly so others may benefit from the answer) – I'm notoriously fast in my replies.

RULES:

RULE 1: The entries must be supported by the Chaos faction on the B&C. Simple. This includes any Chaos unit from any GW or FW range as well as other gaming systems supported by the B&C such as Kill Team, Epic and BFG. Especially for this year we welcome Adeptus Titanicus models (the Traitor kind) despite that this game is set in the Horus Heresy timeline.

RULE 2: You must make ONE vow and one vow only to complete at least one legal unit from a relevant Chaos list (see FAQ below). There is no limit on how many units you may pledge in your vow but keep in mind that you're liable for all your pledged units. If you fail to complete even one unit your vow will be deemed incomplete

RULE 3: You must provide evidence of progress. This translates to posting a "before" and "after" picture for EACH unit pledged! You are welcome to post as many WIP pics as you like but the "before" and "after" are compulsory.

To keep track of each participant and their commitment, the Deities of Chaos will require a binding oath in their name. Please use the standard format below or any other format that will contain the vital information i.e. the info in brackets:

​I [enter your name] answer the Call of Chaos and vow to complete [enter number and details of units] before December 15th 2018. If I do this successfully I will receive the Mark of Dark Glory and continue on the path to ruin. If I fail I'll wear the Mark of the Lost and I expect no mercy on my soul!

Once you take the vow there is no going back. If you fail for whatever reason to complete by December 15th, 2018 you will be awarded the Mark of the Lost and become Chaos Spawn. Real life happens to all so make sure your vow is on the safe side!

Do you think the ascension to Daemonhood is easy? Think again!

DURATION:

Start date: September 15th, 2018

End date: December 15th, 2018 (all day for all time-zones)

Participants may enter at any time - there is no cut-off date to get in. The deadline is immovable though so plan your free time accordingly to avoid disappointment.

REWARDS:

All of you who participate in the Call of Chaos may wear the relevant badge:





For those who successfully answer the Call of Chaos and complete their pledged units in a timely fashion will be awarded the majestic "Mark of Dark Glory"! The badge will denote how many units you have successfully completed as well as the rank among the lost and the damned – a long-standing tradition in the Call of Chaos event.

So the Mark of Dark Glory has 6 denominations based on the amount of units completed by each participant:

1 Unit: Servant of Chaos
2 Units Chosen of Chaos
3 Units: Aspiring Champion
4 Units: Champion of Chaos
5 Units: Lord of Chaos
6+ Units: Warmaster of Chaos

Those who fail to complete even one of their pledged units will receive the dreaded and abhorred Mark of the Lost, which they have to wear until the next Call of Chaos – thus becoming Spawns, which is what you deserve for straying from the eight-folded path!





FAQs:

Q: What is the Chaos Faction? What units are we talking about?
A: Well everything from a Chaos related list that is supported from the B&C. This can be any of the Chaos Codices (Chaos Space Marines, Thousand Sons, Plague Marines and Daemons), FW Imperial Armour lists (including Traitor Guard of course), any other official supplements or standalone games (e.g. Kill Team – the Chaos bits). Let's keep it in the 40k setting though – there will be a time and a place for Horus Heresy stuff. If there is something you want to do and you're in doubt, let me know and we'll work it out.

Q: In what state should the minis be when pledged?
A: Minis should be undercoated at most. Of course the undercoat can be any colour – don't worry, the Black Legion will not be getting an advantage! If in doubt let me know and I'll give you a ruling.

CAPTAIN SEMPER'S NOTES:

The Call of Chaos is a celebration of the Chaos faction in its entirety! Marines, cultists, daemons, deamon engines, mutants, you name it!

And as I mentioned above, this event is not only for hardcore Chaos players – anyone who at some point thought he/she heard the Call but did not explore the possibilities, well now is the time: more so with the timely arrival of Kill Team!

Indeed Kill Team offers the opportunity for people to have fun with a faction they do not usually play making a relatively small commitment – both in terms of money and in terms of time. So you always liked those Thousand Sons look but were not in the mood of painting an entire 40k Army of them? Now is your chance to get a squad done and get it out of your system!

As always I would like to extend my thanks to Inner Circle's Grand Master The Shadow Guard for his continued support and the fantastic imagery that he tirelessly produces!

Best of luck to all,
Captain Semper
Member of the Inner Circle
The Master of Recruits