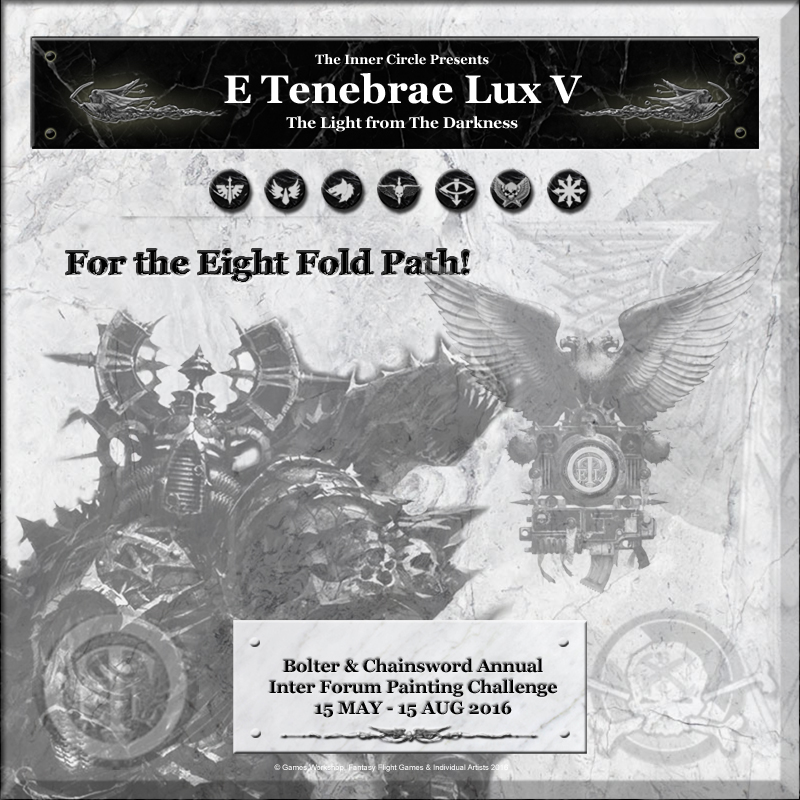 Welcome to ETL V and the Realm of Chaos Strategium! Here is the home for those who want to participate in the ETL putting their weight behind the Codex: Chaos Space Marines, Khorne Daemonkin and Chaos Daemons!

Of course, Chaos can also use options from the Black Legion and Crimson Slaughter supplements as well as the following army lists:
The rules of ETL V can be found below:
Renegades of Vraks - The Lost and the Damned from Imperial Armour: The Siege of Vraks
Renegades and Heretics from Imperial Armour Volume 13: Warmachines of the Lost and the Damned
The Tyrant's Legion from Imperial Armour Volume 9: The Badab War – Part 1

So what purpose does the Strategium serve? Well, its official function includes the following:
Post vows & declare completions. This is very important as placing the vows elsewhere will create unnecessary confusion and lead to mistakes. Also if you do not report the completion here, your status will not be updated.
Participation tables. Here I will be updating the rosters of participation so make sure you see your name is listed and that your status is correct - and if not, notify me.
Post your pictures. Remember, we need at least two – one "BEFORE" and one "AFTER" but feel free to post as many WIP pictures as you like!
Weekly updates. This is where I'll be posting every week a link to the update of the entire event so the frater can keep track of what is going on in the wider picture.
You are also welcome to use this thread to encourage each other, devise strategies, discuss the developments of the ETL and of course ask questions. For the latter you can also PM me.
ALL WHO MAKE A VOW AND ARE LISTED BELOW HAVE EARNED THE RIGHT TO WEAR THE OATH OF MOMENT:





So with no further ado, let's begin!